Post Christmas and New Year festivities, I am trying to re-introduce a little bit of healthy food! These apple scones are the perfect balance between a holiday treat and a fruity snack.
Ingredients
1 large apple
75g butter
375g self raising flour
1 teaspoon cinnamon
75g caster sugar
1 egg
150ml milk
Method
Peel and dice the apple
Heat 25g of the butter in a saucepan, then add the apple and cook gently for 5 minutes until softened
Put the flour, half the cinnamon and 50g of the sugar in a bowl
Cut the remaining butter into pieces then add to the flour mixture. Rub between your fingers to make tiny crumbs
Add the cooked apples and the beaten egg then slowly stir in the milk to make a soft dough
Tip out onto a floured surface, knead lightly then roll out to approx 1 inch thick
Cut out shapes with a cookie cutter and brush the tops with milk
Mix the remaining sugar ands cinnamon together then sprinkle over the tops of the scones
Bake for 12-15 minutes at 200*C, cool and serve with jam (and cream if you feel naughty)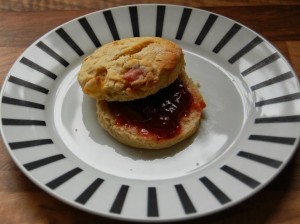 So here is the age-old question. Cream or jam first?!