The Charcoal Challenge is about making the most of your money, and showing how you can host a really good BBQ for £50 – or less!
Can it be done? Of course it can – challenge accepted!
First things first – shopping! BBQ food is an essential, but we also used the money for drinks, charcoal and a paddling pool for the little ones. Essential to have some entertainment at a BBQ!
As well as the obligatory sausages and burgers, it's nice to throw something different on the BBQ too, so we also served jacket potatoes wrapped in foil, with bacon and melted cheese, corn on the cobs, bakes garlic tear and share bread, and some snacky bits and pieces – crisps, carrot and pepper sticks with a creamy dip (you always need something to nibble while you are waiting for the main event).
At the BBQ – me, the hubby (head chef), Gemma, Jacob, Max (although he doesn't really count as he only had milk) and Gemma's friend from school with her mum.
The sun shone, everyone ate far too much, and there was plenty of wine flowing (or fizzy pop if you were one of the under 18's).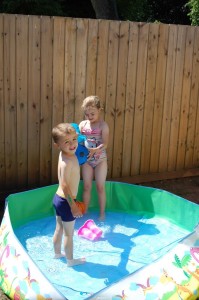 Was it a success? You bet – everyone enjoyed the food, the kids had fun in the sun, and the adults got a chance to sit down with a glass of wine. Was there much food left over? – No, but that, surely, is the point?