Our bathroom has been neglected since we moved here. It is functional and everything works well, and so it got pushed to the back of the DIY list while other rooms were treated to a makeover. Now we have decided that the time has come to show our bathroom some TLC, and so we have just ordered a new bathroom suite, along with wall and floor tiles and a new shower, towel rail and taps.
Now that all the big stuff has been chosen and ordered I have been thinking about all the little bits and pieces that will compliment and finish off the bathroom. It is a small room, and so we have decided to stick with neutral colours that will not overpower and will create a light and airy feel.
The walls are being tiled in a very pale grey colour, with a thin decorative border running through the middle, with shades of the white, brown and the same grey of the tiles. Light, bright, airy and simple – that's the look we are aiming for. We are lucky enough to have original floorboards in the bathroom, and these will be painted white, with a wooden duckboard beside the bath – again continuing with the neutral, natural tones.
Things will be finished off with a range of accessories – pale grey towels (PM linens have some lovely ones!) to match the tiling, wicker baskets on the windowsill to store all the bathroom pots and bottles and keep all the clutter tucked away, and a gorgeous canvas on the wall which shows a range of pastel striped beach huts – just for that small splash of colour without being too much. Lighting will be kept simple too, as we are keeping the current chrome spotlights, and have ordered a chrome towel rail, just for that splash of modern amongst the natural tones.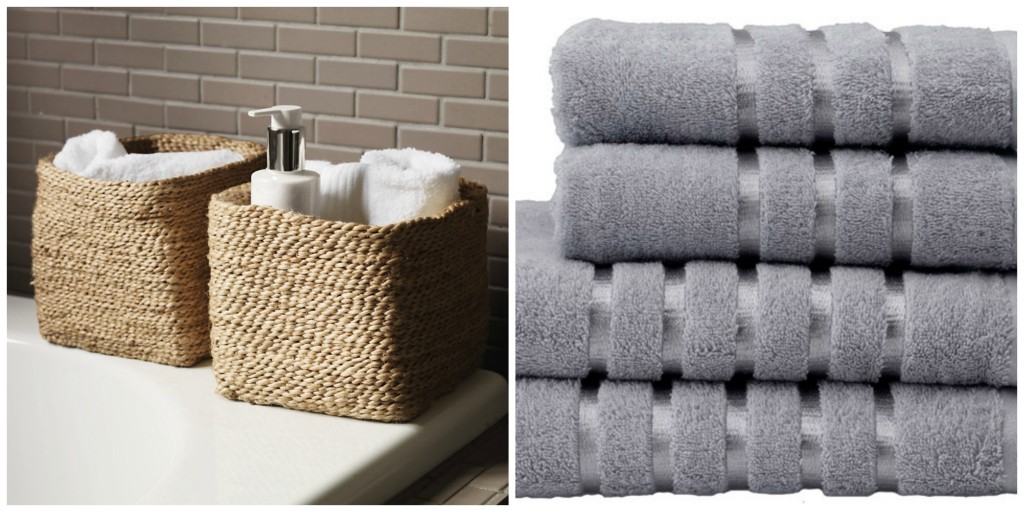 I am really looking forward to creating my dream bathroom. I know the new suite and tiling part will be a stressful upheaval, but once that is done I can get busy with all the lovely finishing touches to turn our boring bathroom into a relaxing retreat. I can't wait!
Have you recently designed a new bathroom? I would love to hear your tips and design ideas, and how you decided on a theme and colour scheme.
* This post is written in association with Linklift *