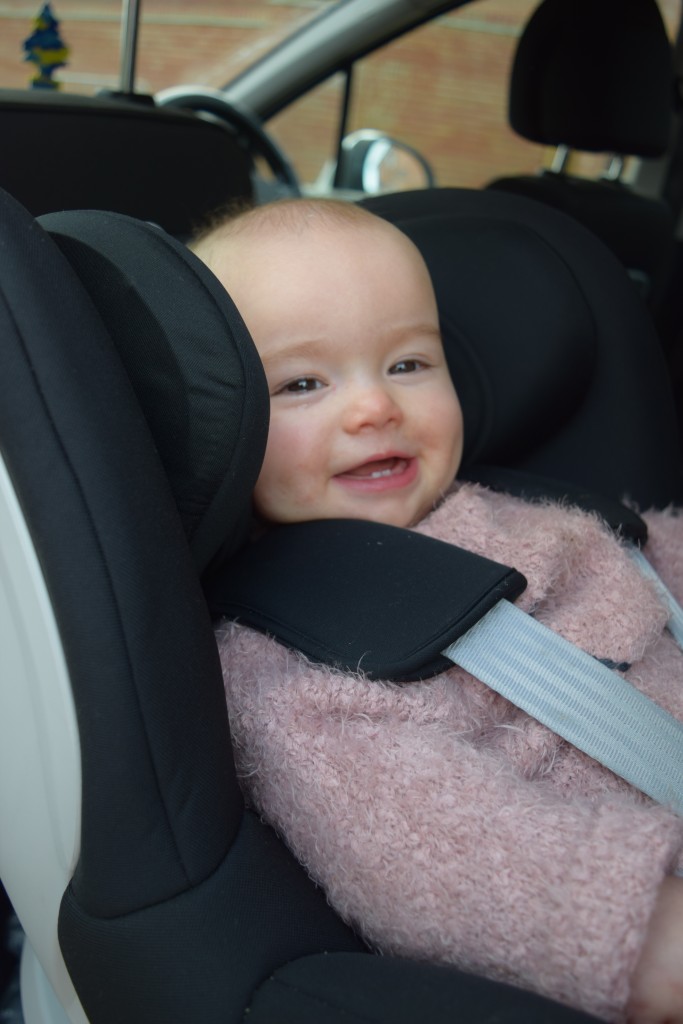 When Eliza was first born, we used an infant carrier car seat, like many parents do when leaving the hospital, and it served us well. However, as she grew bigger, I found it increasingly hard to carry her in that seat, and I knew it was time to move her to a fixed car seat.
Suitable from birth – 18kg (approx 4 years), the Britax Dualfix ticked all my boxes and then some. I knew I wanted a seat that could rear face for longer, and the Dualfix rear faces until 18kg/4 years (You can use it in a forward facing position too if you want to, and that is suitable for children from 9-18kg). I am a huge advocate of rear facing travel, and intend to keep Eliza rear facing for as long as possible – it is proven to be 4x safer.
Besides wanting a rear facing car seat, I also wanted something that was secured with Isofix, something that had easily adjustable straps and headrest, and something that reclined. This doesn't sound like a large list, but it is actually pretty difficult to find something that meets all of those requirements! The Britax Dualfix comes with a newborn insert for tiny babies, which can be removed as your child grows. The harness and headrest are easy to adjust with just one hand, by pulling a toggle at the top of the headrest. The harness also features Pivot Link technology which reduces forward movement, as do the Performance chest pads. There are multiple recline positions in both the forward and rear facing positions, which makes it much easier to provide a comfortable area for sleeping babies, and the recline can be activated and changed while your little one is in the seat.
Installing the seat is really simple. There are green indicators on the Isofix hooks and the foot prop which let you know when the seat is installed correctly, so there is no doubt you are safe and ready to go. The safety features are also evident in the deep, padded side wings with optimum side impact protection along the entire seat, and the rebound bar which helps to protect your child in the case of a collision, by controlling the rebound during and after a crash.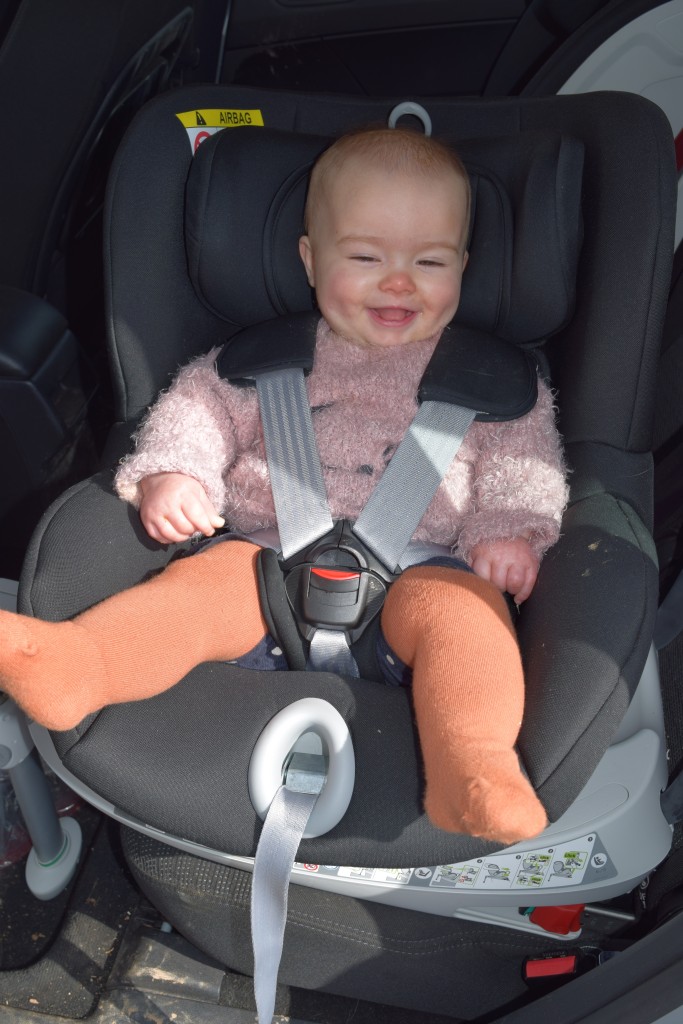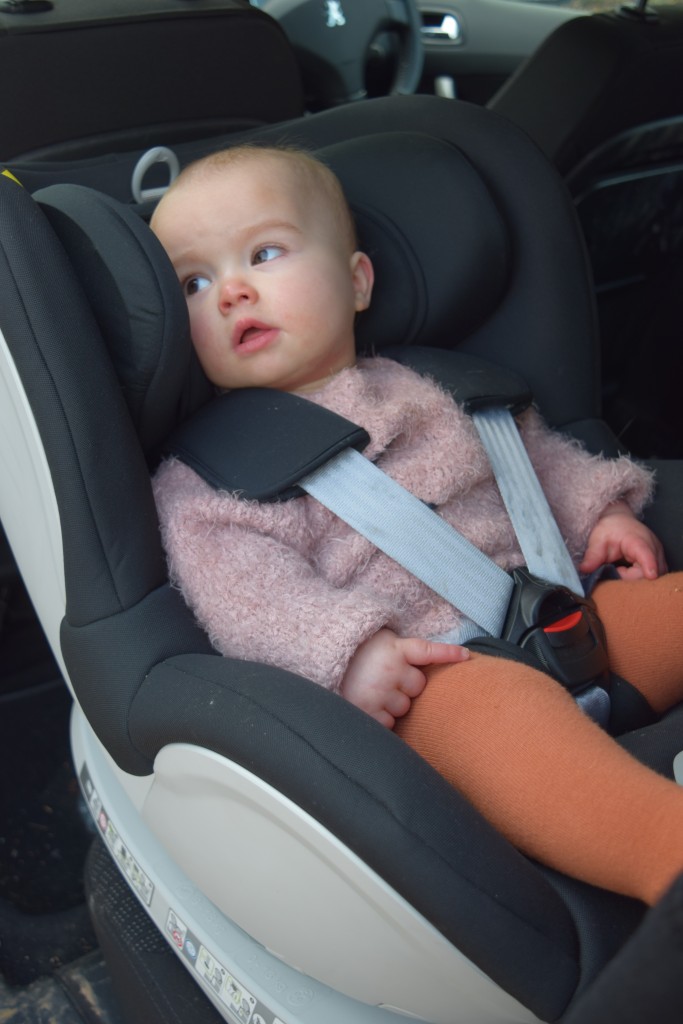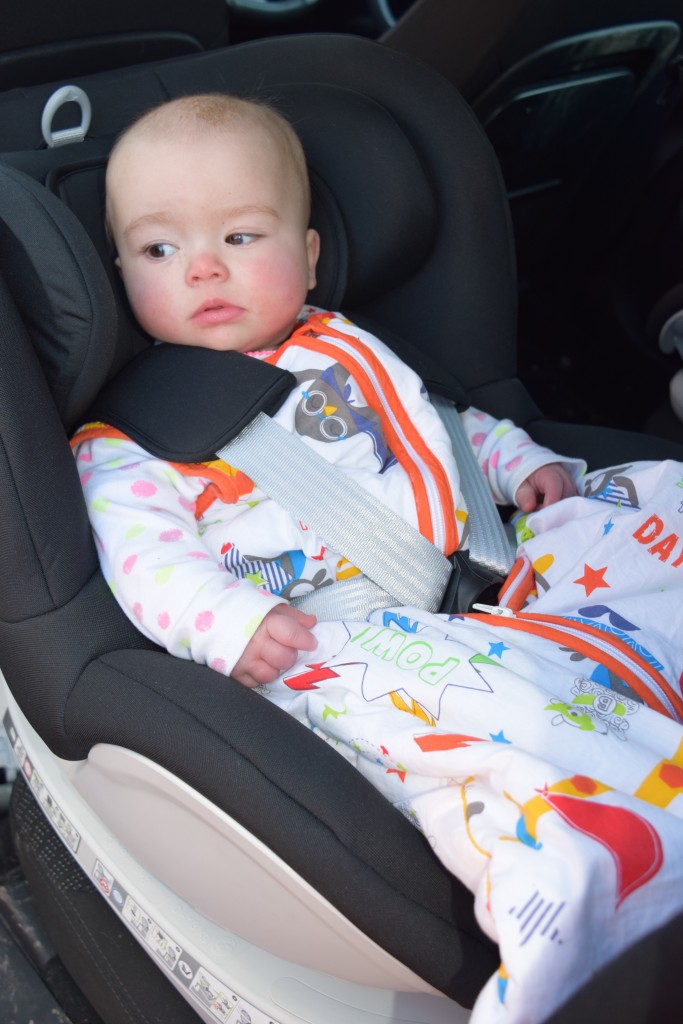 Eliza is super comfortable in the Dualfix, and has plenty of room for growth. Max actually has a Dualfix car seat too – he will be 3 next month and still has room to grow.
One of the best features of the Britax Dualfix is the 360 degree rotation, which makes getting your little one in and our of the car SO much easier. No more bending in, hurting your back while trying to twist a wriggly child into their car seat. There is a button on the car seat base, and when this is pushed in, you can swivel the car seat round to face you, and simply life your child straight in or out.
It makes it easier to access, easier to adjust the straps, and just much more user friendly. Once your child is strapped in, then you can spin them around to face the rear or the front of the car, depending on whether you are using it in a rear or forward facing position. This can be changed at any time, so if you want to move your child from rear to forward facing, there is no need to remove the seat or change the base, you simply press the button and turn them around. You do need to make sure the seat is in a fully upright or fully reclined position to allow the swivel function to work.
As part of this feature, there is a fantastic safety setting, which prevents the seat from rotating into the forward facing position if your child is under 13kg. Press the grey safety button above the foot prop, select the weight range of your child on the Isofix base, and the seat will only rotate into the side on or rear facing position to ensure your child stays safe.
The Britax Dualfix is the perfect car seat for us. There is nothing we don't like, but if I was being super critical I would say it is heavy – although I think you do expect this from fixed car seats, and they are not the sort of item you tend to move on a regular basis, so it certainly isn't an issue for us. The car seat is simple to fit – it took us less than 5 minutes. It is easy to adjust everything to fit your child, and easy to adapt as they grow. It is simple to use, and the amazing 360 degree rotation makes it by far the best design on the market for me. We will continue to use this car seat for many years to come, and I wouldn't hesitate to recommend it to any new or expectant parents.
You can see the full fitting instructions and user guide on this great little video, it is well worth a watch!