As most of you will know, we are expecting a little boy in just a few weeks time, and so we have been busy preparing the nursery and all the many bits and pieces a newborn requires!
I really wanted to go with a seaside or nautical theme for the nursery, and luckily the lovely team over at
Clair de Lune
sent me the perfect kit to achieve this!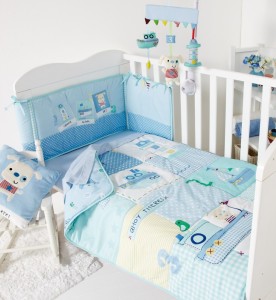 As you can see from the picture, it all has a real 'nautical' theme while still being very child friendly, with plenty of shapes and colours for baby to look at.
Gemma and Jacob excitedly helped me to unpack everything, and we set about getting everything ready for baby! I was struck by how soft the cot quilt was, and what good quality everything seemed.
The cot mobile
The mobile is really simple to assemble, the pieces just slot together, and the wind up music mechanism means you don't need endless batteries! It features a boat, a lighthouse and a sailor dog soft toy for visual stimulation.
The cot bedding set (cot bed quilt and bumper)
The cot bumper and quilt are both reversible, so you can choose from the larger patchwork nautical design, or flip it over and use the blue background with smaller pictures of boats all over. I love having this choice as it means you can change the look of your cot without buying new bedding!
The bumper attaches really easily with strong cotton ties, and fits very snugly. The cot quilt is ever so soft (in fact it was almost stolen by Jacob!) and again fits the cot bed beautifully – just the right size to tuck firmly around the edges of the mattress.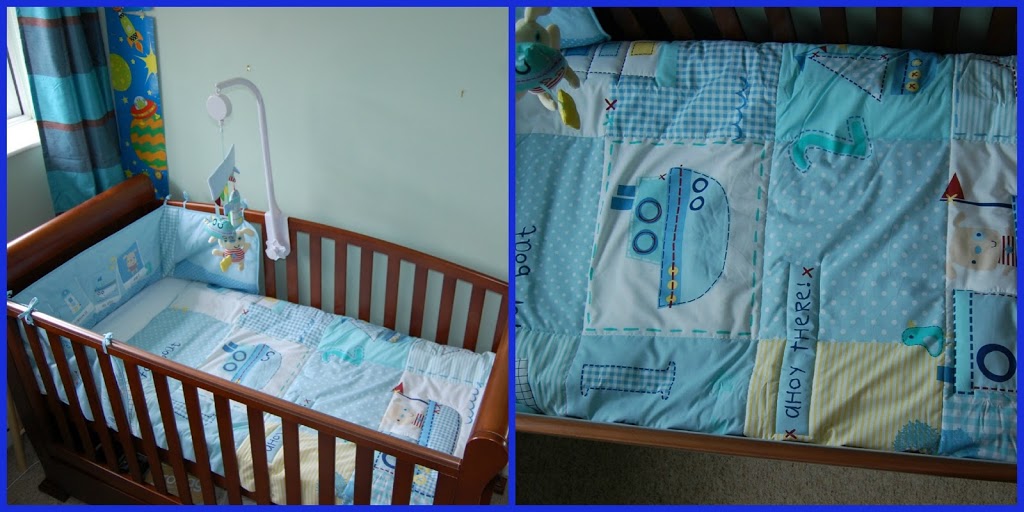 The blanket
The cotton blanket is described as a pram blanket, but I would also happily use in the car seat, moses basket or cot. It's a really pretty design, with several shades of blue and a lovely little star design in one corner. It complements the bedding set beautifully, and again it is lovely and soft and great quality.
Overall, I am really pleased with this set. It offers me the look I was after without being overpowering, and everything is such good quality you can tell it will last.
Now we just need baby to come and try it out! Watch this space……
You can find out more about Clair de Lune on their
website
. The cot bedding bale is priced at £42.99, the mobile at £27.99 and the blanket is £24.99
* I was sent these items free of charge for review purposes, but all thoughts and opinions expressed are my own*