I was recently introduced to the wonderful Luna & Cash – an ethical lifestyle retailer in Cornwall. Over the last few years, we have made a conscious shift towards more more 'eco' living, particularly since having children. It's amazing just how many chemicals and single use plastics there are in the children's industry, and we have found that often, the smaller retailers are the ones who really support and promote the waste free, ethical lifestyle. Enter Luna & Cash.
They got in touch recently to ask if we fancied trying out one of their eco-friendly products. We were sent the Magic Wood Small Marble Sounding Tree.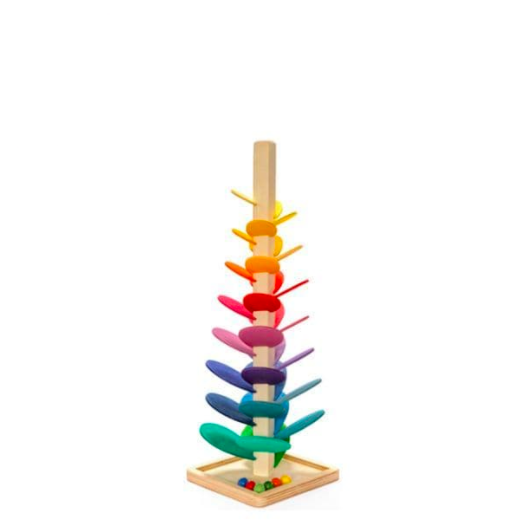 Not only does this look beautiful and open the way for endless hours of imaginative and sensory play, it sounds incredible too. Think a soothing wind chime in the breeze.
The marble tree comes with 6 wooden balls in rainbow colours to compliment the frame, which can be stored safely in the wooden tray at the base when not in use. The balls are quite small – so supervision is required with smaller people – but they flow beautifully down the marble tree. It's quite mesmerising.
Eliza has absolutely loves playing with the Magic Wood marble tree. We took it outside into the sunshine, and she spent a good 20 minutes just dropping the balls onto the top and watching them roll down. After a while, she added some other toys to her play – namely Paw Patrol characters – and used them to colour match with the rainbow balls.
It integrates into other play so well – Eliza has used it as everything from a tower for her animals to a frame for den making. She puts it into the back of her diggers and moves it around the garden, and uses the balls as play food for her babies. However, she always comes back to the classic mode of play, sets up the marble tree on the floor, and drops the marbles down. The sound is so soothing, and grounding, and it's a great way to calm down after some really active play.
The quality is second to none. The wood is beautifully detailed with natural grain, giving it that natural edge. Magic Wood use only sustainable timber, and they promise that no living tree is harmed in the making of any of their toys. They also use natural plant dyes and flaxseed oil, meaning the products are vegan friendly.
We have fallen in love with Magic Wood products, and we can't recommend Luna & Cash highly enough. They have been professional, friendly and willing to help, and they stock an incredible range of products aimed towards an ethical lifestyle for kids, adults and your home. Let's face it – we could all do more to be more eco-friendly, and just changing one or two of your usual products or habits can make the world of difference.
* We were sent the Magic Wood Small Marble Sounding Tree free of charge for review purposes, but all thoughts and opinions are our own*