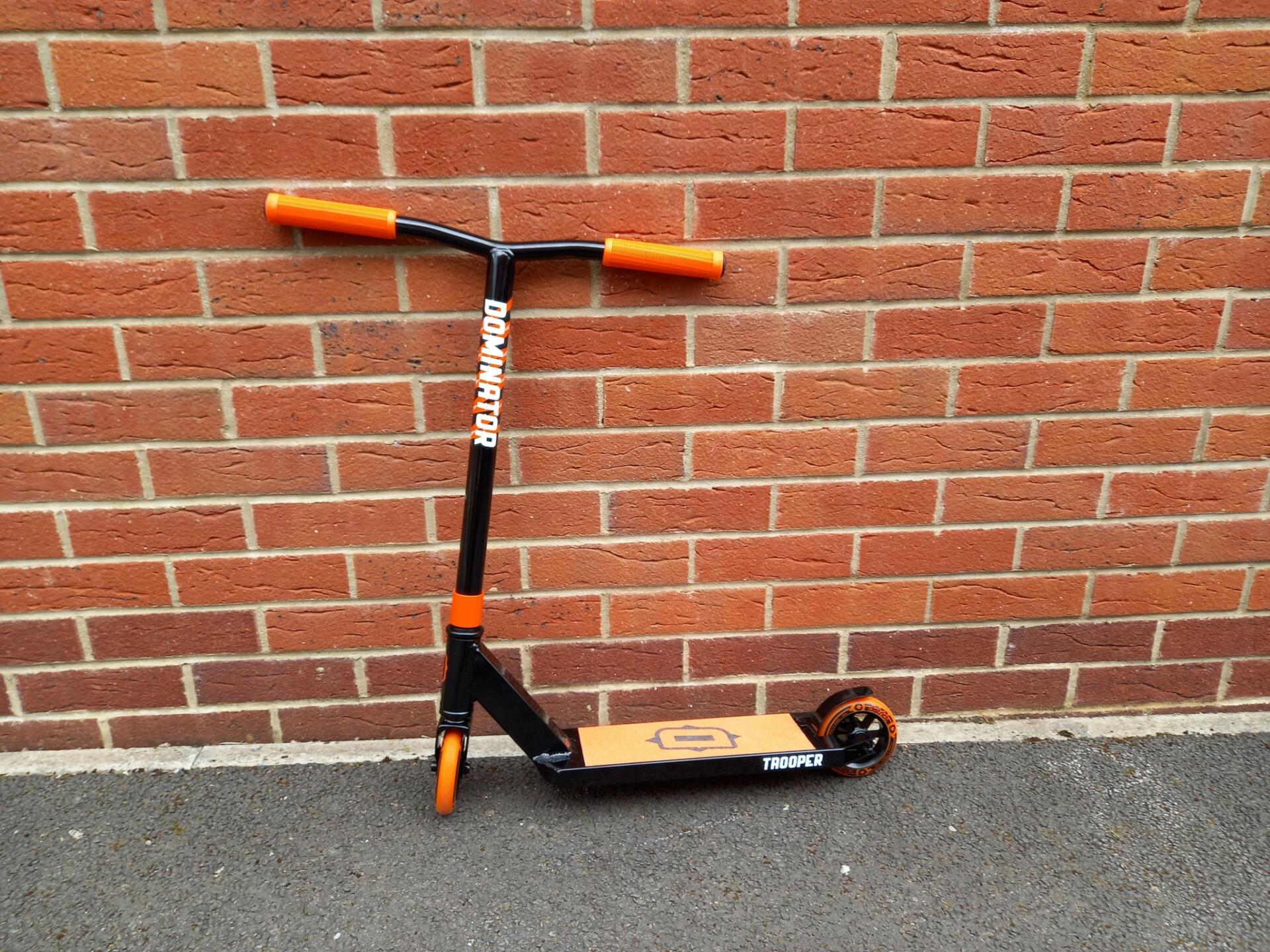 Max has always loved to scooter, and over the years we have had several different styles. He started off with a 3 wheeled 'learner' scooter, before progressing onto 2 wheels as he got more confident. However, some of the 2 wheeled scooters we have tried have been a bit of a fail – they rattle and vibrate loads if the ground is even the slightest bit bumpy, and the footplates can be narrow and flimsy.
When we were offered the chance to try out a scooter from Skates.co.uk, we couldn't wait to see if we could find Max's perfect scooter. After a lot of scrolling the website, and some advice from the company, we went for the Dominator Trooper Complete Scooter in black and orange.
Max was over the moon when it arrived, and I was incredibly pleased to find that it was easy to put together. The instructions were clear and concise, and the quality was obvious from the outset. Everything slotted together beautifully, and felt firm and sturdy. At 3.6kg, this scooter is pretty lightweight, which is perfect for Max's age, as it means he can easily move it around by himself.
Designed for children aged 6-12, the Dominator Trooper Complete Scooter is designed to provide beginner and intermediate scooter riders a great platform to develop core skills and perfect technique. It has a 17.1" deck making it possible for younger riders to attempt stunts such as tailwhips (I am told this is cool), as the bars spin 360 degrees for all those tricks.
You could see the difference as soon as Max got on this scooter. He often struggled with his old one, especially on slightly uneven surfaces. The Dominator Trooper glides across the floor, giving him a smooth ride, and making it easier for him to try out some stunts, which he wouldn't have been able to do before!
Although the scooter is lightweight and manoeuvrable, it sticks to the ground and feels secure and safe. It doesn't rattle or vibrate, and it isn't noisy. The handles are comfortable, and covered in a soft rubber. The height seems just about right for Max, who is 8, so right in the middle of the recommended age range. Although the handlebar is a fixed height, it can be cut down after purchase if you need it slightly lower.
We honestly cannot recommend this scooter enough. It is by far the best we have had; the quality is second to none, the scooter is lightweight, manoeuvrable and perfect for those who are new to the stunt scooter world. Max has been out on it every day since he got it, and can't wait to take it to school next week to show his friends.
In fact, we love it so much, we are going to get Eliza one for her birthday in June. Shhh, don't tell her 😉