Now many of you will have heard of Tots Bots – they make gorgeous, scrumptious cloth nappies which I love. A lot. But did you know they also make a baby wrap carrier? I didn't know much about the Papoozle until recently, and once I read about it, I just had to try it!
I love babywearing. Having your little one cuddled up close to you is, in my opinion, what nature intended, and there is no nicer feeling that being able to kiss your little ones head while you are walking around. Plus, as if that wasn't enough, if your baby is colicky or unsettled, carrying them in a sling can soothe them – and leave you with your hands free to make a cup of tea!
When we were sent a Papoozle to try out, I was very excited, and slightly apprehensive. I have a sling that I use regularly – I know how it works, I know the best way to get Max in and out, and I know how tight I need to pull the straps to feel secure. So a new sling was a slightly scary prospect as I was worried it would be complicated to put on. I was wrong.
The Papoozle might be the easiest sling I have used. It comes with a buckle-up waist strap, so you just clip round your waist, wrap the material around your back, and it leaves a cross of material on your chest for you to just slide your baby into. You can then adjust the material over your baby to get the coverage you need – pull the material up higher for newborn head support, or lower it for bigger children. You also have the option of an extra fabric layer which can be used as extra support for wriggly little ones!
Max loves being carried, and was more than happy in the Papoozle. It gets a big thumbs up from me for ease of use and a big thumbs up from Max for being comfy, cosy and close to mummy!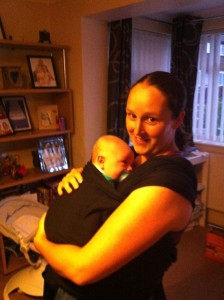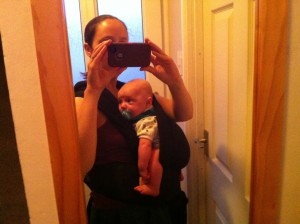 In this hot weather, Max decided he wanted his arms out of the wrap (little monkey) but as you can see he is still safe, secure and happy. And that is all a baby could want.
* We were sent this item free of charge for review purposes but all thoughts and opinions are my own *