If you haven't heard of Sock Ons then let me tell you a bit about them. They are, quite simply, clever little things that keep baby socks on!
We all know how annoying it is when you get home from a walk with the pushchair only to find that your little monkey has lost a sock somewhere along the way. That is where Sock Ons come in. Made of soft, stretchy material, they are designed to fit over your child's socks, keeping them in place no matter how much they pull, kick and wriggle!
Max has not yet learnt the art of pulling off his socks (although I am sure it won't be long!) but he still manages to regularly lose his socks when he is wriggling about on his playmat. So I decided to see if Sock Ons would do the job – and I am pleased to say they did!
The stretchy material means they fit snugly to even the smallest baby feet, but will similarly stretch to accommodate bigger feet – I even managed to get them on my 5 year old!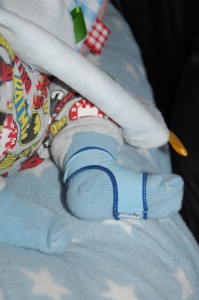 They must be comfy – as Max was not at all bothered about having them on, and even fell asleep while wearing them. And I am pleased to report that no socks were lost during the making of this blog post. So in conclusion – Sock Ons do just that – keep socks on!
* We were sent these Sock Ons free of charge for review purposes but all thoughts and opinions are my own *