Tommee Tippee are a very well known baby brand that most of us have heard of – so I am very pleased to be reviewing some of their lovely items!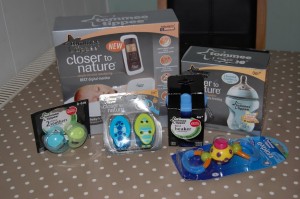 We are trying out:
DECT digital monitor
Closer to Nature bottles
Cherry soothers
Soother holders
Explora Click and Twist toy
First beaker – Max isn't quite ready for this yet, so we will follow up with this one at a later date.
First up – the DECT digital monitor. A baby monitor is an essential piece of kit for most parents. Now Max is going up to bed on his own, we certainly needed one, and this one does not disappoint! I love the nightlight that can be controlled from the parent unit – if Max is unsettled we can turn on the nightlight without going into the room and upsetting him further. We can also reassure him using the 2 way talk back feature – speaking to him to soothe him, again without entering the room. The LCD display makes it easy to see even in the night, and the room temperature display means we know exactly how hot his sleeping area is, and can adjust his clothing accordingly.
The parent unit comes with a docking station – but despite having used the monitor for almost 2 weeks, we have not yet needed to charge it – it seems to have a very good battery life! The DECT means no interference, and there is a range of 300m so we can be out in the garden and still know that we will hear Max if he wakes. 10/10 for this one.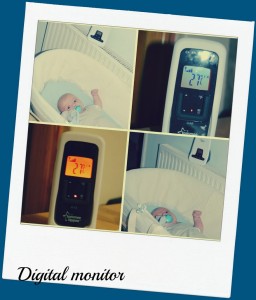 Next up – the cherry soothers and soother holders. As you may have noticed in the above pictures, Max does love his dummy, and his favourites by far are the Tommee Tippee cherry ones. The soother holder has also come in very handy for when Max is in the car seat or his bouncy chair. It means when he drops his dummy I don't have to dig about in the seat looking for it – I know it will be on the end of the holder!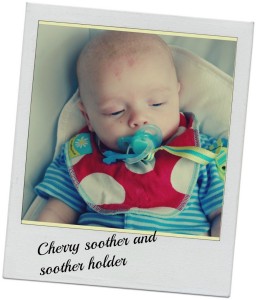 Next up – bottles. They are much nicer than the standard clear bottles you usually find – these are a gorgeous pale blue colour with little boats around the bottom. Now I am sure Max doesn't care what his bottle looks like, but I do, so there. These are very pretty and I approve.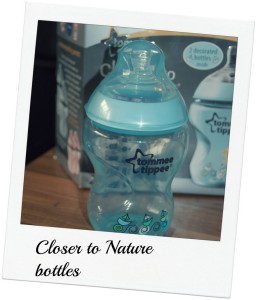 Last but not least, the Explora Click and Twist toy. A lovely size for Max to hold on to, and with lots of shaky, squeaky bits to entertain. Will also be handy for chewing on when he gets some teeth!
To sum up? I can't fault any of these products. Each one is clearly very well designed, and does the job it is supposed to do. I will certainly be recommending Tommee Tippee products to friends and family!
* We were sent these items free of charge for review purposes, but all thoughts and opinions are my own *