Swimming is a big part of our family life. Gemma and Jacob have lessons every week, and we tend to all swim together on a Sunday too. So we thought it was about time Max was introduced to the wonderful world of the water too!
Being asked to review a Baba and Boo swim nappy could not have come at a better time! We chose a green swim nappy and off we went.
We really wanted to take some photos in the pool, but cameras are not permitted, so I shall simply tell you that there was a huge amount of splashing, kicking and bouncing around, as well as smiles and giggles all round. Max has taken after his older brother and sister and appears to be a true water baby. He could not have been happier. He actually cried when I got out after 20 minutes.
The Baba and Boo swim nappy did the job perfectly. The fit was snug and secure without being uncomfortable, and I think it looks so much cuter than disposables.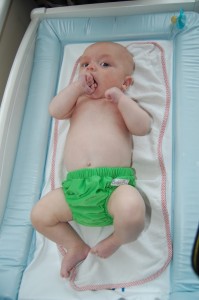 All ready for a swim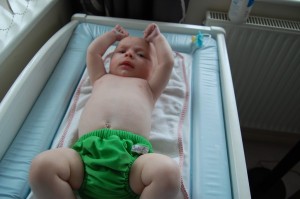 Flashing my swim pants
I would most certainly recommend the Baba and Boo swim nappy. It's a great fit, comfortable to wear (the fleecy lining is SO soft) and we had no leaks whatsoever. Plus it looks cute. Thumbs up all round!
Baba & Boo also make some seriously cute cloth nappies which I keep drooling over. Next on my shopping list is the gorgeous Deckchair stripes nappy!
If you like the look of the Baba & Boo swim nappy, I am pleased to tell you that the lovely people at Baba & Boo are giving my readers the chance to win one of their own! Just enter via the rafflecopter form below!
* We were sent this item free of charge for review purposes but all thoughts and opinions are my own. Competition terms and conditions – UK residents only. Ends 21/8/2013 *