Presenter and TV chef Lisa Faulkner has joined forces with BRITA to launch the 'Better with BRITA' food and drink campaign. This is designed to draw attention to how much we use water as an ingredient in our cooking, and how using BRITA filtered water results in better tasting food and drink.
I think we often forget just how much we use water as an ingredient. Soups, stocks, cooking rice, lentils, pulses and vegetables all require water, we wash salads and fruits, and we drink lots of water, tea and coffee during the day. It all mounts up!
A BRITA filter works to reduce chlorine, limescale, heavy metals and other organic impurities, giving cleaner, clearer and better tasting water. So does it make a difference in cooking? I am going to find out!
We decided to try one of Lisa Faulkner's recipes – Poached chicken with carrot and ginger puree – just because it sounded so delicious!
Ingredients:


4 chicken breasts
1litre of BRITA filtered water to make the liquor
Spices for liquor- cinnamon, ginger, fennel, star anise (optional)
1tsp of honey
8 carrots
2 onions
2 garlic cloves
1litre of chicken stock made with BRITA filtered water
1tsp chopped ginger
25g butter
Fresh pea shoots
Salt and pepper
1. For the poaching liquor lightly toast the spices in a frying pan and add them to the BRITA filtered water, as well as the honey. Bring to the boil and infuse for 1 hour, as though making a broth.
2. Meanwhile slice the onions, ginger and garlic and sweat in pan with butter, stirring so the ingredients don't colour. Add the carrots and 1 litre of chicken stock made from BRITA filtered water. Bring this to the boil and simmer until the liquid has been absorbed, season with salt and pepper and blitz in blender. The puree is finished!
3. Now place the chicken breasts in the simmering poaching liquor for 5 minutes. Then remove the pan from the heat, leave the chicken to rest in liquor for a further 10 minutes so the breasts are cooked all the way through.
4. Dress the pea shoots in olive oil, lay the chicken on top of the puree, then simply serve!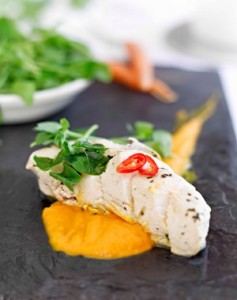 It was a hit. Delicious, light, and even wolfed down by the children. Can't ask for much more than that!
The BRITA Marella jug we were sent for this campaign is also a hit – with my husband! He has commented on how much nicer his morning cup of coffee tastes using this water – so there really must be something in this filtered water idea.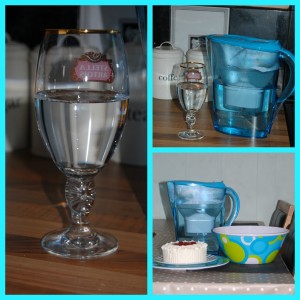 You can see how clear the water from the filter jug is. Crystal clear. Makes me feel much happier about drinking it, and giving it to the children to drink. And an added bonus – the jug is blue and pretty and matches my picnic plates. Good times 🙂
Lisa Faulkner is launching the 'Better with BRITA' campaign highlighting how she uses BRITA filtered water as an ingredient in cooking for the best tasting food and drink. For details of BRITA products go to www.brita.co.uk
*
I was sent a BRITA Marella jug for the purpose of this review, but all thoughts and opinions are my own *