We were recently sent a lovely car seat cosy from Ruby and Ginger, and with the weather turning decidedly autumnal this week, it was the perfect chance to give it a try.
So, what is the car seat cosy? Well, it is designed to keep your baby snug and protected, both in and out of the car. It keeps them warm in the colder months, but without interfering with the car seat straps as some more traditional car seat covers may.
With a tog rating of 3+, it really is a snug and cosy option for the harsher weather, and it can be removed without waking your baby – I love this feature.
Super easy to fit, the car seat cosy just slips smoothly and easily over any infant carrier car seat. The elasticated cover simply slides on once your baby is in their seat, and sits snugly over the top.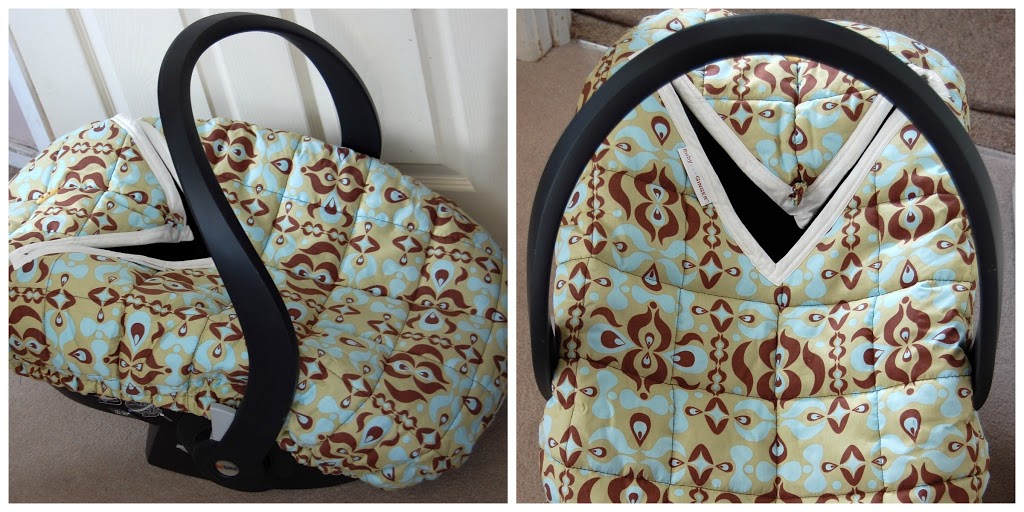 The car seat cosy comes in 3 really unusual, and eye catching patterns. We have the 'Wallpaper' design, which I love – bright and cheerful on those dark winter mornings!
I love the V shaped panel at the top – this allows me to check on Max when he is in the seat, and lets him look out at the world too – which he likes to do now he is a bit bigger, and a bit more nosey!
I love that this can be used in the car too, without any worry about it interfering with the seatbelt – it means when it is really cold in the winter, Max can stay nice and snug until the car heats up!
This is a really good investment for all new parents, especially if your baby is due in the winter months. Super easy to fit, even when you are tired or in a mad rush (we've all been there), and able to be used on all Group 0 rear facing car seats, this is definitely on my list of recommended baby must-haves.
You can see the full Ruby and Ginger range over on their
website
or head on over to their
Facebook page
.
* We were sent this item free of charge for review purposes, but all thoughts and opinions are my own *