There are 3 people in this family with asthma and eczema – Kevin, Jacob and Max – and so keeping the air around them clean, clear and free of dust and irritants is something that I am constantly striving for. We also live in a house which does seem to get rather a lot of condensation, especially at this time of year when the temperature outside starts to drop.
A dehumidifier is something we have talked about investing in many times before, but it is one of those things that gets pushed down the list – they are not cheap and other things have always cropped up. The car breaks down, the children need new shoes – you know what it's like.
So when we were sent a dehumidifier from Appliances Direct to try out, we were excited to try it out and see just how much difference it could make.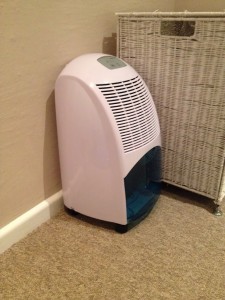 The dehumidifier is small and unobtrusive – it sits neatly in the space beside my laundry basket – this is right outside the bathroom door, so one of the most humid places.
I have always been concerned about the amount of noise a dehumidifier would make, especially with it being in such close proximity to the boys bedroom – but I was pleasantly surprised!
It's quiet, and yet it does do a very good job. It doesn't completely remove every drop of condensation, but there is certainly a huge improvement – you can see just by looking at how much water is in the collection tray. Removing the humidity from the air makes it easier for the asthma sufferers too – Kevin has commented on the fact that he has used his inhaler less since we have been running the dehumidifier.
Overall? A success. Something we should have invested in a long time ago.
* We were sent this item free of charge for review purposes, but all thoughts and opinions are my own *