When I had my daughter almost 8 years ago I had never heard of a Bumbo, but by the time son number 1 arrived in 2008 they were much more common. Nowadays, every other household has at some point had a Bumbo. For those of you who don't know what a Bumbo is, let me explain.
A Bumbo is a floor seat for babies who cannot yet sit up themselves. As soon as a baby can support their own head you can use a Bumbo to let them strengthen muscles, interact with the family and see the world from a different perspective.
Max has been supporting his own head for a while now but is not yet able to sit alone, so the Bumbo was perfect for him to practice sitting up, he is so desperate to be up looking around like the rest of us.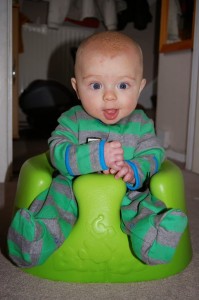 He loved it straight away. He loved being able to chat to Gemma and Jacob when they were sat on the floor playing, and to watch what they were doing. He sat in the Bumbo happily for a lot longer than he would sit in say, a bouncy chair. They are just too reclined for him now and he much prefers being upright.
With the Bumbo, we also received a play tray and a seat cover. I have never seen either of these before so was keen to have a play and try them out.
The play tray is a great idea – it allows the Bumbo to become not just a seat, but a play area too. You can pop toys and snacks on the tray just like you would a highchair tray, and your baby can join in with playtime, while also developing their motor skills.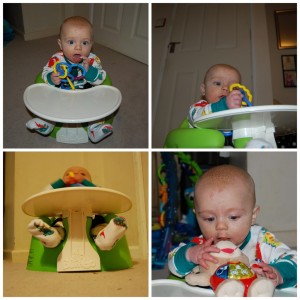 The Bumbo seat cover is a cotton slip over cover that you can just slide over the top of your Bumbo to give it a different look – we received the orange elephant design which is bright, fun and funky.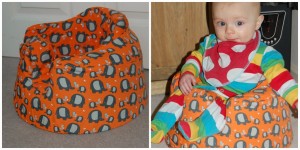 Overall, we are impressed with the Bumbo floor seat. It is a clever idea that allows babies to sit up with support while they are still learning to sit up alone. It allows them to join in with the family more, and the addition of the play tray transforms the Bumbo into a play seat or a portable highchair. I am pleased to see that a lap harness has been added since we last had a Bumbo, as the little one being able to get out was always something that worried me before. I think Bumbo deserve their status as the best loved floor baby floor seat, and I will definitely be recommending to friends and family.
You can see the full range of colours and accessories available by visiting the Bumbo page at
TOMY
* We were sent this item free of charge for review purposes, but all thoughts and opinions are my own *