It is really starting to feel like winter, and I am feeling the need for proper winter comfort food. One of my favourite things to eat at this time of year is a simple potato bake.
I think the most important thing to start with is a really good quality potato, such as Greenvale Farm Fresh potatoes. These potatoes are what I call an 'all rounder' – they can be used for roasting, baking, mash, boiling – or in this case just slicing for a delicious potato bake.
Ingredients:
3 tablespoons butter
3 tablespoons flour
2 cups milk
1.5 cups grated cheese (I like to use a mature cheddar)
1 cup chopped ham
2 cups broccoli, finely diced
salt and pepper
6 potatoes, thinly sliced
Method:
Melt the butter, then add the flour and heat for 1 minute on a medium heat, stirring frequently.
Slowly add the milk while steadily whisking, then bring to the boil.
Add the cheese and mix until melted.
Add the ham and broccoli and stir until well mixed.
Season to taste.
Layer half of the potato slices in a dish, then pour half the sauce over the top. Repeat with the second layer of potatoes and sauce.
Cover with foil and bake at 220*C for 50 minutes
Remove the foil, sprinkle with grated cheese and return to the oven for a further 10 minutes.
The result is a really lovely, warming winter potato bake that the whole family will enjoy.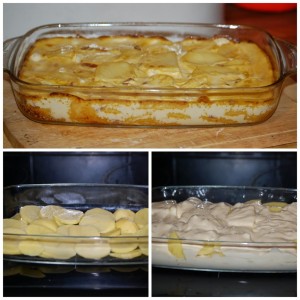 And if you have any potatoes leftover, there is nothing more popular with my children than a big plate of creamy mash!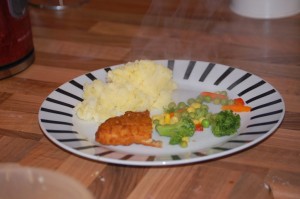 What is your favourite winter warmer recipe?