At almost 7 months, Max is desperate to be on the move, but he hasn't quite worked out how to do it yet! He loves being upright, and he loves to bounce. So when we were asked to review the Petite Star 3 in 1 car walker, we just knew it would be a hit with our little bouncer!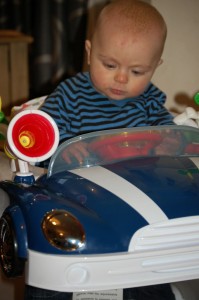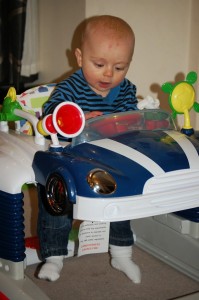 Bounce Bounce!
Remember me saying it is a 3 in 1 walker? This clever piece of kit really shows it's value for money – not only is it your standard 'sit in' walker, it also has a 'jump' option so for little ones who are not quite ready to take those first steps, they can bounce away happily. Finally, once they are confisent on their feet, you can push in the 'sit in' section to transform it into a push along walker! 3 toys in one!
Max isn't quite ready for the walker options just yet, but the bounce option is a huge hit.
He loves the toys on the walker. There is a steering wheel that plays music, a horn, 2 bars on the side with sliding beads, and Max's favourite, a mirror with a spinning ring.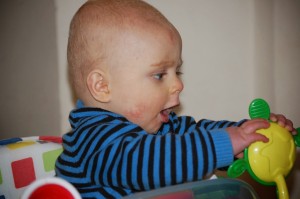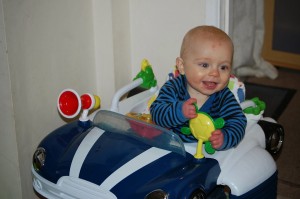 The walker even comes with blank numberplate stickers and a set of letters and numbers, so you can make your own personalised plate for your little driver.

The Petite Star 3 in 1 car walker is a fantastic toy, with the 3 in 1 option a really lovely, value for money idea. Despite all it offers, it is very compact, and won't take over your living room. It comes in blue or pink, and is priced at £69.98, available from
Nursery Value
. With some really great features such as speed restricting wheels to prevent it running away from your little one, and the bounce option for smaller racers, I think this product should be on all small people's Christmas lists this year!
* We were sent the walker free of charge for review purposes, all thoughts and opinions are my own *