Back in October, we reviewed some lovely Heinz baby food pouches, which Max enjoyed very much. So we were thrilled when another delightful little basket of Heinz goodies arrived – this time their breakfast range.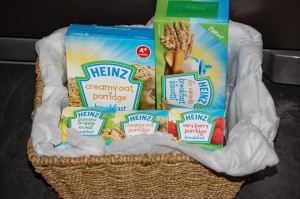 Creamy oat porridge
Six cereal breakfast biscotti
Banana and apple muesli breakfast pots
Creamy oat porridge pots
Very berry porridge pots
We all know how important breakfast is, especially when you are teeny. We let Max choose what he fancied from the basket for his first taste test, and he chose the very berry porridge pots.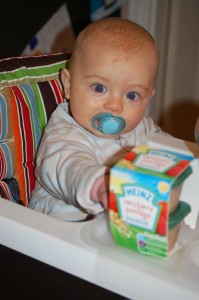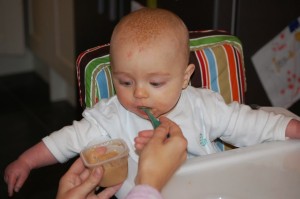 They were a definite hit, with Max leaning out the highchair to get at them faster! We tried them both warm, and at room temperature – both ways went down well, but I think in this cold weather the option to have a warm porridge breakfast is lovely. The other flavours were also a huge hit, and nothing was left uneaten!
The breakfast pots are also a great size for Max – the ideal amount for a breakfast or for a snack on the go – the pots are the perfect size to pop in your changing bag if you are heading out. With added iron, calcium and vitamin D, plus fruit counting towards the 5 a day, I can rest assured knowing that Max has had a healthy and nutritious breakfast.
The favourite item in the basket by far was the box of six cereal biscotti. Max ADORES them, whether they are for breakfast or a daytime snack. They are the perfect size for him to hold and feed himself, and there are always lots of 'mmmm' noises involved when eating these! (These biscotti have also come in VERY handy during the morning school run madness!)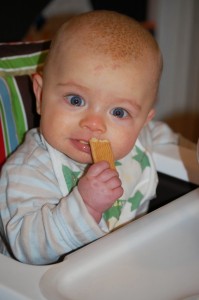 There are a few other flavours in the
Heinz baby breakfast range
and we will certainly be trying them out – these products have gone down very well with our mini taste tester!
* We were sent these products free of charge for review, but all thoughts and opinions are my own *