With the dark evenings drawing in, and the weather turning pretty chilly, the DVD's are coming into play again. A few days ago we were sent a pre-release copy of The Croods – the blockbuster hit that earned over £26 million at the UK box office! Billed as one of the 'must-see' animated films of the year, we couldn't wait to see what all the fuss was about.
Out came the popcorn and the Vimto (no idea why we always have Vimto but it seems to take me back to my childhood cinema days) and we settled down to watch.
The basic storyline features the Crood family. When their cave is destroyed, they are thrown into an adventure that sees them exploring the big wide world.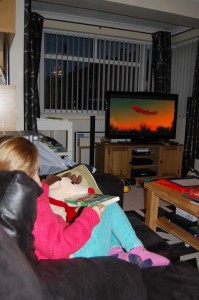 The film held the attention of the whole family – quite an unusual phenomenon as Jacob has the attention span of a goldfish. It even entertained baby Max – all the bright colours and lively music really caught his attention!
The children's favourite character was Chunky, the big tiger who starts off as the enemy, and ends up being the friendly family pet and protector.
Our favourite scene? Well, the one which got the most giggles was the scene near the beginning, where the Crood family go searching for breakfast. This involves a long race/fight for an egg, and includes a lot of falling over, jumping, bashing on the head type of things – and as anyone with children will know, this is exactly the sort of thing they like to watch.
The fun doesn't stop when the film ends – there are some great extras on the DVD too, such as scenes which didn't make it into the film – some of these are ever so funny, and we loved how the director explained why these scenes weren't used. Gemma has a real interest in why and how things happen, so this really appealed to her inquisitive nature.
With a hidden message of survival and hope, The Croods works on so many levels. My favourite quote from the film 'Dad, this isn't living, this is just not dying' have a meaning I am pretty sure we can all relate to at some point in our lives. I know I can.
The Croods is a real feel good family film – brilliant animation and a whole heap of laughs for the little ones, and an interesting, meaningful storyline for the older watchers.
Released on Blu-ray and DVD on 9th December
, just in time for the big day, this DVD would make a perfect Christmas gift or stocking filler. To find out more about the film, visit
The Croods movie website
.
And if you want a taster, take a look here!
A big thumbs up and a fantastical five star rating from us.
* We were sent a copy of The Croods on DVD by Mumsnet and Fox, but all thoughts and opinions are our own. *