I am a tad nosey curious about other peoples lives, and I often find myself wondering what everyone else does on a 'normal' day. You know – the everyday things. Are we all doing pretty much the same things, or has someone come up with a great time-saving idea that could cut chunks out of my workload? (If that's you, and you have….please share your secret!)
So here is our everyday, weekday routine. Just in case anyone else is nosey interested and would like a peek into our lives.
7am – Wakey Wakey!
The children tend to wake at around 7am. A fairly sociable hour really, but still far too early for me. I could happily spend more time in my bed. Once the kids are up, they require immediate feeding, so we all troop downstairs for the morning mania of cereal, toast and spilt milk.
8.30am – Leave for school. We are lucky enough to live close enough to the school that we can walk every day. I love being able to take my kids to school – I know how lucky I am.
9.30am – About this time Max is ready for a bottle of milk and a morning nap. Once he is asleep, I try and get on top of the dishes, the washing and the housework before he wakes up. On a good day I might cram in a bit of work or blogging too.
12pm – Lunchtime. Max and I usually sit down together for lunch. It's lovely to be able to do this.
1pm – Playtime. After lunch I try to make time to sit down with Max and play for a while. It's all too easy to spend all day rushing around, but I do think it is so important to make time for play too. Sometimes it is structured play – sensory games, stacking blocks etc and sometimes I let Max take the lead – whether that is Happyland, looking at a book or just taking all the saucepans out the cupboard.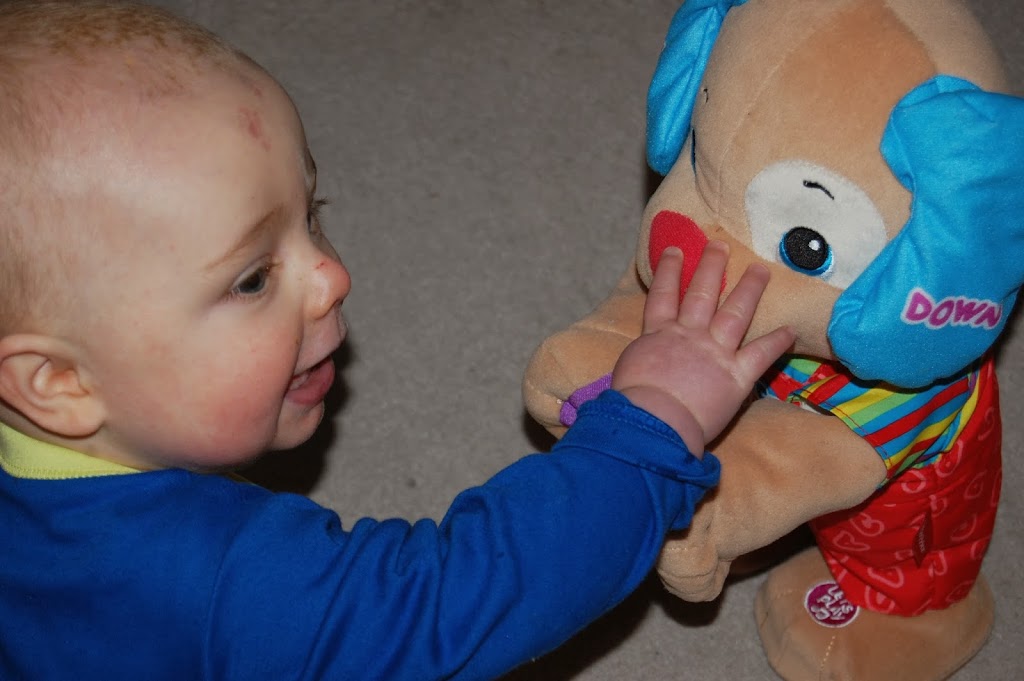 3.30pm – School pick up. Again, I love the fact that I can pick my children up from school. I love hearing about their day and what they have been up to. Max often sleeps in the pushchair on the school run, and once home Gemma and Jacob have some down time – playing, drawing or watching a bit of TV.
5.30pm – Dinner time. We tend to all eat together at 5.30pm when Kevin is home from work. Max eats what we eat – I don't cook him anything different. After dinner, the older 2 do their homework or reading books while I tidy up in the kitchen and Kevin spends some time with Max. Every other night we do bathtime too.
7pm – Bedtime. Max has a bottle of milk and we all head upstairs for a story. Max and Jacob go straight to sleep, while Gemma often reads a book in bed for half an hour.
8pm – Grown up time (sort of). Sometimes we will sit down and watch TV together. A lot of the time though, I use the evenings to catch up on blog posts and work articles. Before you know it, it's time for bed before it all starts over again!