I have heard a lot of good things about Degustabox and so when I was asked to review a 3 month subscription I jumped at the chance.
Each box will contain 10-15 surprise food goodies, many of which are new to the market. I love this idea, as it can sometimes be hard to think of new and interesting meal and snack ideas to keep everyone happy!
In my March box I received: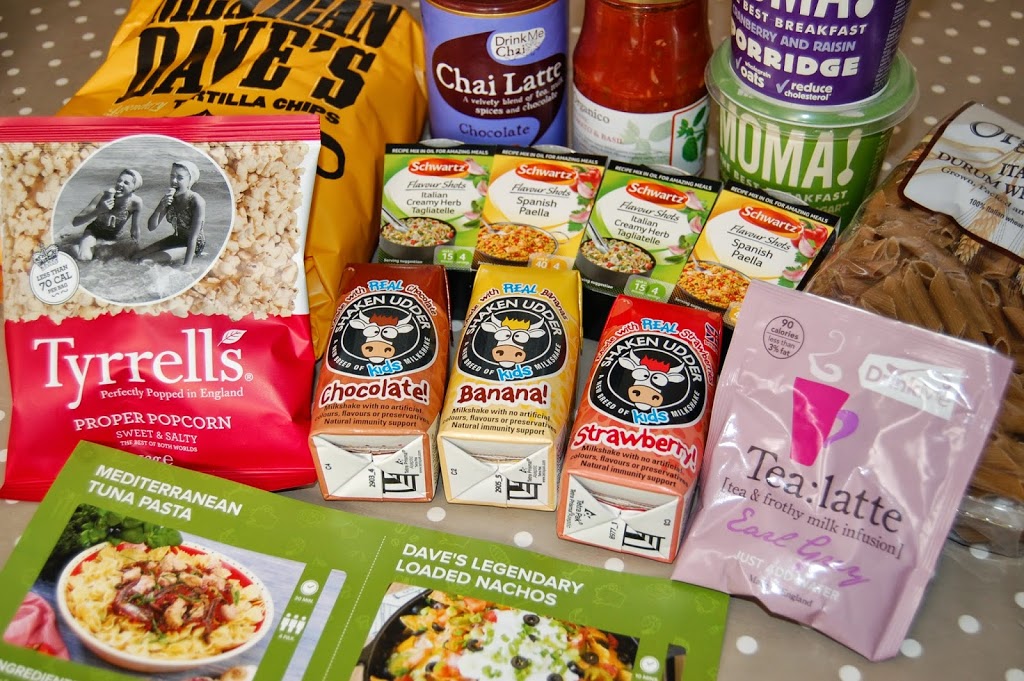 Schwartz flavour shots – little pots of herbs, spices and seasoning in oil to add to your cooking – they really do give things a flavour hit! We used ours in pasta and a stir fry, yum!
MOMA porridge pots – one plain and one cranberry and raisin. I wasn't overly keen on the plain one, I found it a bit bland, but you could easily add your own fruit to spice it up a bit. I loved the cranberry and raisin one – not too sweet, but full of flavour!
Tyrrells sweet and salty popcorn – I am not usually a popcorn fan, but I couldn't stop sneaking handfuls of this stuff – the combination of sweet and salty flavour is perfectly balanced and very moreish!
Drink me Chai Chocolate Chai Latte and Tea: latte – I don't drink a lot of hot drinks, but the fact the Chai contained chocolate convinced me to give it a go, and I was pleasantly surprised. It is creamy and deep, and has a warming kick to it. I gave the Tea: latte to my mum, who told me it was unusual, but she quite liked it.
Shaken Udder milkshakes – I cannot comment on these, as the children has devoured them before I got a look in. They tell me they were 'yummy and fruity' and I have been ordered to buy more.
Mexican Dave's cheesy nachos – I wasn't a fan of these, they were just a bit too strong for me, but there is a recipe for loaded nachos in the box and I think this might work better for me as I could top them with my favourite things.
Organico wheat pasta – we all like wheat pasta, and eat it quite a lot, so this was a welcome addition.
Organico tomato and basil sauce – again, a favourite in our house, and this sauce was wonderful with the pasta, and topped with some melted cheese. There is a great recipe in the box too, for Mediterranean tuna pasta, which we will be trying out at some point.
Overall, I am very impressed with the box. There were lots of items in there that I haven't come across before, but will now feature highly on my shopping list.