Travel cots can be so invaluable when you have little ones. We tend to holiday in the UK and although a lot of places do provide cots, I always prefer to take my own – then I know it's clean, I know the mattress is safe and I know that Max will sleep in it.
Kiddicare recently created a sleep timeline which has a whole heap of handy advice about different sleep options for babies from 0-5, covering everything from swaddling and moses baskets to grobags and starter beds. As part of this, Kiddicare sent us a travel cot, so we could take a closer look and see just what these have to offer.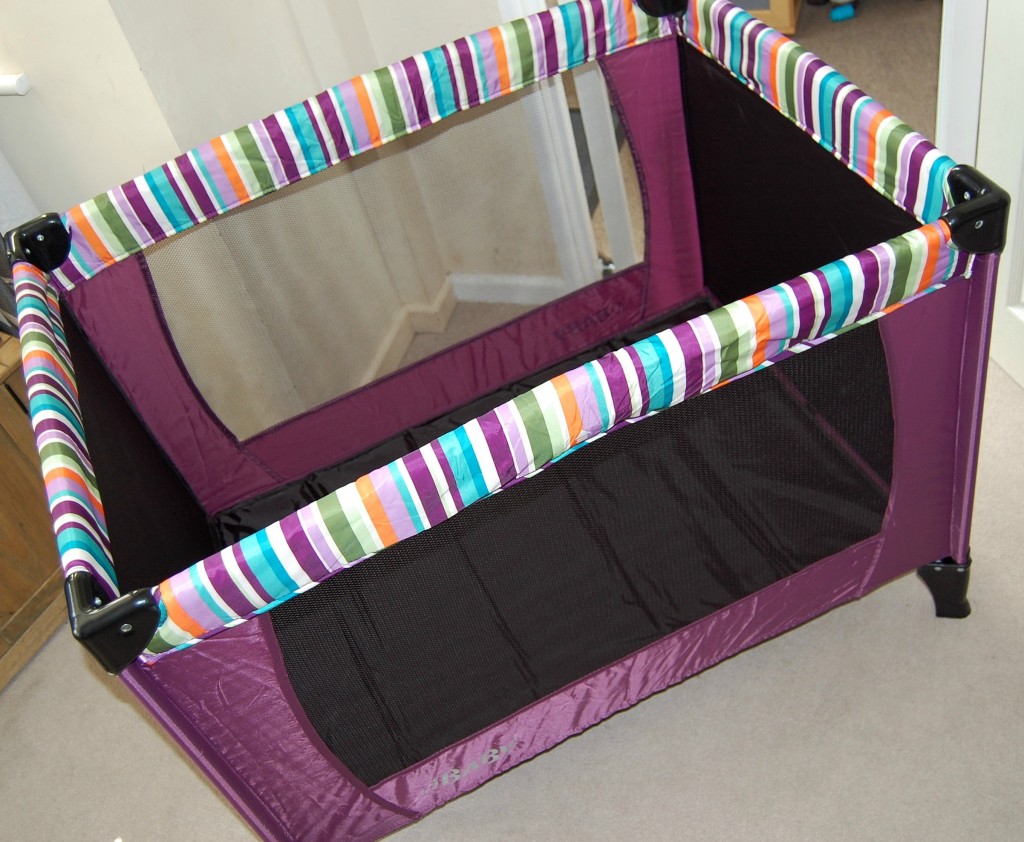 The first thing I noticed was just how compact it is. Having previously had a pop up travel cot, which while convenient is very bulky, the size of this one surprised me. On opening the bag, I found the cot itself, plus a basinette section, instructions and the mattress.
Putting the cot up was simple, and I didn't require the instructions. Just push the base down towards the floor and then lock the sides into place by pulling them upwards. Drop the mattress into place and you're all set!
It's really spacious. Max is an average sized one year old, and he has acres of room – this travel cot would easily last until he no longer needs a cot. It would even be big enough to use as a playpen for a smaller tot. Max was happy to lie in the cot in his sleeping bag, and has had a few afternoon naps in there. For smaller babies, there is a basinette section included, which is really simple to use, just slotting over the top of the travel cot frame.
Folding the cot was my biggest worry – I know so many people who have struggles with travel cots in the past, and have heard stories about being stuck at holiday parks being unable to fold the cot and put it in the car – one friend even left theirs behind after several hours of fighting with it, and a near divorce with her husband. So I approached folding time with a bit of trepidation – but I needn't have worried. To fold, you simply remove the mattress, then grab the D ring and pull upwards. This collapses the base. You then locate the buttons in the centre of the side rails, press these in and the sides will fold in on themselves. Push it all together, wrap the mattress around the cot and secure it with the velcro tabs. You can then just slide it into the travel bag.
I love the OBaby travel cot, and we will most definitely be using it for our holiday to Wales in September. It won't take up much room in the car, it's easy to set up and pack away and it's comfortable for Max.
Have you taken a look at the Kiddicare sleep timeline yet? Which stage is your baby at, and have you used any of the products they mention?