A good fridge freezer is an important part of any family home. If you think about it, is probably the most used item in a kitchen – although my washing machine and dishwasher seem to be constantly on the go, the fridge freezer is opened over and over again, countless times a day. We open it to get the milk and butter for breakfast, get more milk for cups of tea, pull out fruits and veg for snacks and ingredients for meal times.
When Samsung got in touch recently about their new Food ShowCase fridge freezer it sounded like the perfect family option. Our fridge is often in chaos, with very little organisation, despite my best attempts. The Showcase fridge freezer has customisable door pockets and Slide & Fold shelving, meaning the space can be adapted to fit your food.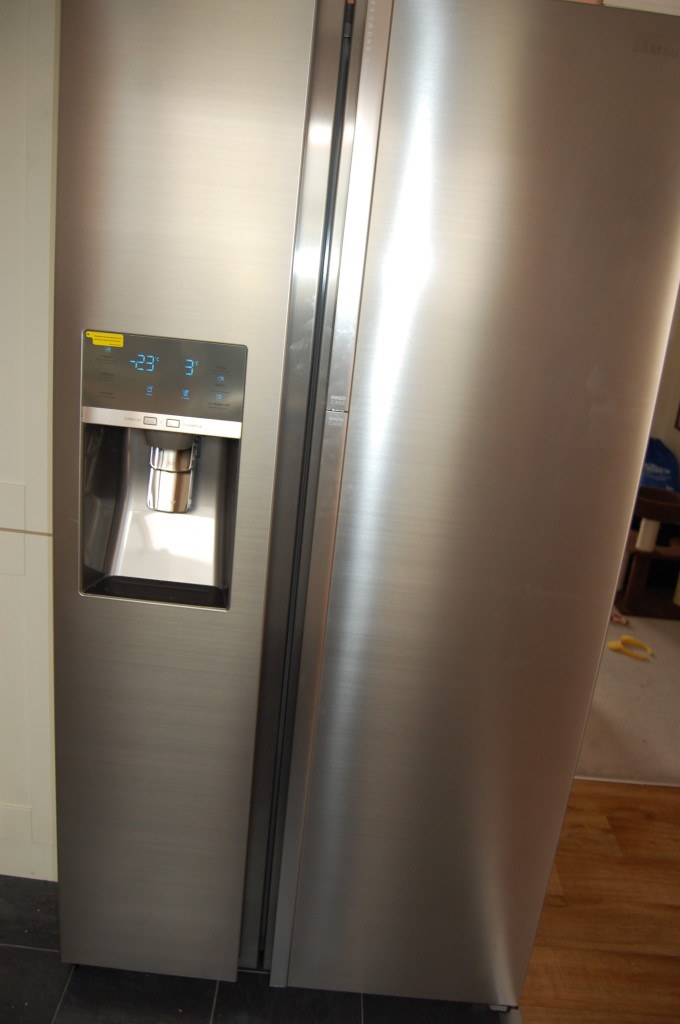 My new Samsung FoodShowCase arrived at the weekend. Be aware that it is big, and you do need enough space to get this bad boy delivered and installed. We had to remove our front door and internal doors in order to get it through into the kitchen, and at 175kg it's heavy too. Just bear this in mind when ordering.
It's worth it though. It looks amazing, almost space age. The steel finish and clean lines make it the ultimate modern addition to any kitchen, and you are never going to be short of space. It also has a stainless steel ice and water dispenser, which is something we have never had before, but is really handy for making quick drinks on a busy day! It's the perfect height for the children to make themselves a glass of water too.
There is the option to choose from crushed or cubed ice at the touch of a button, and a separate lever for cold water. The ice blue digital display is in keeping with the cool, clean design and works in the same way as a touch screen phone – just press gently on the desired function to get it working. There are some great functions too – the power freeze and power cool options had the appliance at the correct temperature for us to store our food in under an hour, and the ice maker can be switched on and off easily.
The real innovation comes in the form of the 'fridge within a fridge'. If you are like me, you will have fridge items that you reach for over and over again, throughout the day. Milk, butter, fruit, cheese. The Samsung Showcase has an inner door that allows just the front section of the fridge to be opened up to access the most used items, reducing loss of air from the fridge and keeping items at the optimum temperature.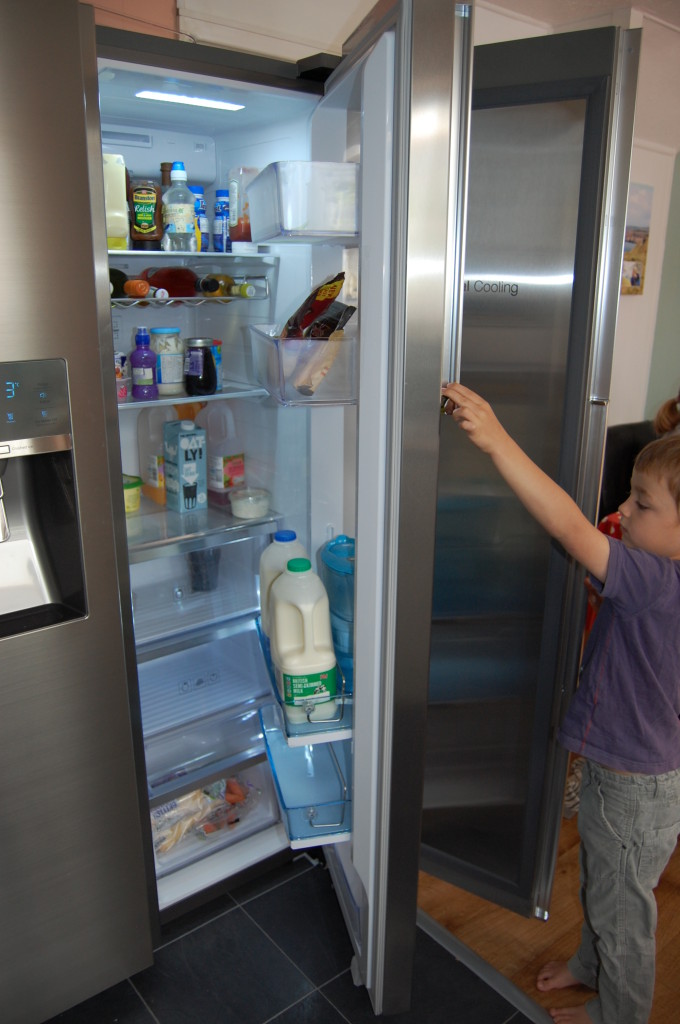 This does take some getting used to – you often find yourself opening the wrong section of the door to start with, but within a day or 2 we had it sussed. It's such a simple yet clever idea, and it means the kids can open the Show door, grab a quick snack and go again. It also makes it much easier to find things – the everyday items are in the first door, the meal ingredients and lesser used items are in the inner door. Easy.
Our first impressions of the Samsung FoodShowCase are 5 star. It looks sleek and stylish, it has some very clever features and it is simple to install and use.
* We were sent a Samsung FoodShowCase fridge freezer for review purposes. We were also sent a food gift pack. All thoughts and opinions are my own.