I sometimes feel like I review a never ending stream of baby and toddler things, and very rarely focus on products for mums, dads or the home. So today I am bucking the trend and reviewing a couple of my favourite jewellery items for mums (or sisters, aunts, nannys…..you get the picture).
Jewellery is a very personal thing, and that is why I have really fallen for the range at Charms Direct which allows you to personalise your own jewellery. You can choose from several different bracelet styles, and then add charms that mean something to you. There is a huge selection to choose from, and something for every conceivable occasion.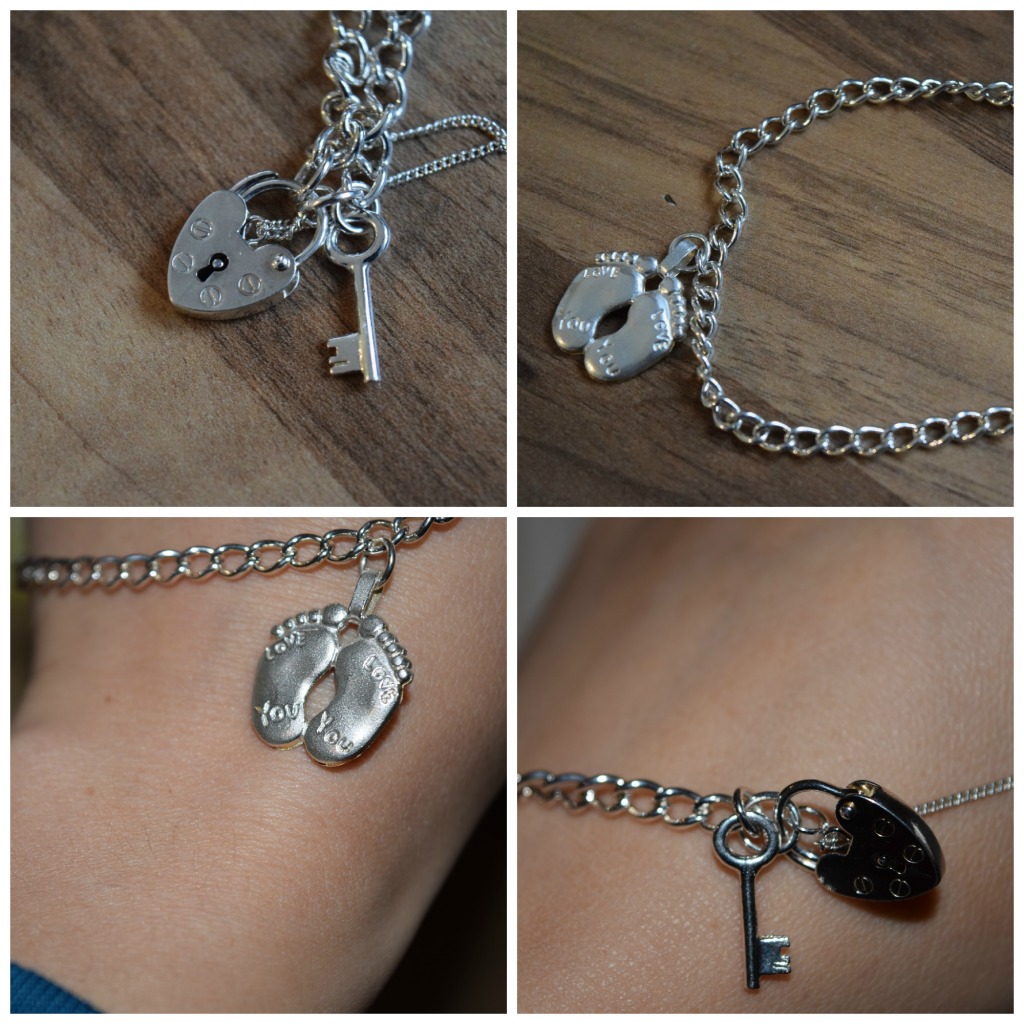 I chose a silver bracelet with a heart shaped padlock fastening, and a 'I love you' feet charm to represent my children. There are options to choose from silver or gold bracelets and charms, as well as a children's bracelet, so it would be easy to design a personal Christmas present for anyone. Prices are very reasonable too, with adult silver bracelets starting at just £24.71.
The bracelet seems good quality, and I have worn it for a few weeks now with no problems, The metal doesn't irritate my skin, the clasp has stayed strong and there has been no discolouration. I like the idea that I could easily add more charms to this to make a really special item of jewellery.
With Christmas fast approaching, I know a lot of you will be on the hunt for jewellery to wear during the festive season. I have recently been sent this bunting necklace from Funky Laser. Made from laser cut acrylic, these necklaces are a real statement piece.
It's such a different feel to the jewellery I usually wear but I really like it. I was worried the acrylic might look cheap, but it doesn't, in any way, shape or form. It looks unusual, a real eye catching piece that will be perfect for the run up to Christmas, and will work with almost any outfit. The glitter on the green triangles gives that bit of sparkle you want at this time of year. The chain is fairly long and sits in the middle of your chest, which makes it ideal for brightening up a dark top.
Do you wear a lot of jewellery? Is there anything that has caught your eye this year?