Gemma and Jacob love anything to do with the sea and the water – I don't know if this is due to living by the sea or whether it is just something that all children love, but they are definitely keen on visiting aquariums, ponds, rock pools and of course, the beach. This weekend we made the trip to the SeaLife Centre in Weymouth with 2 very excited children and a squealing baby, although I don't think he really knew what all the excitement was about.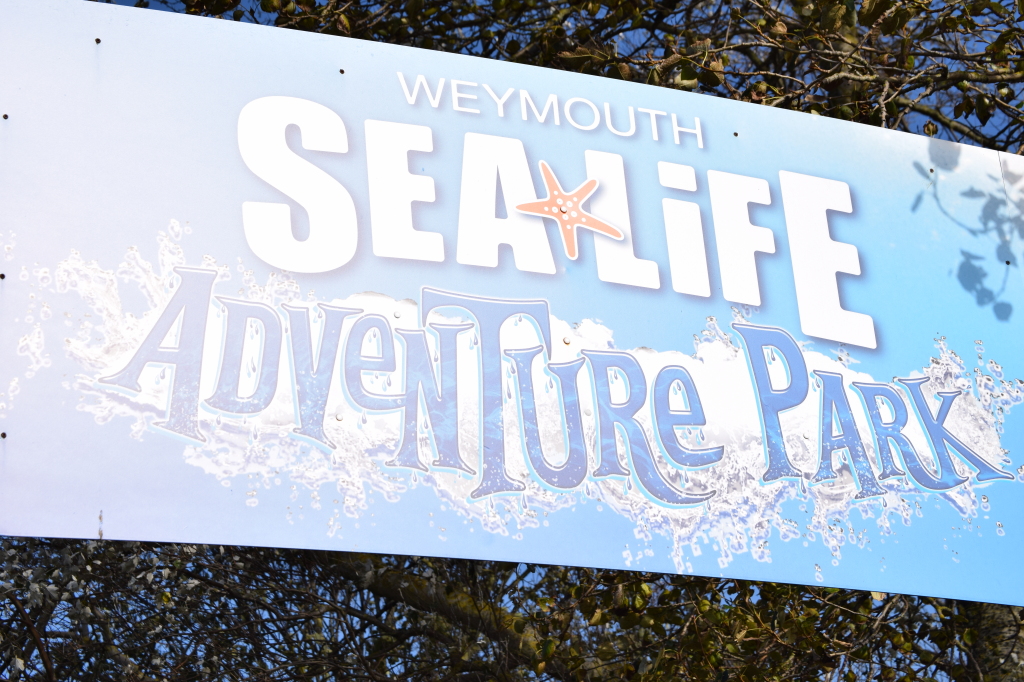 If you book tickets online, they cost £15.50 a person, which is £7 less than the price on the door. Tickets include entry to the park and the Sea Life Tower – a 53m panoramic tower which offers you an amazing view of the coastline. To reach the tower from the park you can either stroll the 30 minute walk along the seafront, drive (although this will incur another parking charge), or catch the seafront train between the park and the tower – again there is an additional charge for this, so do factor this into your budget.
On arrival at the park, the children were provided with activity booklets and stamp books – the idea being that they collect a stamp at each area of the centre and then show the completed book at the end to receive a reward (a Sea Life medal) – this is a great way to ensure that you see everything and don't miss an area. The activity books provided have things such as wordsearches, mazes and puzzles in – great idea for snack/lunch stops, but the Sea Life do not provide pens or pencils, so make sure you pack one.
The centre is split into 15 different sections, and there are specific things to see in each area. First stop was the Bay of Rays, where we saw some enormous rays, as well as lots of other fish.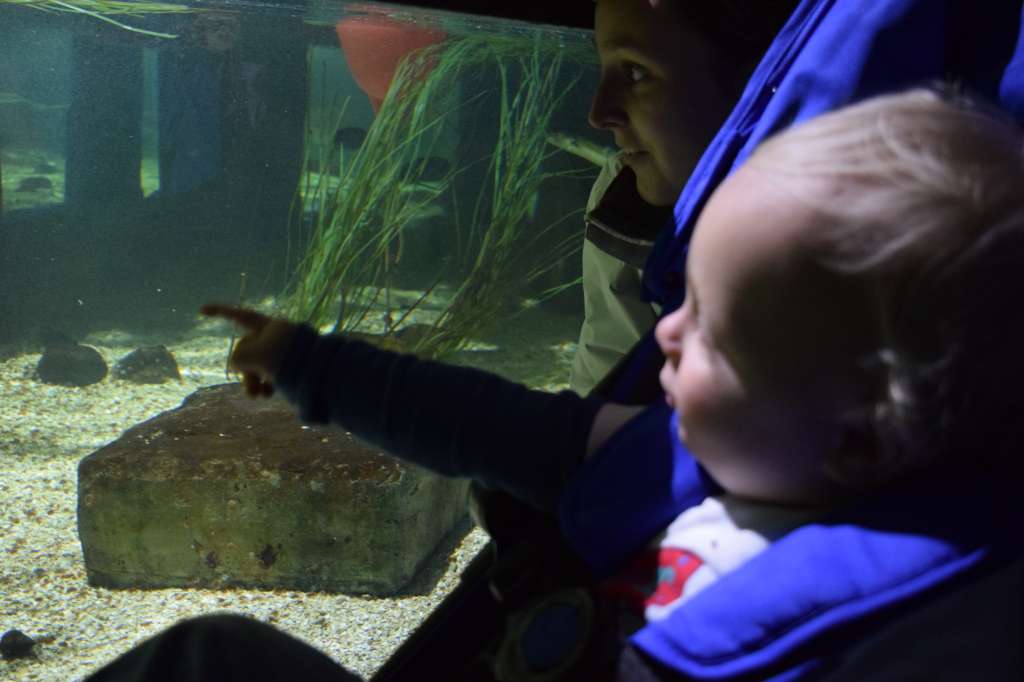 Our next stop was the one that Jacob had been looking forward to the most – Shark Reef. Here we saw a selection of sharks, and were able to watch feeding time. The staff presenting this were very knowledgeable and happy to answer all our questions.
In the Rainforest area, we met a lot of exotic creatures, including this little fellow. He was SO still, you had to look really carefully to be able to spot him. Gemma has recently completed a topic on the Amazon at school, and so she was able to tell us lots of interesting facts about the rainforest and the creatures that live there. In each area there are screens and interactive tools to help you learn more about the creatures you are seeing.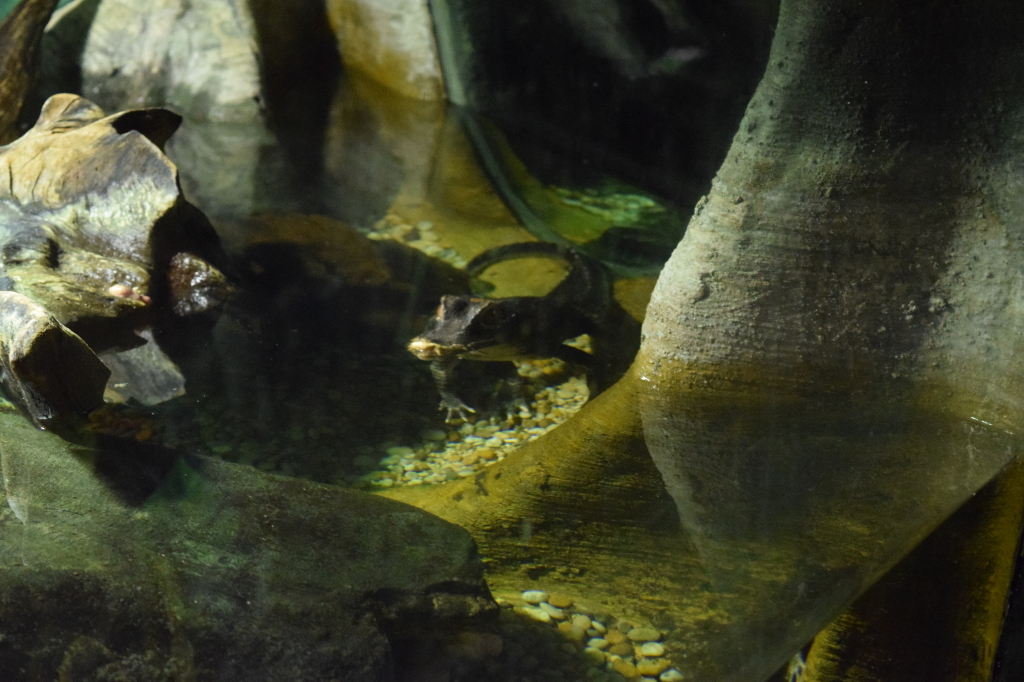 Gemma and Jacob loved the rockpool area. They are familiar with rockpools, and often explore them when we are at the beach, and so they were able to identify some of the animals they saw. Gemma was able to touch a starfish too – she said it felt rough and spiky. The staff all around the park are so knowledgeable and keen to get the children involved.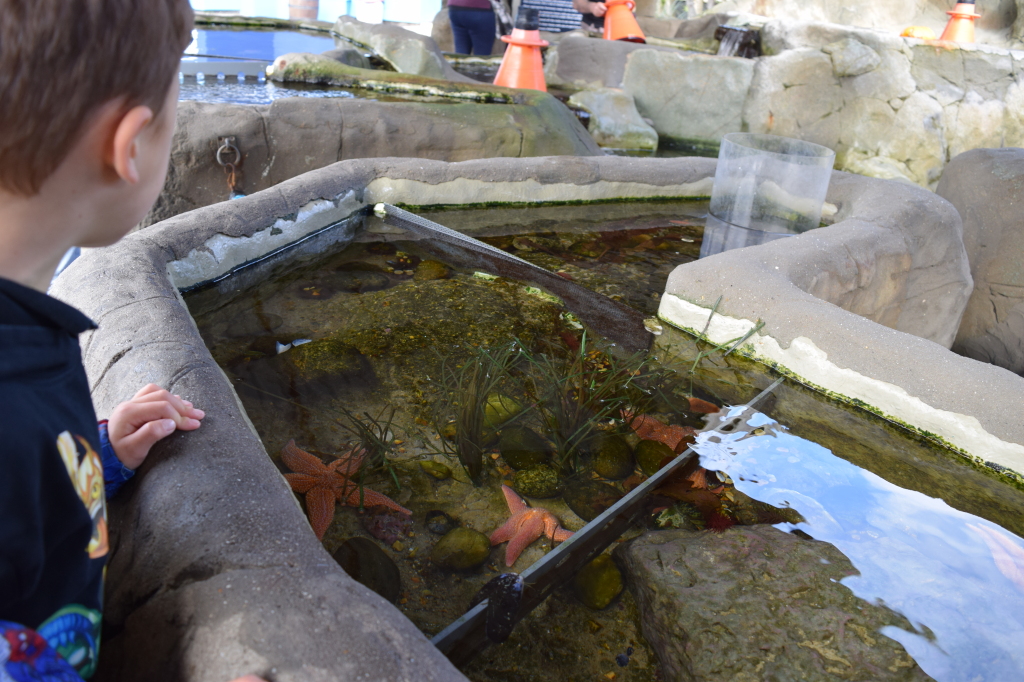 We were all looking forward to seeing the penguins, and we arrived just in time for their feeding session. The staff member was hand feeding the penguins, and we were told all about their diet, where they live and the Sea Life Centre's very successful breeding programme, which is helping to conserve this endangered animal.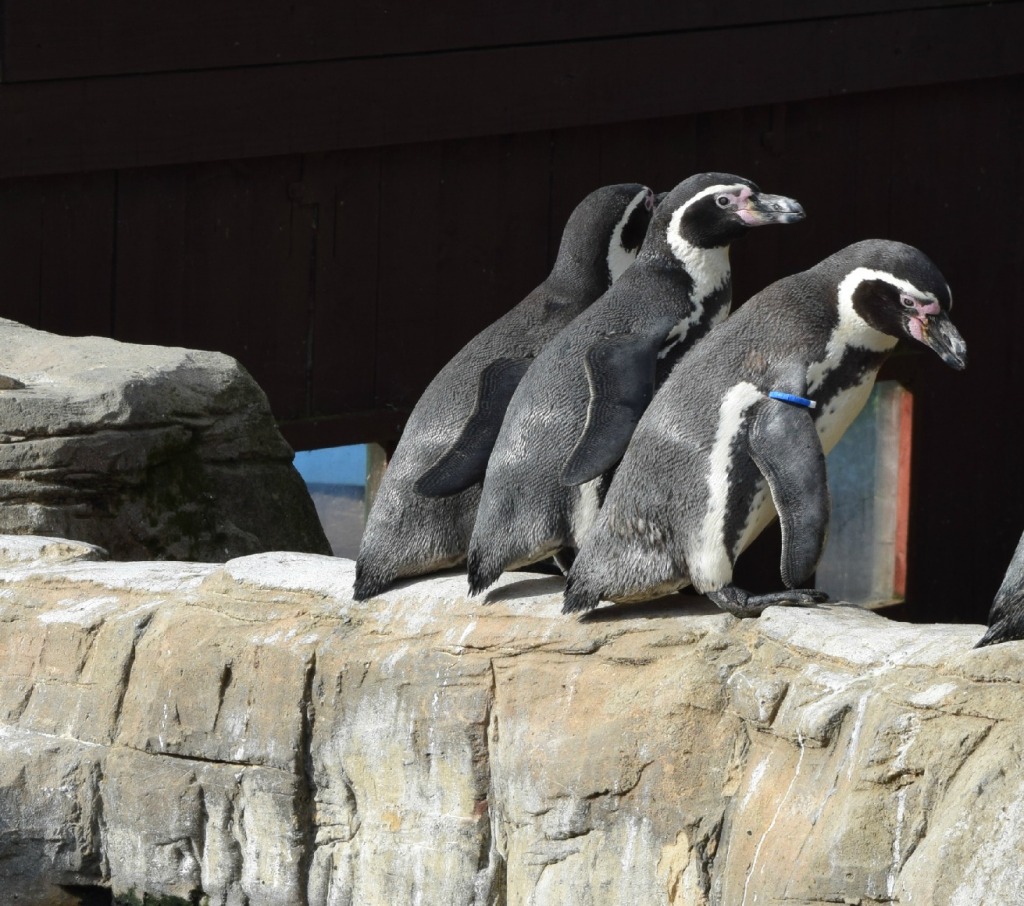 Next up was the Turtle Sanctuary, and here we discovered some very unusual animals, such as this snake neck turtle, as well as the very impressive giant turtle.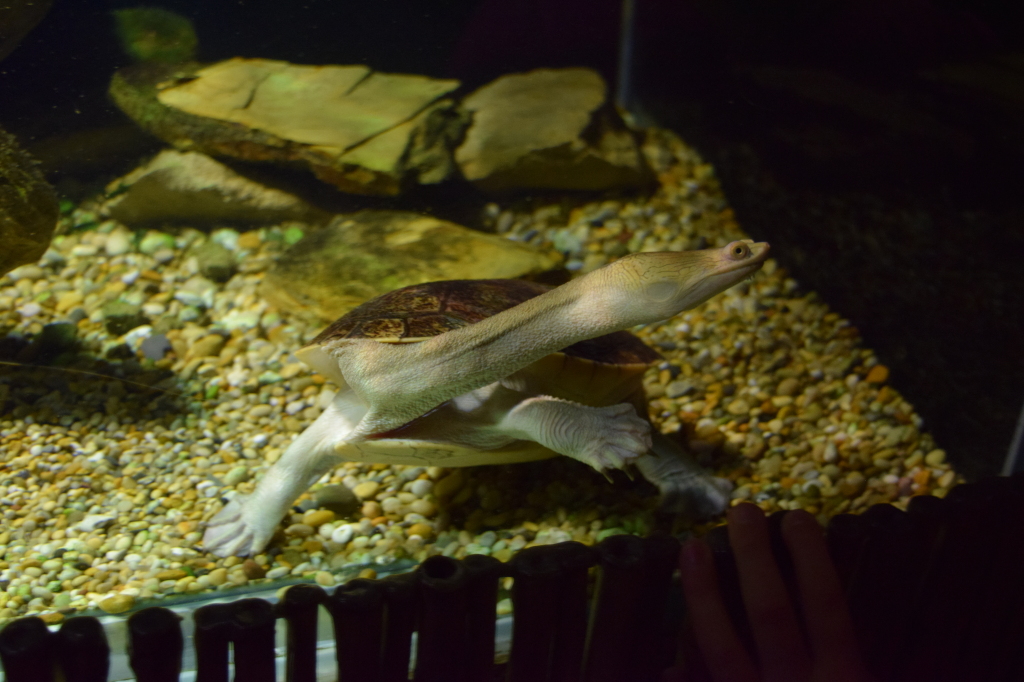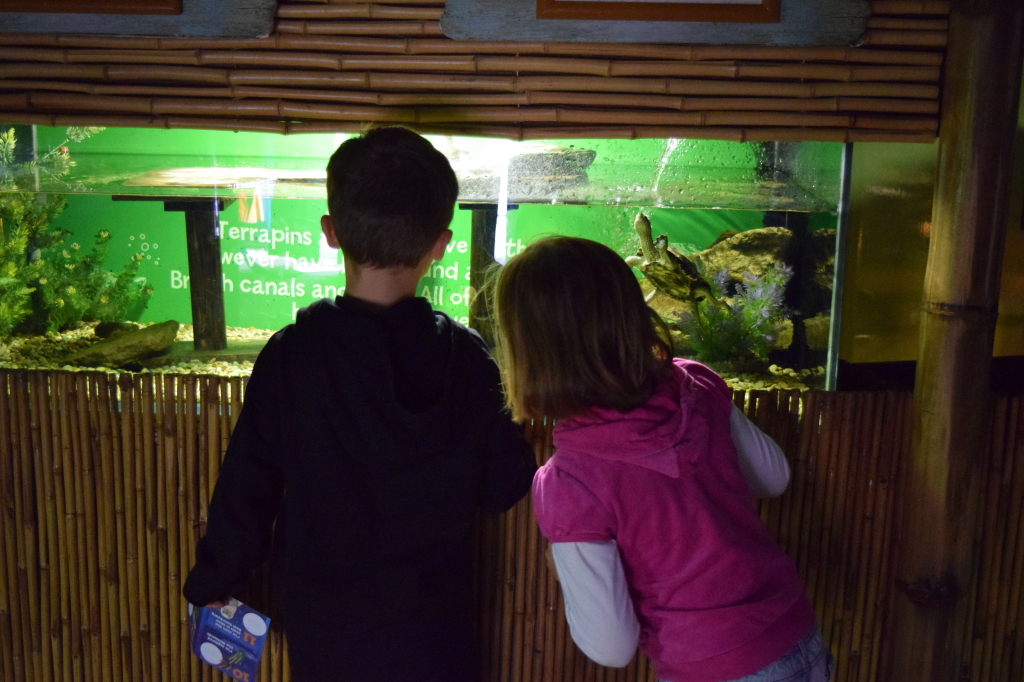 The turtle sanctuary leads straight into the ocean tunnel – this was a real highlight, as you are surrounded by amazing sea creatures, and can watch as they swim above and around you, close enough to examine in real detail. Just something to not here – the ocean tunnel is very popular but quite small, so do be aware of this, especially if you have a pushchair!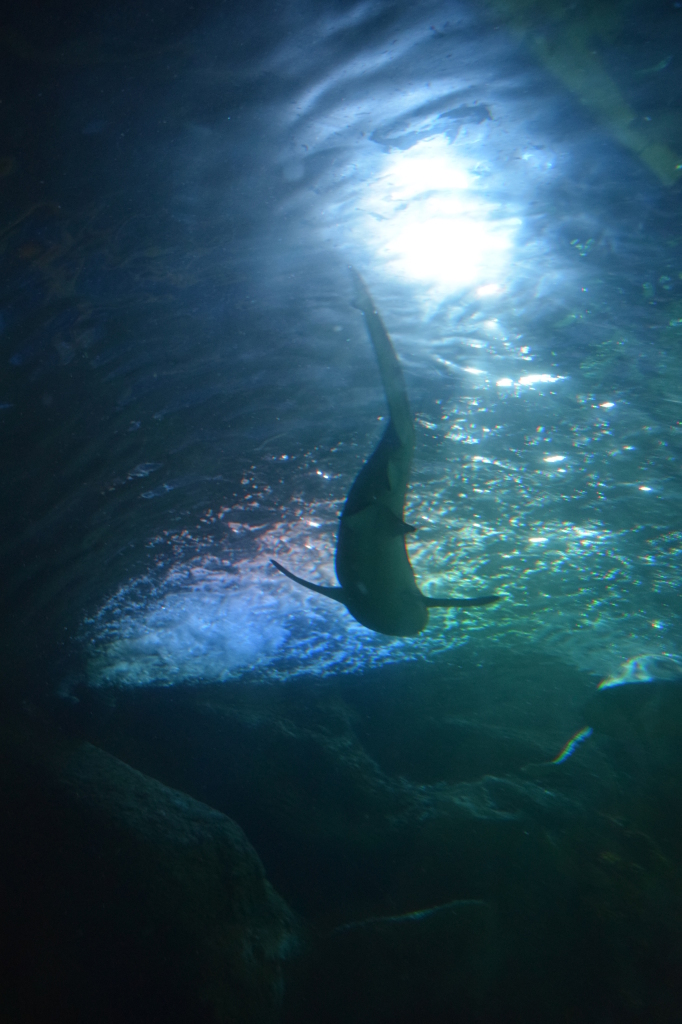 Once we had managed to drag ourselves from the wonders of the ocean tunnel, we came out into the Wetlands area – lots of marshland birds to see here, and some information about conservation. It's also a lovely open area where the kids can run and play for a while.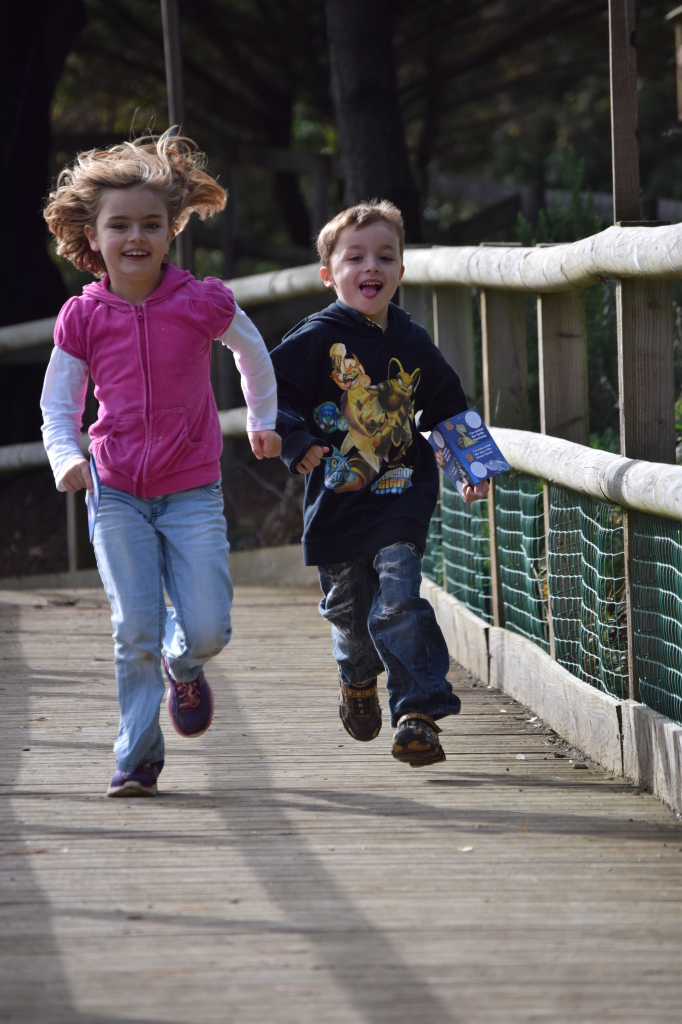 Another area we had all been keen to explore was the seal sanctuary – seals are such beautiful animals, and ones that you rarely get to see. The seals at the Sea Life Centre were very playful, and we were able to watch them slip and slide around on the shallow rocks, as well as heading down to the underwater observatory to see dive deep down.
Crocodile Creek was next up, and this was a huge hit with the children, largely due to the log flume, that takes you on a boat ride through the crocodile zone, before soaking you on a speedy little hill.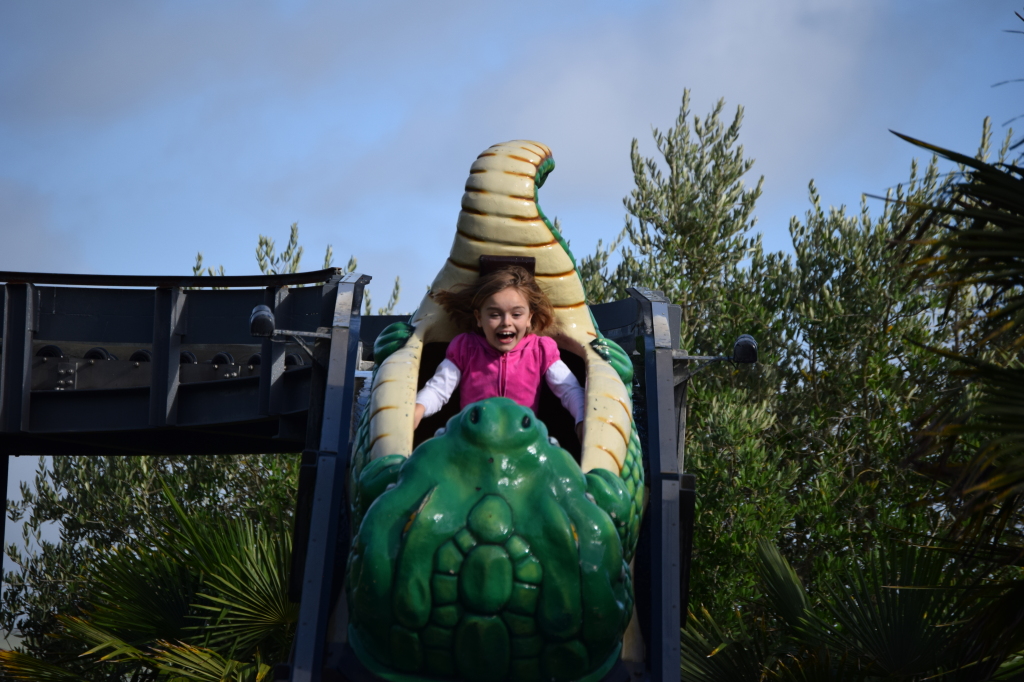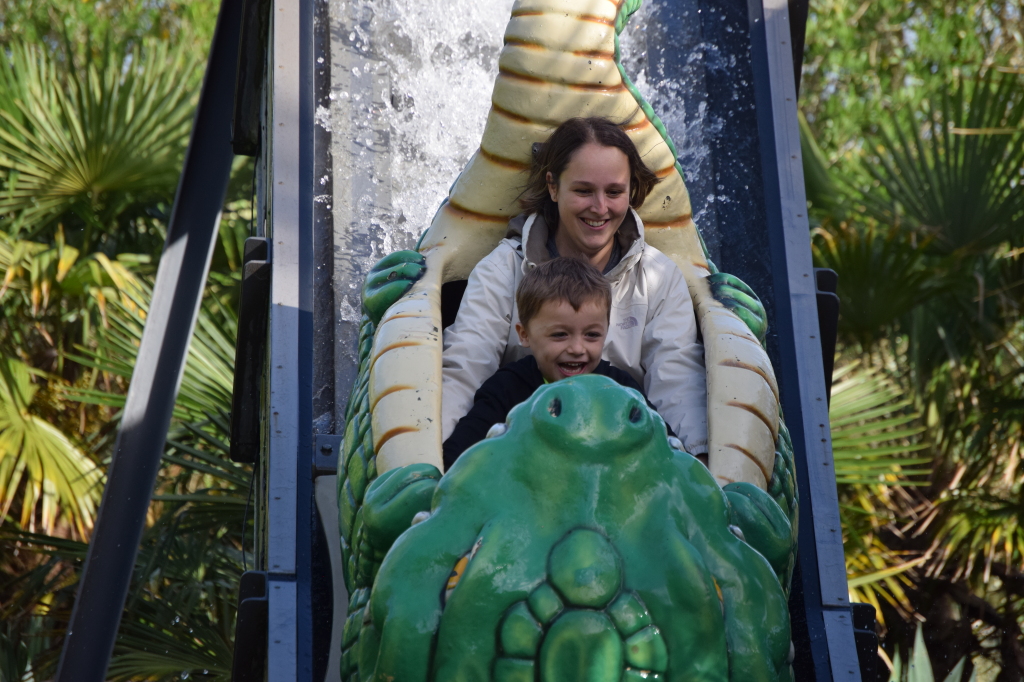 Finally, we met the family of otters – there was a sign telling us that they sleep and we may be able to see them in their holt, but we were lucky enough to catch them outside, and playing on the rocks. Gorgeous animals that you very rarely see in the wild now.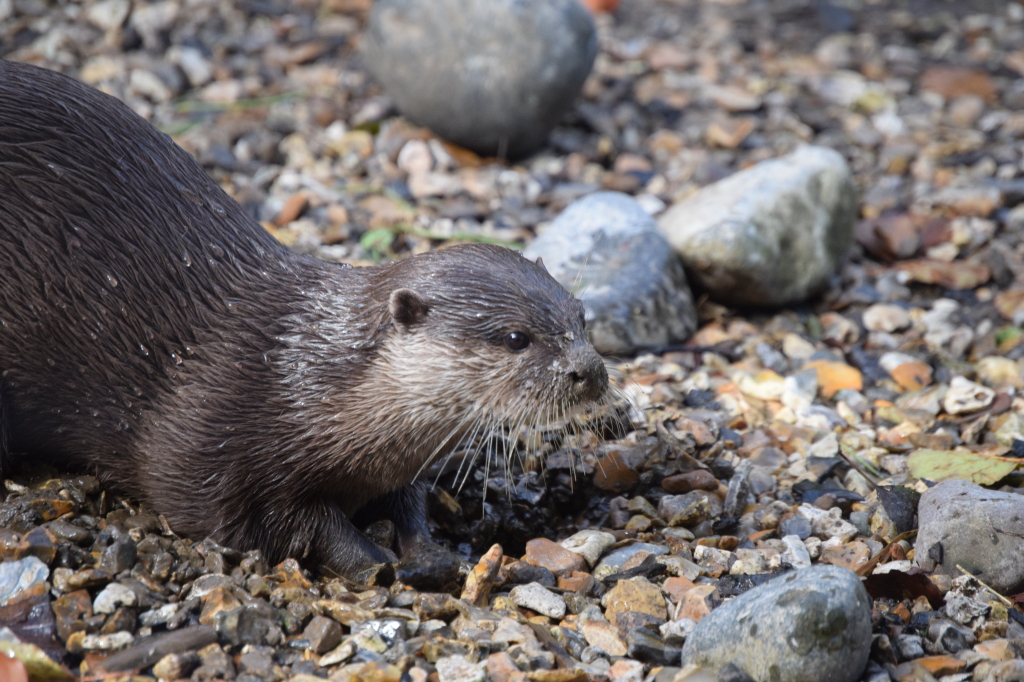 There are other areas too, that we didn't get snaps of as we were too busy exploring! You can find Nemo in the Shipwrecked area, find out about the breeding programme and spot some baby seahorses in the nursery zone, and burn off some energy on the rides in Adventure Island. There is also a lovely Splash Zone – it was too cold for us to take advantage of in October but in the summer this would be a wonderful place to spend some time.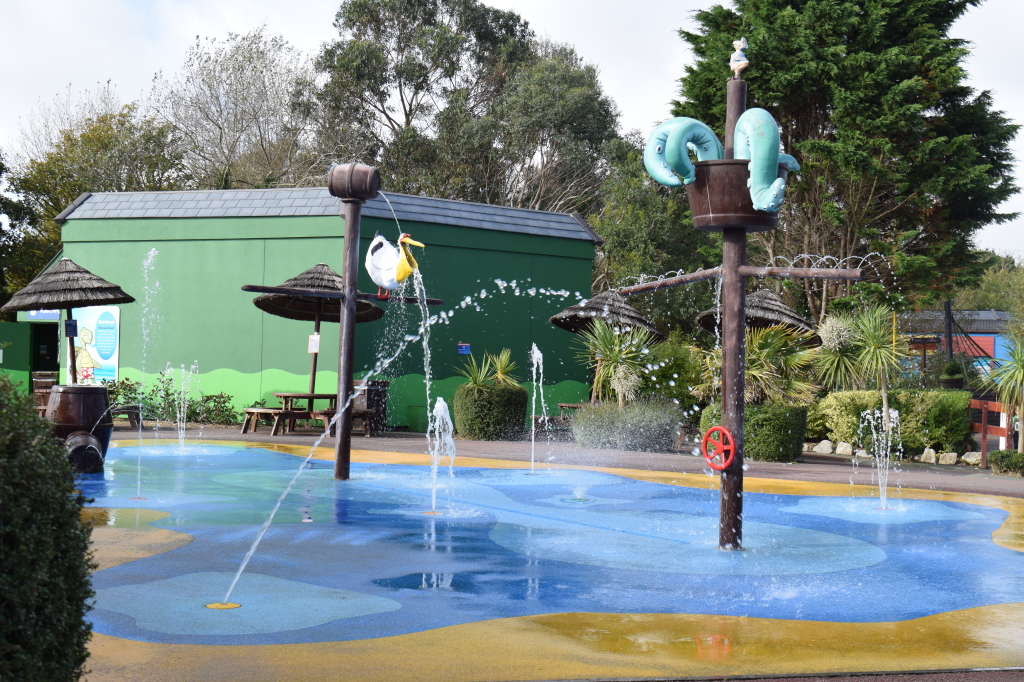 There are 2 places to eat – one offers hot meals and one offers sandwiches and snacks. They are both clean, have a wide selection of food, plenty of seating indoors or out and have a good amount of highchairs. The toilets on the park are clean and well maintained too, and there are separate baby change rooms.
Overall we had the best day. There was so much to see and do, and everything was clearly designed with children in mind, making it a fun and interactive trip, as well as a valuable learning experience. We will definitely go again!
Spending time together as a family is so important, and days out can provide a great opportunity to have that quality time. The Family Adventure Company are keen on promoting active family fun, and they currently have a competition running, where you could win an amazing family adventure to Andorra. To enter, just answer a few fun questions to be in with a chance of winning an amazing activity holiday and other exciting prizes from their partners – Sea Life and Go Ape!