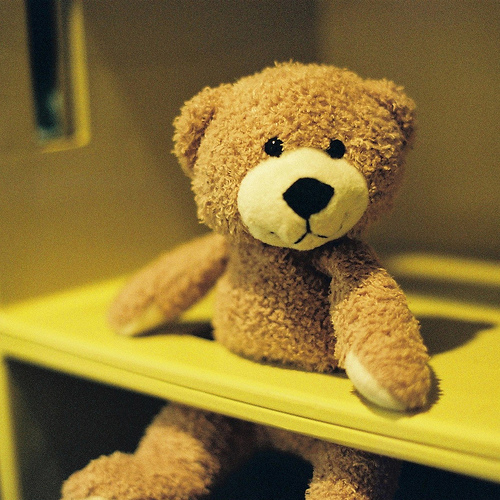 Photo Credit: sapheron via Compfight cc
The great thing about teddies is they can be the perfect gift for everybody. There is a bear for everyone, to suit all ages and tastes and what's more, they are affordable.
Teddies are unique – the close bond we share with our teddies can last a lifetime. Many carry their teddies with them throughout their lives – they are placed in the cot as a comfort to us as babies. They are with us in our first bed to cuddle when we were afraid. When we came home from school after a bad day, we could squeeze our teddies to help ease our stress. Even when heading off to University or setting up our own homes, we always make sure that our teddy comes with us and finds a place in our new home. Ultimately, our bears are always with us. It is amazing to think that in giving the gift of a teddy to child, you are starting a relationship that will endure for their entire lifetime.
Many of us have more than one teddy in our lifespan and they tend to be associated with special occasions. Receiving a bear at significant milestones in our lives, such as landmark birthdays, marriage and graduations will always remind of us those special times each time we see that teddy and so they hold special meaning to us.
A teddy is the perfect gift for they can be given for any occasion; they help us to tell that special someone that we love them and later tell that special person that we are sorry. They are the perfect Valentine's Day present, for in giving a teddy we are showing our loving and caring side. Since teddies are meant to be hugged and cuddled, this is the message we convey to the recipient of the bear.
Bears come in all different shapes and sizes; from tiny teddies to huge bears. Bears can be the most personal gifts; unlike many other gifts, teddies can be customised with accessories. Adding costumes to a teddy makes them extra special and indicates a well thought out purchase. A bear can be found for a person in a particular profession or those with special interests or hobbies. British Teddies offer a wide variety of military bears and memorabilia bears such as the RAF bear and the Sherlock Holmes teddy bear. Other leading teddy bear companies such as Build a Bear who offer customisable bears where you can dress your bears in any items you desire from the store or online
This makes each bear unique, and so teddies reveal something about our character. Each teddy tells a tale about an aspect of our lives. When we give the gift of a teddy we are not just giving someone a soft and cuddly object, we are telling them that we love them, that we care, that we have put careful consideration into this purchase because we hope that they will get as much comfort and enjoyment from their new teddy as we have had with our own bears.
This is a collaborative post.