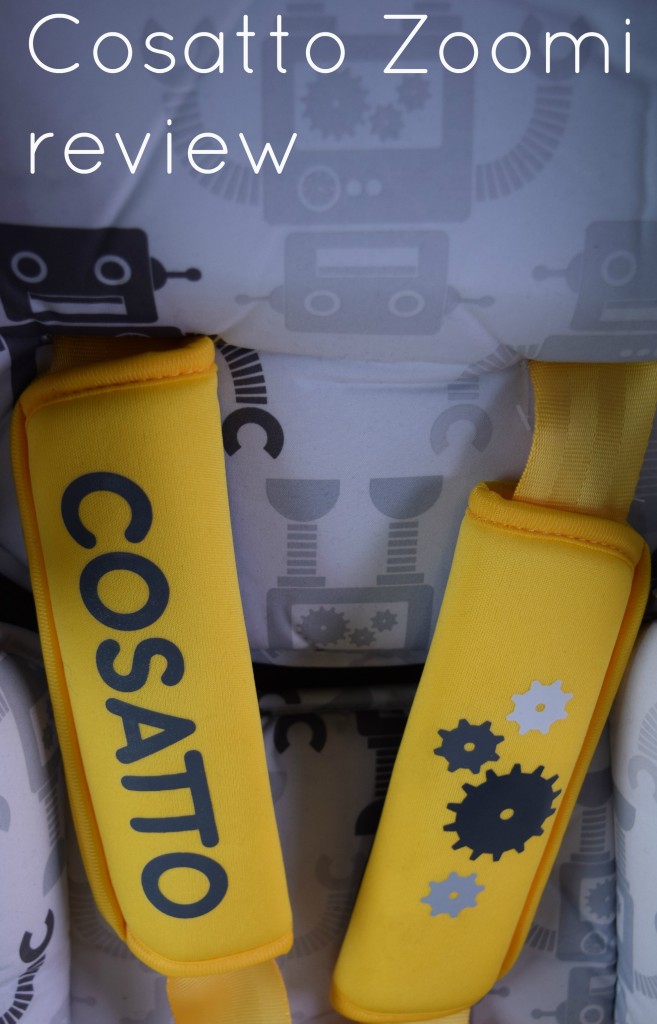 Car seats are a minefield, there's no denying it. Knowing when to move up to the next stage car seat, which one to choose, whether to get rear or forward facing, what features you want to have – it leaves most of us confused and wondering how we will ever choose one! We have recently bought a new car and wanted a seat that could stay in there for Max to use. We knew we wanted a stage 1,2,3 car seat that would last him from now until he no longer needs a seat, but that was as much as we knew.
Cosatto recently took my indecision away by sending me the Zoomi car seat.
The Zoomi My Robot is classic Cosatto – eye catching, bright and funky but with all the practical features you need too. Zoomi is billed as the car seat that goes from baby hugger to big kid booster seat, which is exactly what we were after, and priced at a very reasonable £115 it's definitely one to put on your shopping list.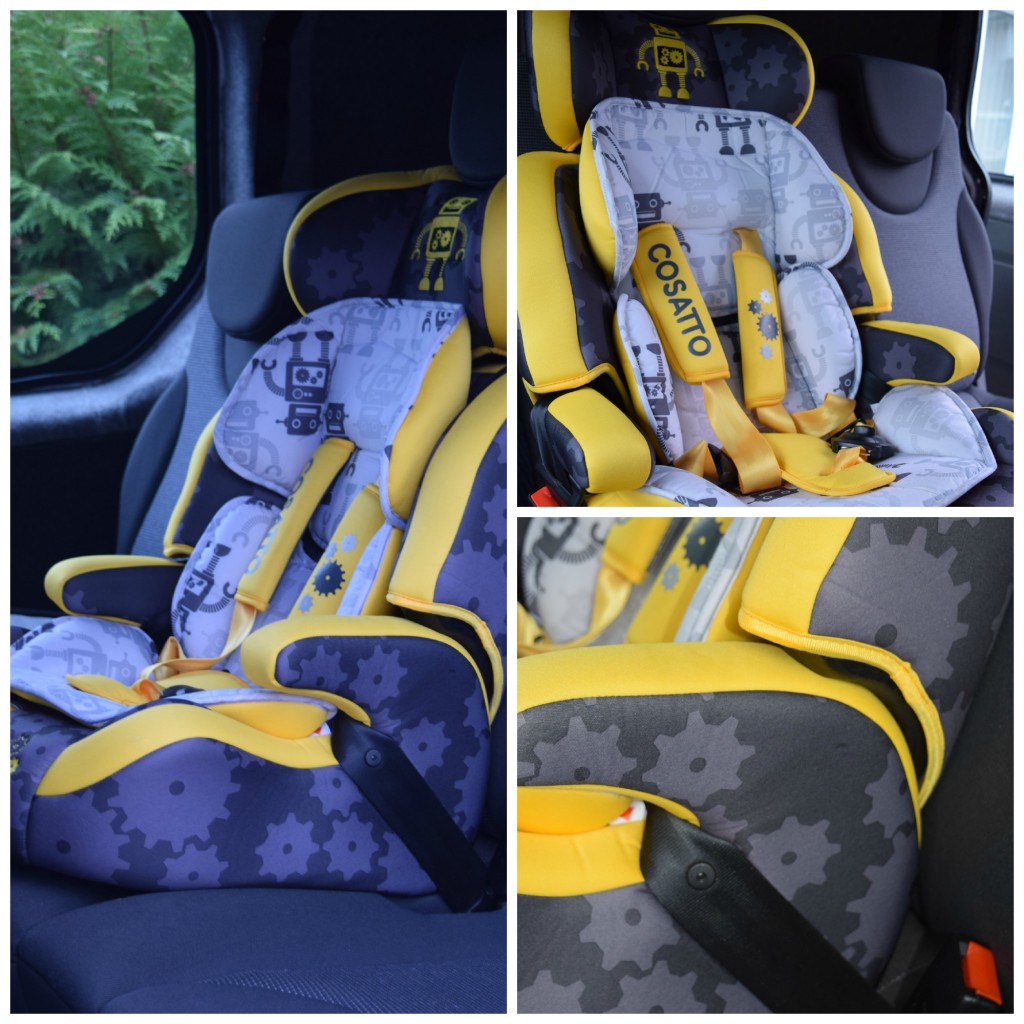 Fitting the Zoomi is pretty straightforward. Place the Zoomi onto the seat and feed the seatbelt through the guide slot at the shoulder. Pull the seatbelt through behind the back cushion and underneath the opposite arm rest and click into place. Get someone to kneel in the seat and then pull the seatbelt as tight as possible – that's it! Once in place correctly there is minimal movement, especially once the child is strapped in. There is a 5 point safety harness for smaller children, which is what we have been using with Max. Obviously this can be removed for older kids. The harness is simple to use – just slide the straps over the shoulders and secure into the crotch strap, then pull the adjuster strap to tighten.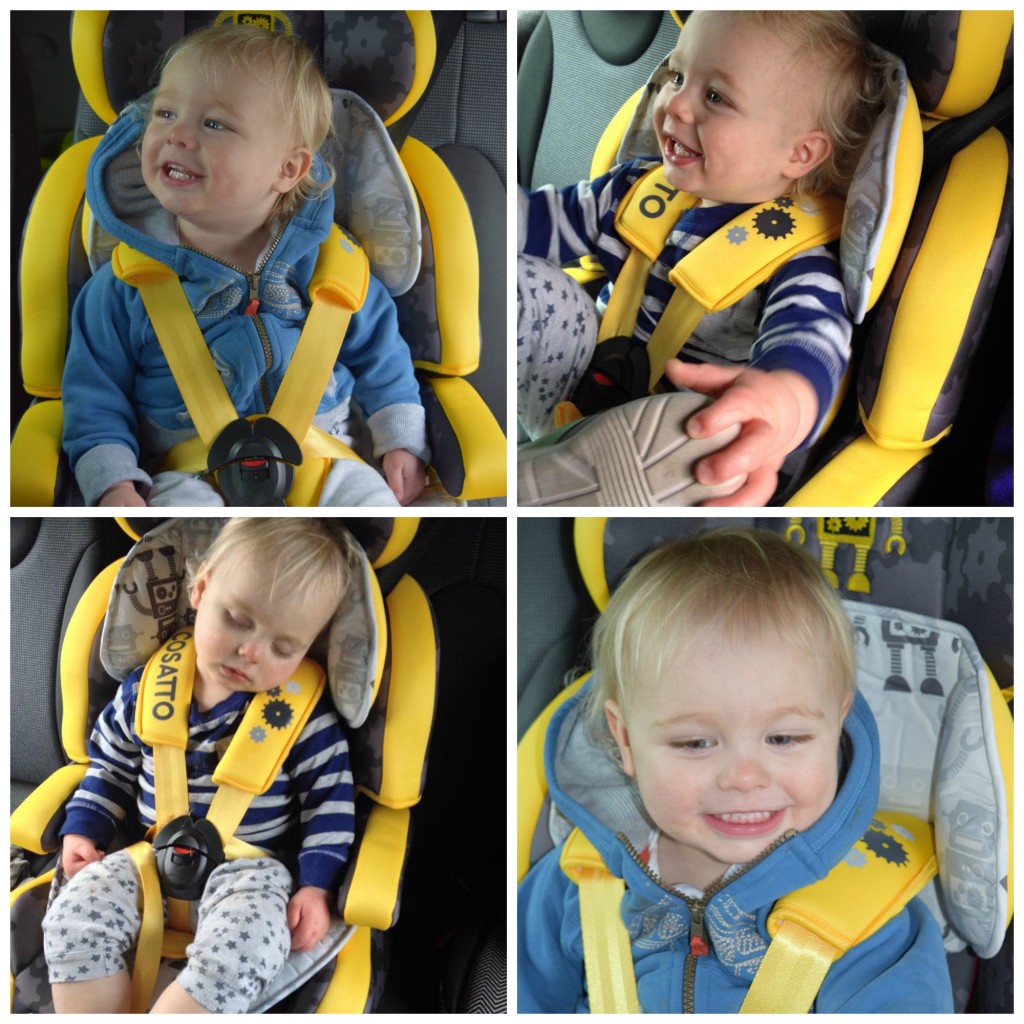 After safety, one of the main concerns is how comfortable Max is in the seat. We have been using the Zoomi almost daily for a couple of weeks now, and I have to say that so far he seems to really like it. He is keen to get in it – this may be something to do with the appealing design, as he isn't so keen to get in the black car seat that is in our other car! Once in he seems really comfortable. The reversible seat liner is really well padded so he has a really cosy place to travel – this liner also serves as a headrest when he is tired. The squidgy chest and crotch pads ensure the harness is comfortable to wear too, and there is no digging in. I was worried that the lack of recline might be an issue but it's not – the angle of the seat seems to keep Max's head in the correct position even when he falls asleep – as you can see from the picture!
I think you can also see from the pictures just how happy Max is in the Zoomi. Just recently we have had a few toddler tantrums when it comes to getting in car seats and pushchairs, but we don't have any of that when getting in the Zoomi. Whether this is novelty factor or comfort I'm not sure – we will see. But for now, Max hops in happily, and I hope this will continue.
As Max gets bigger we will be able to remove the seat liner, adjust the headrest and remove the harness to convert the Zoomi into a high backed booster. There is no need for us to buy another seat for him, ever. That's a real selling point for me – I don't want to have to be changing seats every 5 minutes, especially when we find one that Max likes.
So for us, the Zoomi has it all. Everything we need from toddler to big boy, plus all the fun and bright appeal that I have come to associate with the Cosatto brand.