I love a good bargain. If there's an item I want or need I always try to research before I buy – finding out if there are add-ons I need, if there are any special offers at any of my favourite retailers or whether I can use any online codes to bag myself free delivery or 20% off. The amount of effort I will put in often relates directly to the value of the item – for example I would spend a lot more time hunting for a bargain on a new computer than I would a baby toy.
I recently came across a new website called Beat My Price which is new to me but fuelled my appetite for finding a bargain – but took all the hard work out of it for me! In essence, you find the item you want to buy on the website of a large retailer as you would if you were shopping normally. You copy the URL of the web page showing this item into the Beat My Price page, add your details and sit back – you should receive an email in approx 48 hours to let you know if the price you have found can be beaten. It really is as simple as that!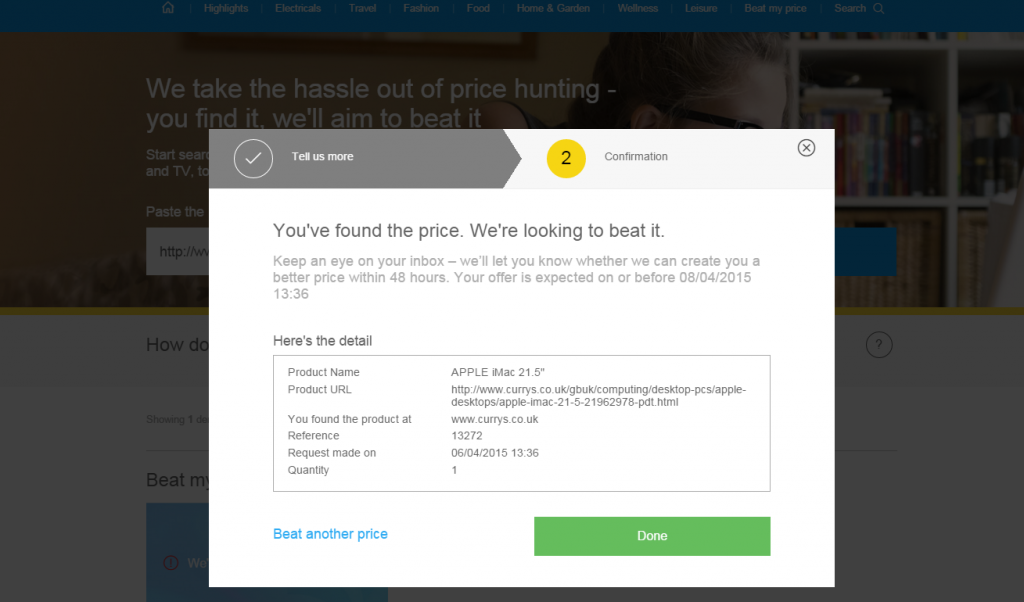 Once you have received your email from Beat My Price, you can view the deal they have found for you, and if it is suitable, go ahead and buy – saving yourself some time and money in the process!
I have been looking to buy an Apple iMac recently. I have been looking at several websites, as everywhere from computer stores to supermarkets seem to sell them, and they all have varying offers, discounts and models – making it quite difficult to find exactly what you are looking for. So I stopped the internet trawling, found the model I wanted from a large retailer and popped that URL into Beat My Price. The following day I had an email land in my inbox – and I was pleased to see that I could buy the same iMac from another retailer for almost £100 less! I have helpfully emailed all this information on to my husband, with a reminder that it just happens to be my birthday in a few weeks time……and if he buys the iMac for me within the next 24 hours, he can take up this exclusive deal and save some money. I don't mind having my birthday present early. Not at all!
This is certainly a website I will be bookmarking for future. You can have up to 5 live searches going on at a time, which will be especially useful come Christmas time when there is always a big long list of things to buy, and if I can save as much as I could potentially save my husband on this iMac then it will be well worth it!
* This post is sponsored by Beat My Price. *