No matter how young your kids are, it's great to be able to get them into playing sport. Of course, there are a myriad of choices when it comes to which sport to play and for most kids, they'll try out a variety of sports before they find one that they really enjoy.
But if you're a nervous parent who worries about the dangers involved in some contact sports, or if you've got a child who isn't a naturally athletic type, then golf is one sport that's definitely worth considering.
Golf has a low injury risk as it's a non-contact sport. This means that you can play it at any age – and that's why you see so many retirees enjoying days out on the golf course. However, the younger you start learning, the better.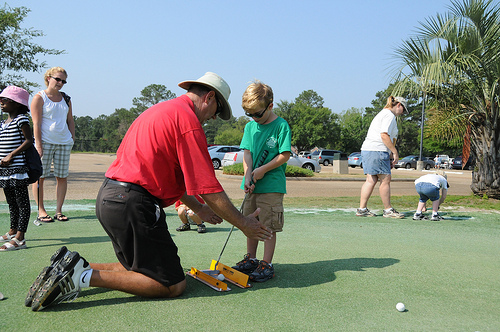 It's a game that teaches kids a lot about self-discipline. Golf isn't a game that involves referees, umpires and judges. You learn the rules and you know that you only let yourself down if you break one of the rules of the game. Learning to play golf teaches kids a lot about integrity. As well as being able to play fair, golf also requires a lot of persistence and dedication and training to play well. This will not only help your child to develop into a great golf player but those characteristics are also useful in other walks of life.
Although it's not an athletic game, golf will improve any player's fitness. For a start, walking an 18 hole golf course will burn up a lot of energy, but there's also a lot of work for the core of the body in developing a good golf swing.
Golf can also be a great way to bond with your family. There's no reason why the whole family can't play together, and for younger siblings who have a knack for golf, it can be a great way to excel at something that their older siblings might not.
It's a sport that features regularly throughout the year, with the majors being televised and that's often a good way to introduce your children to golf. Watching some of the world's best players at work will show them how the game works and gives them an idea of where it could lead.
Any young golfer who wants a role model to identify with can look to a player like Jordan Spieth. He just won his second major this year, and became the youngest player to ever win the US Open.
This is awesome

— Jordan Spieth (@JordanSpieth) June 15, 2015
His win at Chambers Bay means he's on track to win all four majors in one calendar year – a feat not yet achieved by any golfer, even Tiger Woods, who won all four majors consecutively but in different calendar years. Tiger is still the only player to have held all four modern majors simultaneously, so that's why the Consecutive Grand Slam is also referred to as a Tiger Slam. Jordan Spieth's first major win was the Masters at Augusta where he won the tournament in April this year. Now the US Open win has made him the fourth youngest player to win two majors and the sixth to have won the US Open and the Masters in the same year.

Spieth wins U.S. Open after Johnson three-putt (Reuters) http://t.co/V3qjdDoBjI — Oscar _Patillo (@Oscar_Patillo) June 22, 2015



In his victory speech at Chambers Bay, he looked forward to the next challenge – getting his hands on the Claret Jug at St Andrews. The Open Championship takes place in Scotland between 12-19 July this year. And Spieth's confidence doesn't seem to be misplaced – for most of the bookies, he's second favourite to win the Open, with Rory McIlroy the holder, the current favourite. At the time of writing, Betfair are offering odds of 6/1 for Spieth to win the Open Championship, while McIlroy's available at 4/1.
McIlroy's another young golfer who children learning the sport will look up to. Rory won the Open Championship in 2014, and became only the third player in history to win three majors before the age of 25. The other two to have done so were Jack Nicklaus and Tiger Woods. If Spieth plays his cards right at St Andrews, he could put them all in the shade, by winning three majors before his 22nd birthday at the end of July.

Of course, many kids picking up golf clubs for the first time this summer will only ever play for fun, but all pro golfers started somewhere, and who's to say where the next golf wunderkind will come from!