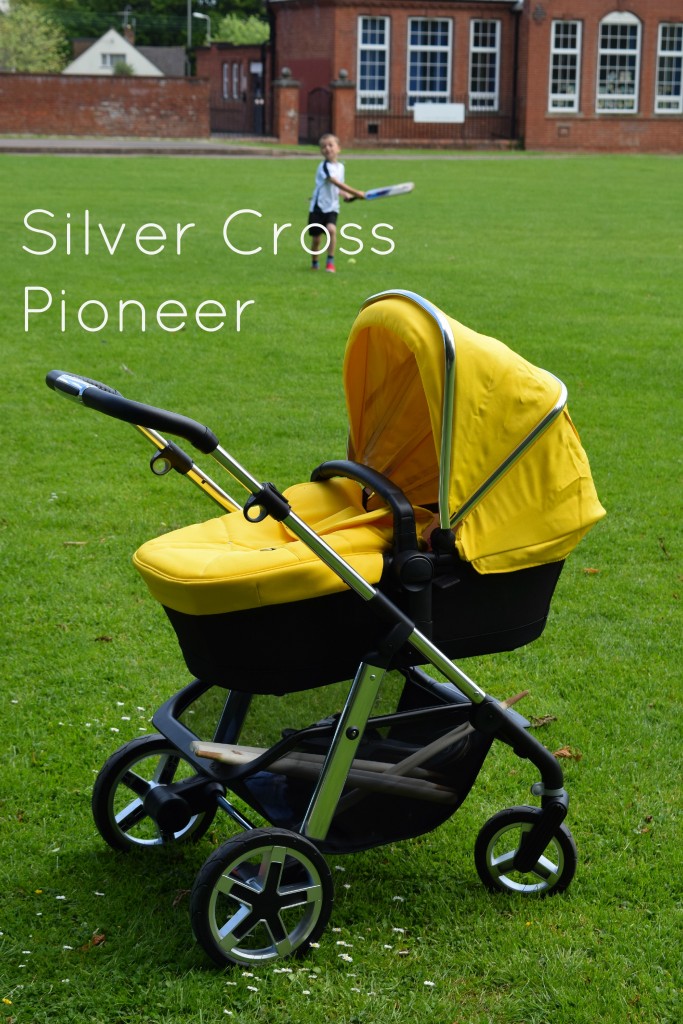 Many of you will know Silver Cross as the makers of the traditional carriage style prams, but in actual fact they are now so much more than that. They now make a huge range of modern car seats and pushchairs, including the very eye catching Pioneer. Designed to be the whole package, from newborn to toddler, the Pioneer comes with a carrycot and a multi recline seat unit which can be used in rear or forward facing modes.
We have been using the Pioneer for the last 5 weeks, and have found it to be a versatile, practical option with some really lovely features.
Carrycot mode
The pioneer carrycot is large, deep and spacious. I love how high the sides are – Eliza seems cocooned from the world. The hood is big too, and offers plenty of shade. The mattress provided is soft, and the carrycot is suitable for occasional overnight sleeping – perfect for holidays or nights away.
Removing the carrycot from the frame is a really easy job, much easier than some other brands I have come across. You simply lift the catches on either side of the carrycot – this can be done with 2 hands at the same time, and by leaning over the handlebar – you don't need to swap from side to side to release the mechanism. Once the catches are undone, simply lift with the bumper bar. It is surprisingly lightweight for a carrycot too, and so is easy to move from one place to another.
Eliza seems to be very comfortable in here. She sleeps in it happily, and doesn't roll or move around when you push the pram. The ride itself is smooth, and it's a pleasure to push, due to the 4 way suspension and large puncture proof tyres which seem to handle most surfaces with ease – grass, tarmac, stones and mud prove no problem at all. The handlebar can be adjusted to suit people of different heights, and the faux leather covering makes it comfortable for your hands to hold, even after a long period of time.
The shopping basket is HUGE – one of the biggest I have seen. We managed to pack everything we needed for a day out with 4 kids, and there was still room to spare. School bags, picnics and park toys will all fit, and it makes it much less stressful if you don't have huge bags to drag around after you.
Seat mode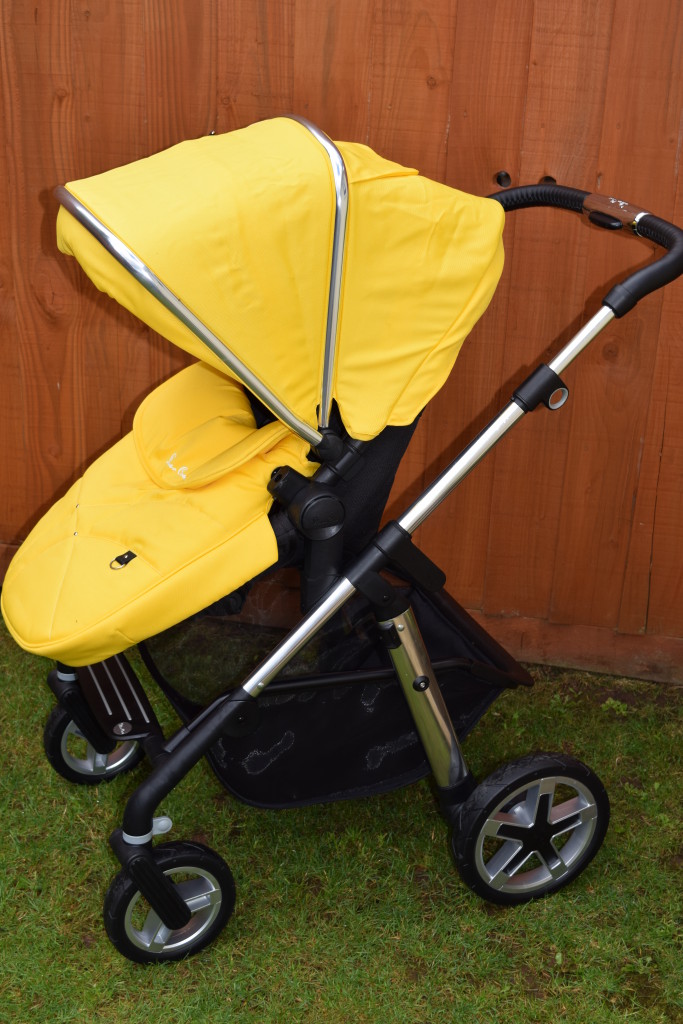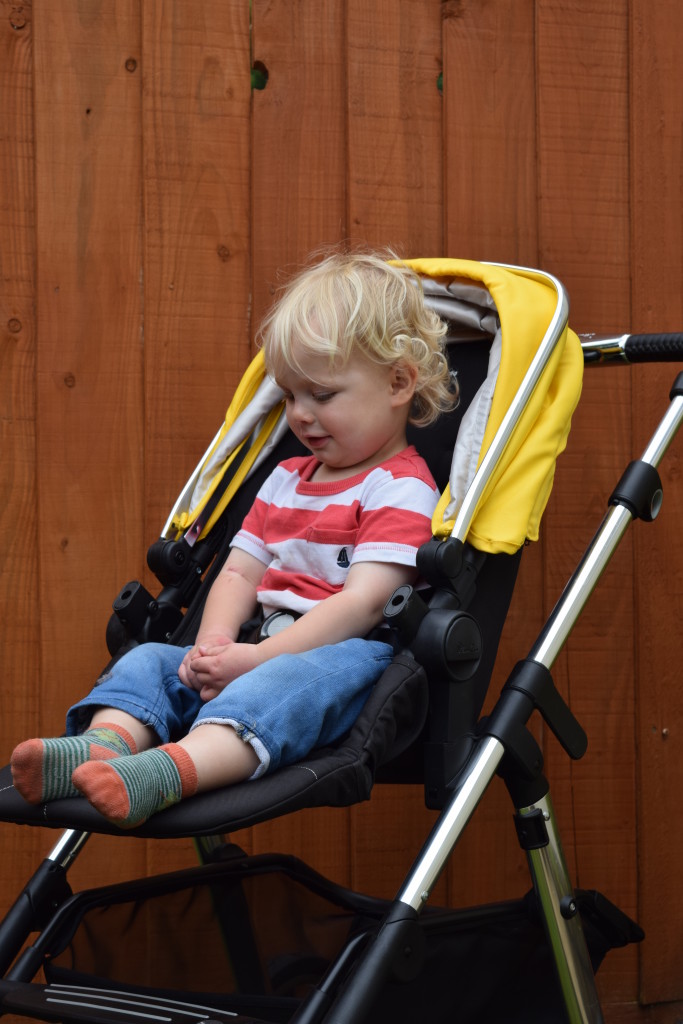 I have often found that these types of 'all in one' travel systems have fantastic carrycots but very small seat units. That's not the case with the Pioneer. Although Eliza isn't big enough to use the seat unit yet, we have done a couple of school runs with Max in there and Eliza in a sling. Again, it is comfortable to push, even with a heavy toddler on board. At almost 27 months, Max still has room to spare in the seat, and I think it would probably easily accommodate him for another few months. His head is near the top of the seat, but with the hood up he still has a few inches of growing room.
The leg rest can be up as in my picture, or you can lower it down so your toddler can rest their feet on the non slip footrest. The basket is easily accessible with the seat in both forward and rear facing positions as there is a decent space between seat and basket. You have the option to use with or without a bumper bar, and the harness is comfortable and easy to adjust, even with Max in the seat.
You may notice that the hood and apron in the above pictures are the same as those on the carrycot – you use the same set for each mode. This means you don't have to have more than one colour pack – you simply buy your Pioneer, choose your colour and have everything you need for both newborn and toddler use. The apron is a perfect carrycot cover, and works well on the seat too, although it may be too small for longer legged tots, and you might need something a bit warmer in winter.
Folding and unfolding
Couldn't be simpler. You just push in the fold button on the handlebar and pull up the 2 trigger loops on the chassis – the frame will collapse down into a relatively small package. It can be folded with the seat unit in place if it is forward facing, or you can remove the seat for a smaller fold. There is also an autolock feature, so the chassis will remain closed. To unfold, you simply undo the lock and pull the handlebar upwards until the frame clicks into place.
Overall?
I like it. I like the spacious carrycot and seat unit, the massive hood and basket and the easy fold. I like the fact that it comes with extras such as a cup holder, car seat adaptors to attach a Simplicity car seat and the multi functional apron. I like that you can choose your colour, and even change the colour really easily if you fancy a change. There really isn't much I don't like – although I do have to mention the yellow colour pack. It's stunning, and makes such a nice change from the usual blacks, blues and reds. It's so pretty, very unisex and especially great at this time of year – except for the fact that this shade of yellow attracts bugs. Heaps of them. If you go outside on a sunny day with the yellow Pioneer, be prepared to be swarmed with nasty little insects! It's such a shame as the yellow is utterly gorgeous, but if I was buying this pushchair I would definitely go for one of the other fabulous colours – the lime is just as bright and eye catching!