We have several of the VTech Toot Toot sets already – the VTech Drivers and Safari have been favourites of Max's for a while now. So when we heard that VTech were releasing a new VTech Toot Toot Friends range, we knew it would be a hit with our tot.
The range includes the Toot Toot Friends themselves (priced at £8.99), the Busy Sounds Discovery House (£44.99), the Helpful Hospital (£29.99) and the Trot & Go pony (£15.99)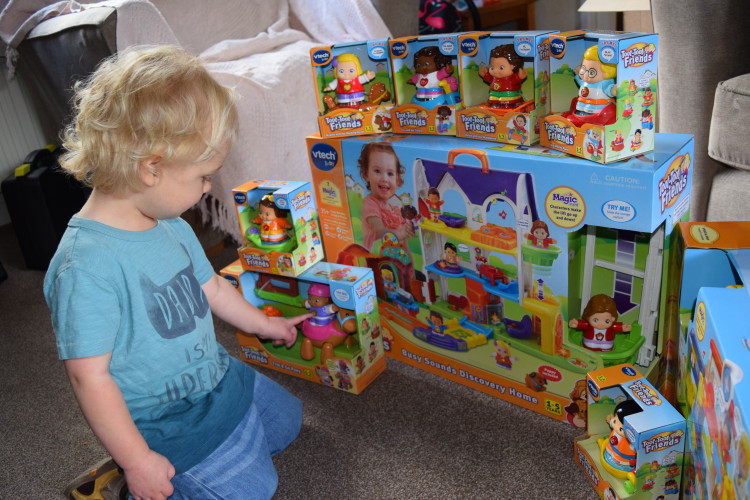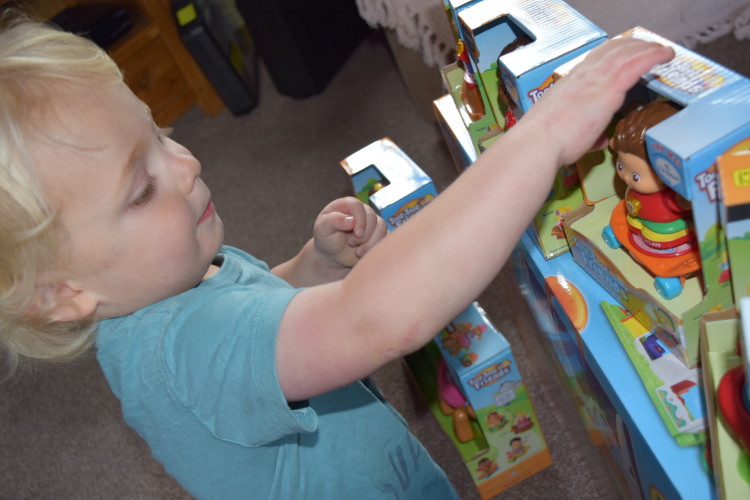 Max was in there straight away, pressing all the Toot Toot Friends buttons before they were even opened. Each one says a few phrases and words, and is the perfect size for little hands. I was slightly frustrated to find that you need a screwdriver to remove each Friend from their packaging, especially as you don't need any sort of tool to construct the sets. They are incredibly easy to set up in fact, and simply clip together – I constructed the lot in under 10 minutes.
The Helpful Hospital comes with the doctor figure, who talks about how important it is to be healthy and have check ups with the doctor – a nice subtle message for small children. There is an xray machine which can be pushed up and down and a height chart as well as spinny chairs and a changeable noticeboard. Each VTech play set also comes with a set of stickers so you can customise as you wish – we haven't used these much yet as I think the sets are perfect without, but older children would enjoy using those.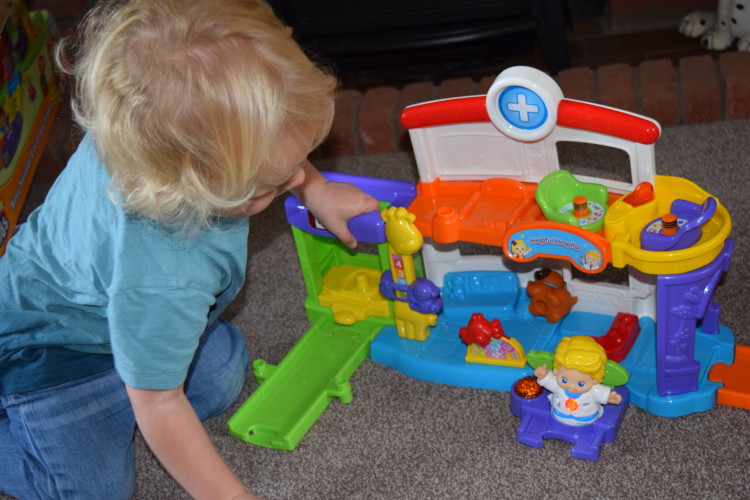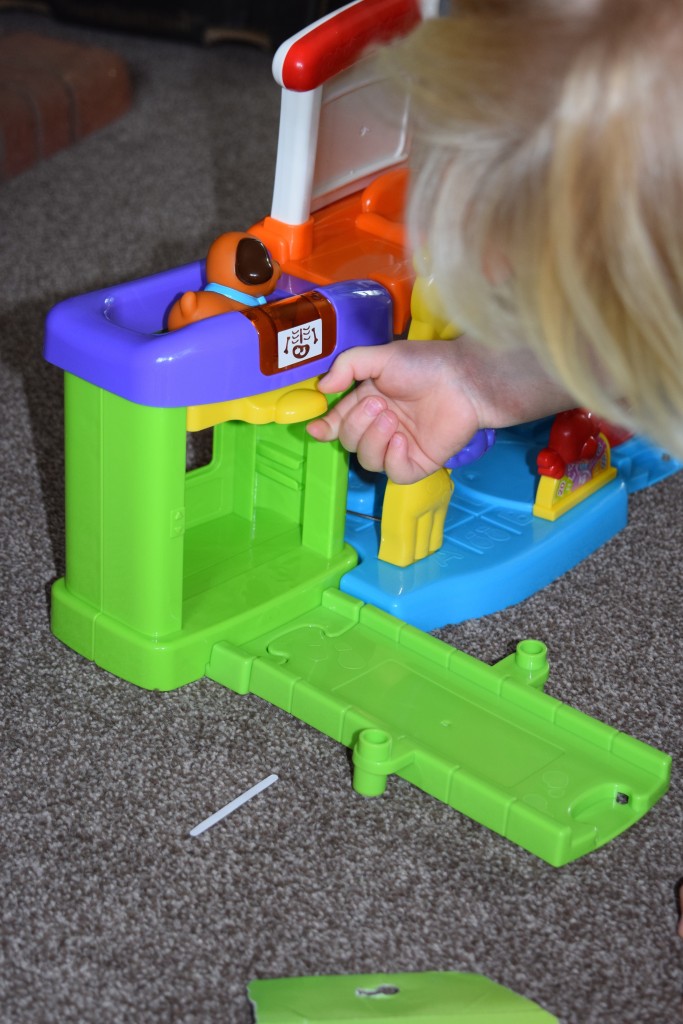 The Busy Sounds Discovery House has been Max's favourite by far. He loves Norah's working lift, and will spend a long time pressing the button to watch her go up and down – this has even helped him to correctly learn up and down himself. The house is on 3 levels, and all the furniture is attached to the base plates, which means you don't end up with loads of little pieces to lose! There is a freestanding BBQ with a picture which changed from silver to colour as you open and shut the lood – simulating cooking the food. The Toot Toot tracks that come with each play set mean you can join them up and make a whole small world area.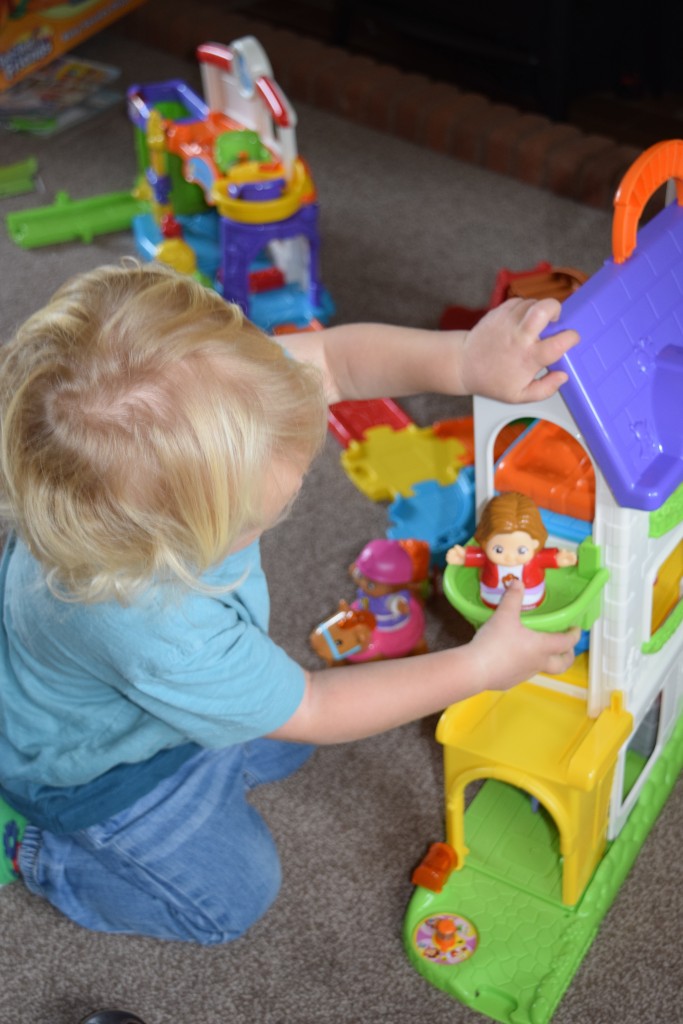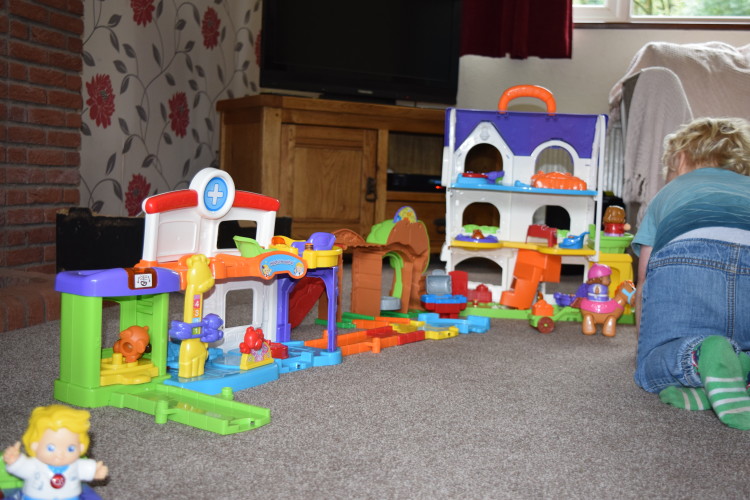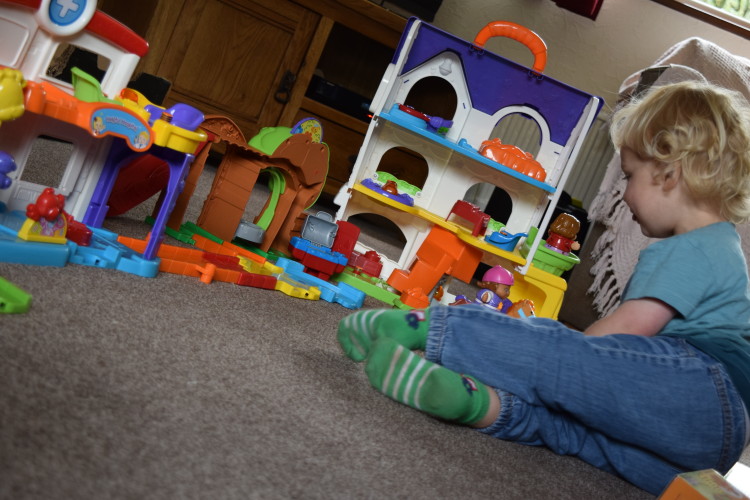 The Trot & Go pony has been another hit with all the children, mainly because you can press the button and watch the pony walk across the floor. As with all the Toot Toot Friends, the character will tell you their name and spell it for you, gently introducing children to letters and names. I especially like the fact that all the characters will interact with all the sets.The characters have little buttons on their chests and when pressed they talk or sing. If you put them onto various points around the house they will do various things (flush the toilet, tell the Doctor what is wrong) – rather than saying the same phrases over and over. It means you can easily expand your collection knowing that your current range can still be used with it.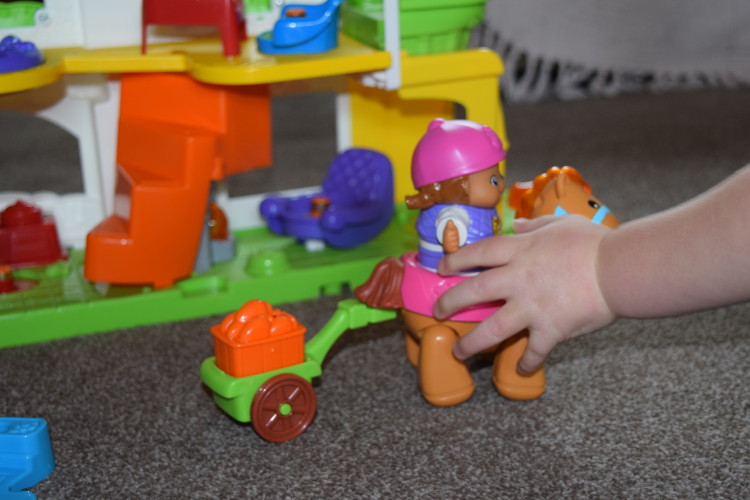 The VTech Toot Toot Friends range has been a real hit. Many toys we buy just get played with once or twice before being pushed to one side, but this set has been out and played with daily since we got it. It is targeted at children between 1-5 years, although my older two are 9 and 7 and have also enjoyed playing alongside Max and showing him what everything does. It's a great range for sibling play or sharing with friends as there is so much to discover and explore. Even Eliza has enjoyed watching the play, looking at the bright colours and listening to all the sounds.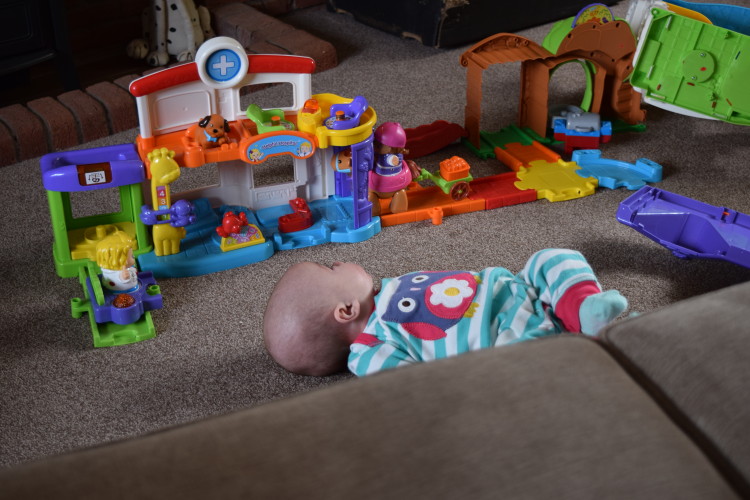 The new Vtech Toot Toot Friends range is available now, and we would certainly recommend it. It is so versatile, perfectly designed for toddlers and beyond, and extremely well priced. Something to bear in mind for Christmas perhaps?