Buying a new house is lots of things – scary, expensive, exciting, stressful. Buying a new build adds even more emotions I think – worry about it all coming together, concerns about the interior being as you have specified, disappointment when completion dates are pushed back. But in the long run, it's all worth it. I cannot wait for the day when we pick up our keys and walk into our brand new shiny home, knowing that no-one has lived here before, knowing that it is everything we have ever wanted and ready for us to start our lives in.
Although our house will come with a lot of basics – flooring, paintwork, kitchen, appliances and wardrobes – there will be lots of things we need to get. We already have a new dining table, coffee table, computer desk and drawers but I want to get a new sofa and a rug too, to really make the most of our lovely living room. I have fallen a little bit in love with this Isabelle corner sofa from Multiyork. I think it would really suit the style of our new home with the modern, crisp colours and smooth lines, and it would be big enough for us all too! I can just see me sitting there in the evenings with a nice glass of wine, my feet up on the footstool, watching a bit of Great British Bake Off….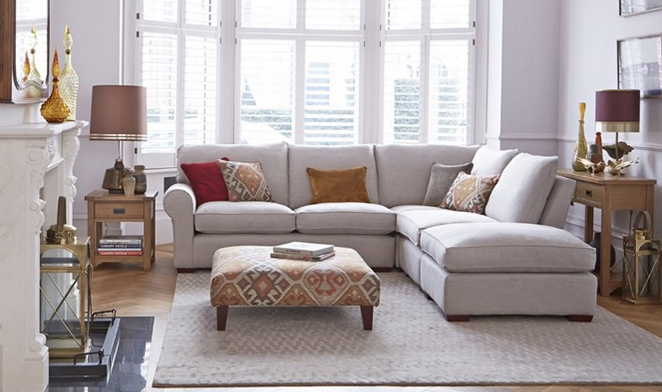 My only issue would be choosing the colour. The walls in the living room will be light grey, so I could go for a slightly darker grey? Or I could go for cream as a contrast – but is that a sensible choice with 4 children? Or should I go a bit bolder and choose one of the lovely sea green colours? What would you choose?
This is a collaborative post *