I can hardly believe I am writing this, but it's been almost 3 years since I started blogging – 3 years! I honestly don't know where the time has gone, and I can't believe how much blogging has given me over those 3 years – an income, the chance to try some amazing products and work with some incredible brands – but most of all, friendship. The friends I have made through blogging are now some of my best – people I know will be there any time of day or night if I need a chat or some advice, the people who were there when Eliza was born, cheering me on and sending gifts and well wishes, the people I would never have known if it wasn't for this blog. And for that, I am so grateful for my little corner of the web, and so grateful to you guys – the ones who read it, share your own stories and make me smile on a dark day with your words of wisdom and support.
Todays prize is a lovely one, and ideal for Christmas. We recently reviewed the Pirate Snakes and Ladders & Ludo game from Orchard Toys, and now we are giving you the chance to win one too!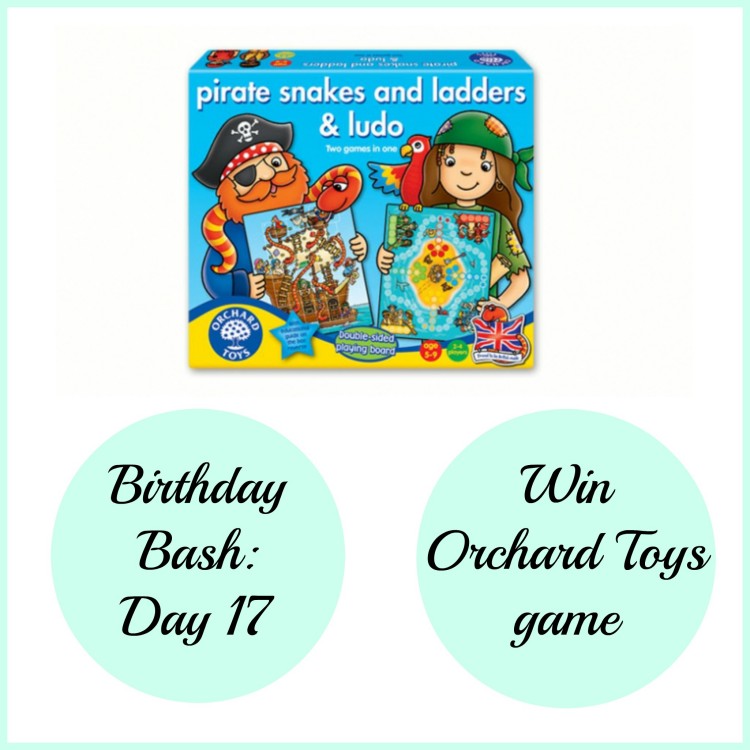 Two traditional family games in one, combining old favourites Snakes and Ladders and Ludo and giving an exciting pirate twist on this double-sided playing board. Great for developing personal and social skills as well as number and counting skills, this game is family friendly and perfect for Christmas fun! To be in with a chance to win, simply enter on the form below – good luck!
Terms and conditions: Giveaway is open to UK residents and closes on 10/12/15. Winner will be randomly selected from all correctly completed entries and contacted by email – they should claim their prize within 10 days or it may be redrawn. Prize supplied directly from Orchard Toys. Competitions at ThePrizeFinder