I can hardly believe I am writing this, but it's been almost 3 years since I started blogging – 3 years! I honestly don't know where the time has gone, and I can't believe how much blogging has given me over those 3 years – an income, the chance to try some amazing products and work with some incredible brands – but most of all, friendship. The friends I have made through blogging are now some of my best – people I know will be there any time of day or night if I need a chat or some advice, the people who were there when Eliza was born, cheering me on and sending gifts and well wishes, the people I would never have known if it wasn't for this blog. And for that, I am so grateful for my little corner of the web, and so grateful to you guys – the ones who read it, share your own stories and make me smile on a dark day with your words of wisdom and support.
Today we have a prize from the lovely team over at Natures Purest – you could win one of their gorgeous My First Friends musical mobiles!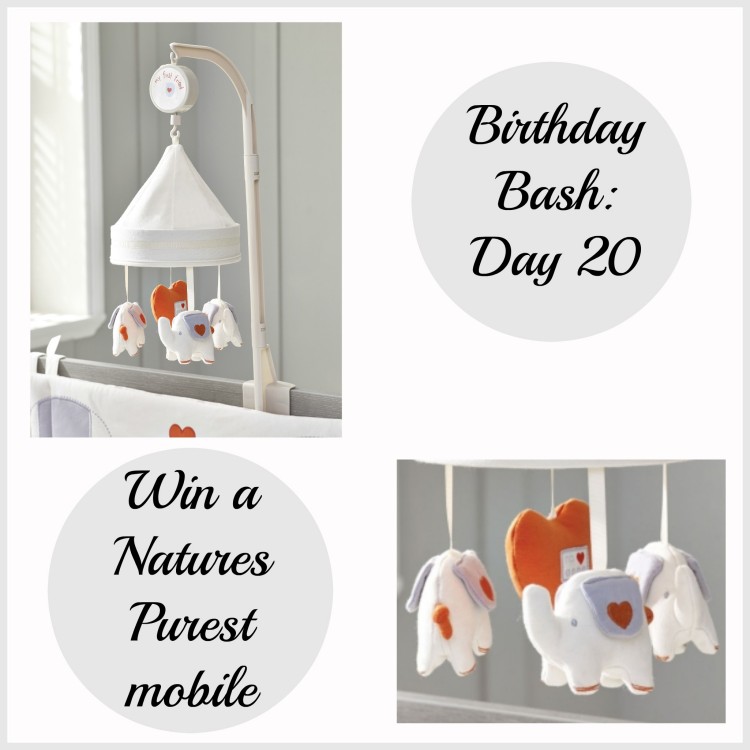 At Natures Purest, they specialise in the manufacture of toys, gifts, clothing, blankets & bedding for babies made from organically grown, naturally coloured cotton which contains no chemicals, dyes or pesticides. This My First Friend Musical Mobile makes the perfect addition to any little boy or girl's nursery. Playing the soothing 'Somewhere over the Rainbow' tune, it is sure to send your little one to the Land of Nod in no time. Featuring a Grey Elephant and Burnt Orange Heart Design, it matches the rest of the brand new My First Friend Nursery range. Presented on a piece of brown recycled card and finished with a beautiful hand tied bow, it also makes the perfect gift.
To be in with a chance of winning this fabulous prize, simply enter via the rafflecopter form below – good luck!
erms and conditions: Giveaway is open to UK residents and closes on 13/12/15. Winner will be randomly selected from all correctly completed entries and contacted by email – they should claim their prize within 10 days or it may be redrawn. Prize supplied directly from Natures Purest. UK competitions at ThePrizeFinder