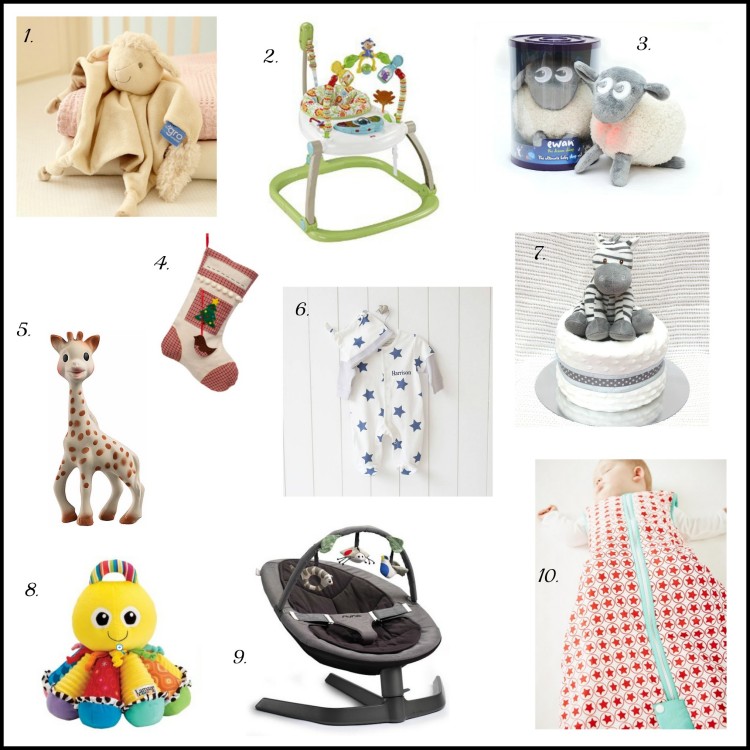 Knowing what to buy for a baby at Christmas time can be really difficult – especially if they are still very new to the world. I have put together a list of 10 lovely items we know and love – hopefully this will give you some ideas for the newest member of your family!
1. Gro Comforter – We have the Lottie Lamb Gro comforter and Eliza loves it. It's so soft, the perfect size for small hands to hold and something that can be a real comfort in unusual situations, or help them drop off to sleep with its familiar smell.
2. Fisher Price Space Saver Jumperoo. This is well used in our house now that Eliza is 5 months old and more alert. Suitable for babies who can support their own head, this is a long term gift that will keep on giving. With loads of toys, lights and things to explore, this version also folds flat for travel or storage.
3. Ewan the Dream Sheep – This cuddly sheep plays calming pink noise such as heartbeat and womb sounds, hoover noise and rain to soothe and comfort young babies. There is also a pink glow light that offers an ambient glow similar to what babies would experience inside their mums tummy.
4. Pink Lining Christmas stocking – Perfect for a baby's first Christmas, this makes a lovely keepsake. With red gingham and stars for a festive feel, this can be personalised with your little ones name for an extra special feel.
5. Sophie the Giraffe – This well known teether toy is loved by babies and parents around the globe. The perfect size and shape for little hands to grasp, Sophie is made from natural Hevea rubber and offers flexible and natural teething relief.
6. Personalised sleepsuit and hat set – Another lovely keepsake, this sleepsuit and hat set is covered in stars and can be personalised with your childs name. You can choose from a few colours, and there are also pyjamas and dressing gowns for older children available too. Great for Christmas Eve boxes too!
7. Corporate Baby nappy cake – If you have a very new baby to buy for, then how about a nappy cake? The Corporate Baby nappy cakes are truly gorgeous and contain useful products such as nappies, blankets, muslins and comforters.
8. Lamaze toys – Lamaze toys are perfect for all ages from birth to toddler. They engage the childs senses and imaginations, and come with so many different things to explore and discover – textures, sounds and bright colours. There is a huge range available so something to suit everyone.
9. Nuna LEAF – If there are several of you looking for a gift idea for a new baby, why not club together and choose a Nuna LEAF chair? Gorgeous design that appeals to parents and a gentle motor free motion that calms and soothes babies. Sleep deprived new parents might thank you for this one!
10. Starlight Grobag – With a beautiful design for the winter and festive period, this baby sleeping bag can help little ones settle to sleep. It keeps little ones warm, comfortable and safe at night and can even be used in a car seat or pushchair too – perfect for all the Christmas travelling!