The 9th February is Safer Internet Day. With 4 young children in the house, internet safety is something we take pretty seriously. My 2 oldest children are 10 and 7, and use the internet with our supervision for games and homework. However, I know it is only a matter of time before they will want to use the internet more freely, without us looking over their shoulders, and so I want to be sure they are aware of the risks and dangers that can be involved with using the web, and how to deal with any problems.
Safer Internet Day reinforces the importance of safety online, especially when it comes to family members being safe online. It's all about safe, responsible and positive use of digital technology for children and young people. Intel Security is helping to do this with its consumer security software products like TrueKey, a security software where you sign in without passwords, by using your face or fingerprint. There is also the option to use McAfee LiveSafe, which provides trusted protection so you can shop, surf and keep all your devices secure online with the convenience of a single subscription.
I really like the idea of TrueKey – knowing that our devices cannot be hacked into is very reassuring, especially as we have a lot of photos of the children stored on various technology around the house. McAfee is something we already use as a family – it means I can set parental controls, and only allow the children to use sites that I know and trust.
I asked Gemma what she thought a safe internet would look like. She thought about it for a while, and then set to work with her paper and crayons. I love the image she came up with: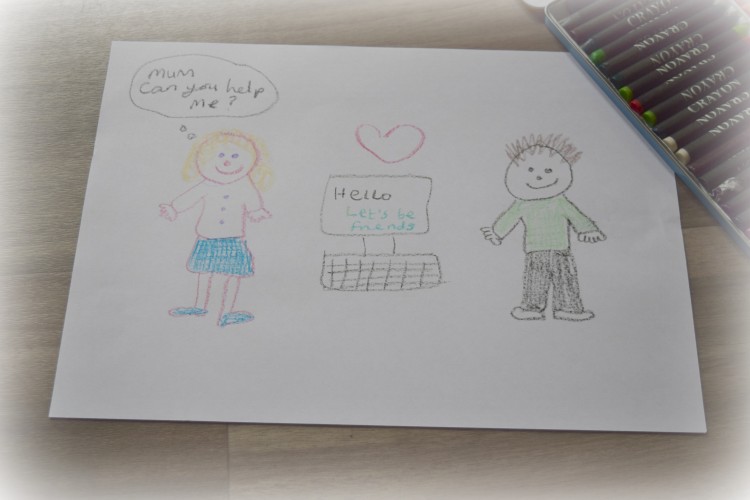 It clearly shows that she knows the internet can be used in a really positive way – to make friends and stay in touch with people. But it also shows that she is aware of some of the dangers – probably as a result of both our chats with her and her school, which has a strong focus on internet safety. I am pleased to see that she would still be happy to ask us for help, even if we weren't in the room with her.
To celebrate Safer Internet Day I have teamed up with Intel Security to offer you the chance to win a family ticket to Bletchley Park – a beautiful heritage site and vibrant tourist attraction in Milton Keynes. Simply enter via the rafflecopter form below – good luck!
Terms and conditions: open to UK residents, winner will be randomly selected on 9/2/16 and contacted by email. Prize is for a family ticket for a family of 4 to visit Bletchely Park. This is a collaborative post.