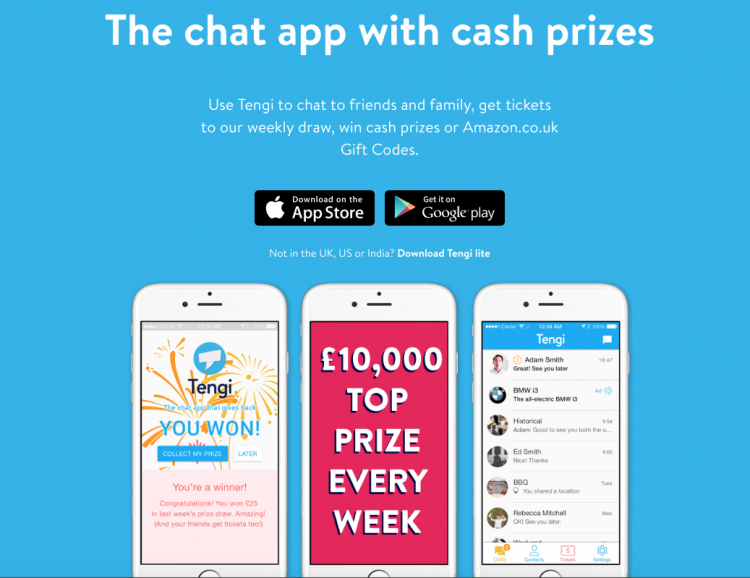 With social media being the busy place it is now, chatting with friends can sometimes get lost in the midst of everything else. I know I often miss announcements and photos from my friends on Facebook and Twitter because everything is so fast paced. I also think that sometimes, these platforms are not quite what I am after – I want a quiet chat with one or 2 friends without all the other notifications popping up and distracting me!
I have been trying out a new app called Tengi for the last few days. It works in the same way as many other messaging services, in that you can send text messages, photo, video and even your location to friends in your chat group. While you are using Tengi, you earn tickets, and these tickets give you entries into the weekly prize draw. You can win all sorts, from £5 in cash or Amazon vouchers, right through to a £10,000 cash prize – wouldn't that be the best reward, just for chatting to your friends?!
I have been using Tengi to chat to some of my blogging friends – Donna from What the Redhead Said, Colette from Going on an Adventure, Lucy from Hello Beautiful Bear and more – and it's been a lovely way to keep in touch so far, discussing blog events, post ideas and general chit chat about holidays and children. I earn tickets just for chatting for a certain amount of time every day, as well as adding new friends to the app.
If you would like to come and try it out with me, you can download Tengi on Android or Apple – use the code BLOG when you register. Let me know what you think!