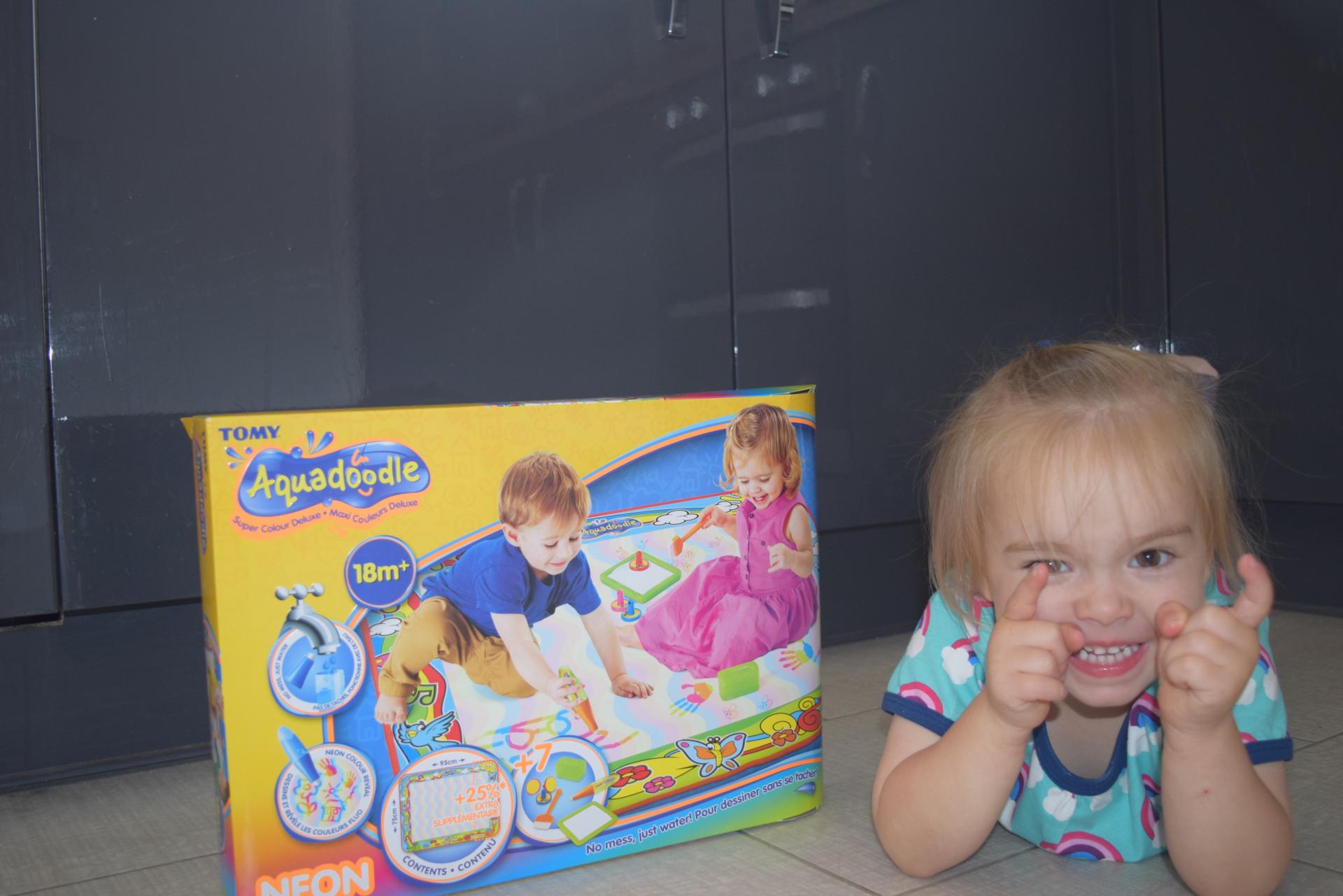 Eliza absolutely loves drawing, colouring and painting. She always wants pens, paints and paper out – and most of the time this is fine. But there are times when we need a mess-free alternative, and the TOMY Aquadoodle is perfect for those times.
The Aquadoodle Super Colour Deluxe is designed to brighten up play time, with a colourful drawing mat and range of accessories. The box contains 1 Aquapen, 3 stampers, a special paintbrush for larger strokes and a no-spill water container. To get started, simply fill the Aquadoodle pen with water and get scribbling on the mat to see your drawings appear in vivid neon colours!
Because this activity simply uses water, it's about as mess free as you can get. Any spillages are just water – so easy to clean up. There is no colour transfer, so even if water runs off of the mat it stays clear. It makes for a really economical activity too – just keep topping up the water container for endless fun.
Eliza's favourite accessory is the Aquapen, which she uses to practice her writing and drawing. Max prefers the wide paintbrush and stamps, and uses them to make all sorts of patterns and pictures. Once they have finished playing, we simply hang the Aquadoodle mat up to dry, and the the drawings fade away, so the mat is ready to use again. This doesn't take long at all – within about 20 minutes the mat is completely dry and clear ready for the next time!
The mat folds down easily for storage, or for travel. There is a non spill water container which you can fill up and take with you when you're heading out, and of course it is easy to refill wherever you go – you just need a bit of water. We are planning to take the Aquadoodle with us when we got on holiday to Center Parcs, for some mess free play when we need to wind down.
The Super Colour Deluxe is a great addition to the TOMY Aquadoodle range, and something we will be using for years to come.