It's that time of year again – time to start thinking about school shoes for the new term. Max is quite hard on shoes, especially at school. In the early years they tend to wear the same shoes for everything from playtime to PE, so we really needed a tough, hardwearing pair of shoes that could stand up to everything Max could throw at them, and still look smart enough for the next school day.
Start-Rite have been making shoes for 225 years, conducting the first ever nationwide survey of children's feet in 1943. They brought together experts not just in shoe-making, but in medicine and education, and used the findings to transform the way children's shoes are designed and fitted. Based on the ever changing physiology of children's feet, Start-Rite took the decision to create their shoes in multi-width fittings and in half as well as whole sizes, so you can ensure you get the most accurate fit for your child. This year, Start-Rite has launched a measuring app that takes photos of your child's feet to ascertain the correct size and will then store the information. After using the measuring tool it's simple to search and order shoes online. You can track your child's sizes and will receive reminders to re-measure.
The Charge is their toughest shoe ever, designed to be suitable for all conditions. As well as being water resistant, for the inevitable pick up time downpour, they have incredibly durable rubber soles, which not only offer protection from the elements and rough surfaces, but provide a great shock absorbing surface for active kids too. The soles also have an engineered tread design, which provides traction and grip, and helps to prevent slipping. The shoes themselves are made from synthetic nubuck for added toughness, and have an added layer of rubber around the toes, sodes and heels – ideal for children like Max who love to kick balls and climb trees. You can almost guarantee these shoes won't get scuffed.
They have an elasticated false lace design, which Max loves, but fasten with really strong velcro, so it's easy for him to take them on and off himself – important for that independence at school when changing for PE lessons. The Charge also come with an antibacterial lining, which helps to keep the shoes fresh, meaning Max has a healthy environment for his feet even when wearing them day after day. They have a moulded footbed too, to ensure good foot positioning, and we absolutely love the padded ankles – other shoes often seem to have quite hard and stiff material around the ankles, which soon becomes uncomfortable.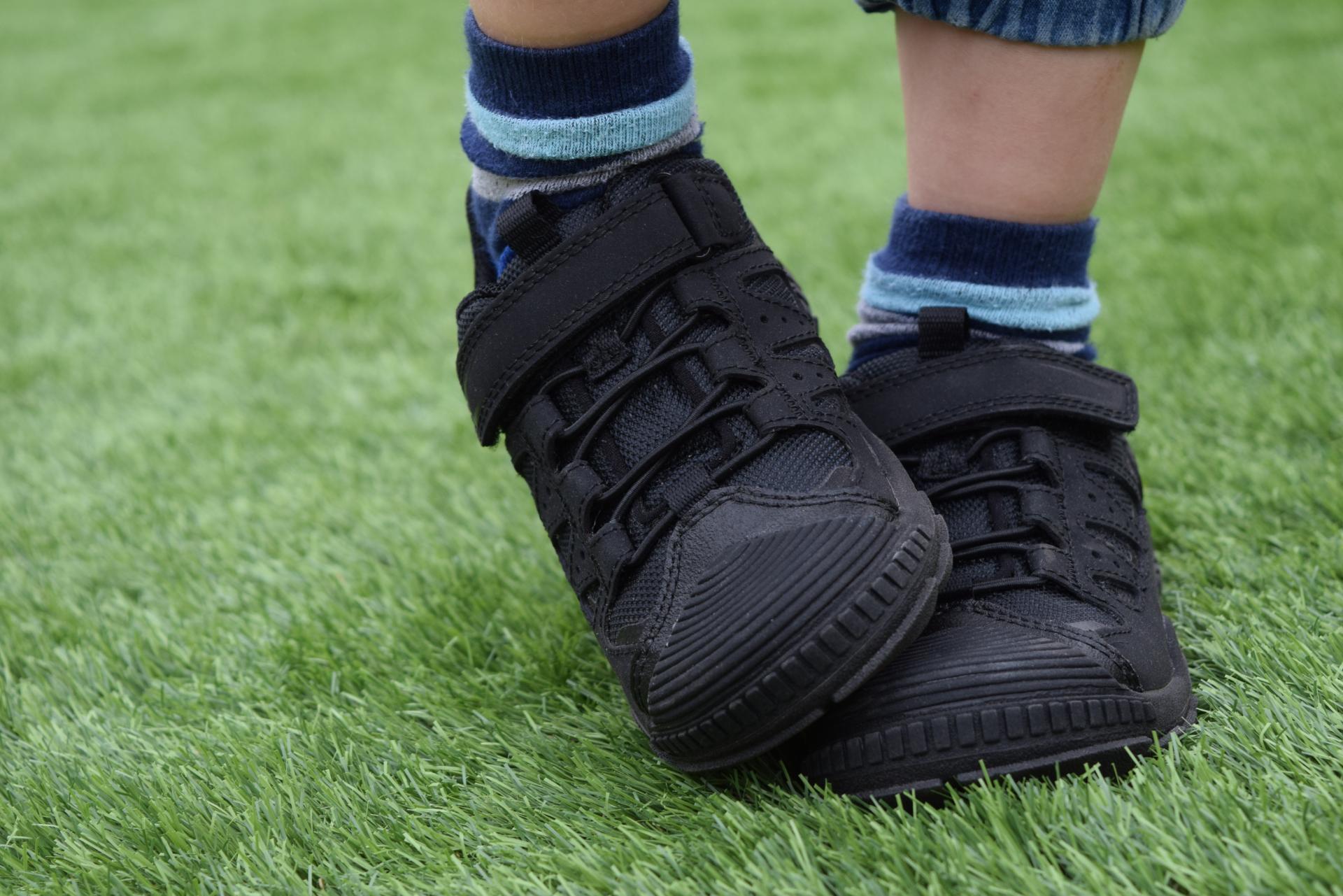 The Charge range really is designed with active children in mind. They are put through rigorous testing procedures, including 50,000 stretches, bends and curves on our special flex test machine – to ensure the sole isn't just tough, but flexible enough for the most active little feet. They are also abrasion tested against stones, chisels, sandpaper and more – to help children live without limit.
Start-Rite has also designed its entire AW18 collection to be defined by the child's life-stage and usage. Its Classics range combines timeless styling with an unwavering focus on comfort and foot health, Kicks has versatility and ease at its core – designed to transition seamlessly from playground, park to party, while Pioneers is the most advanced yet – with an expert blend of smart materials, intelligent protection and sports-inspired styling. So there really is something for every child.