Naming a baby is HARD. It's such a responsibility. I know when we were choosing names for our children, we often disagreed, and we felt like we had exhausted all the baby name books by the end of it!
The My Little Sudocrem is a brand new app that allows parents or parents to be to answer a series of questions that will ultimately generate the best baby name for you. Designed to be a bit of fun, the day-to-day style questions within the game act as a sort of lifestyle and personality test in order to find out more about you, and recommend a baby name to suit your family.
On top of that, you can also earn entries into an instant win competition at the same time as playing the game. Once you have decided on your baby name, you could win a personalised My Little Sudocrem. If you still can't decide on a name, you could choose to have the pot personalised with something else instead – maybe 'Dad's Little Sudocrem' for those nappy changes at home, or 'Grandma's Little Sudocrem' for those days when you're at work or taking a break.

I thought I would have a go at the baby name generator, just for fun. We have completed our family now, but it's always interesting to see what other names are out there, that we might never have considered! I answered a few questions about favourite colours, drinks and best time of day, as well as the time of year I was born, and the name I was offered was….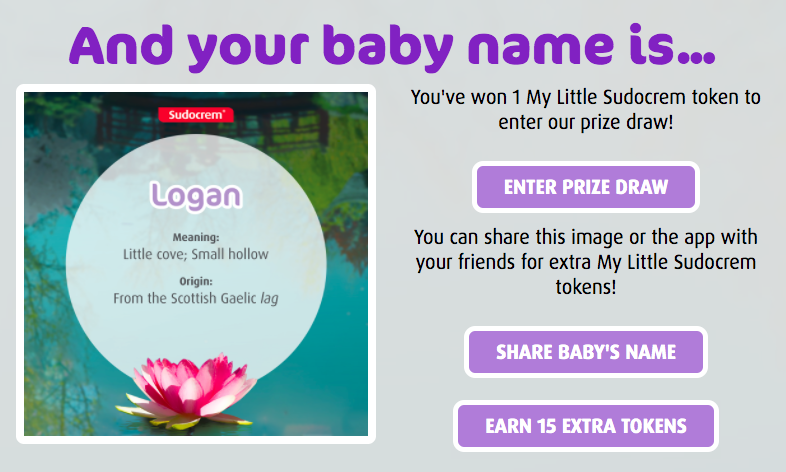 It's really interesting to see what names pop up, and the meanings behind them. Some might fit straight away, others you might want to tweak slightly. And if you don't get a name you like, you can always have anther go – you never know, you might just find that perfect name!
I have teamed up with My Little Sudocrem to offer three lucky winners the chance to receive their very own personalised My Little Sudocrem. To be in with a chance, simply enter via the rafflecopter form below – good luck!
Terms and conditions. Open to UK residents only. Giveaway ends on 27/7/2020, and winners will be randomly selected from all correctly completed entries. Winners will be contacted by the email registered on Rafflecopter, and should claim their prize within 10 days or it may be redrawn. Personalised pots have a character limit of 10. Prizes supplied directly from My Little Sudocrem.