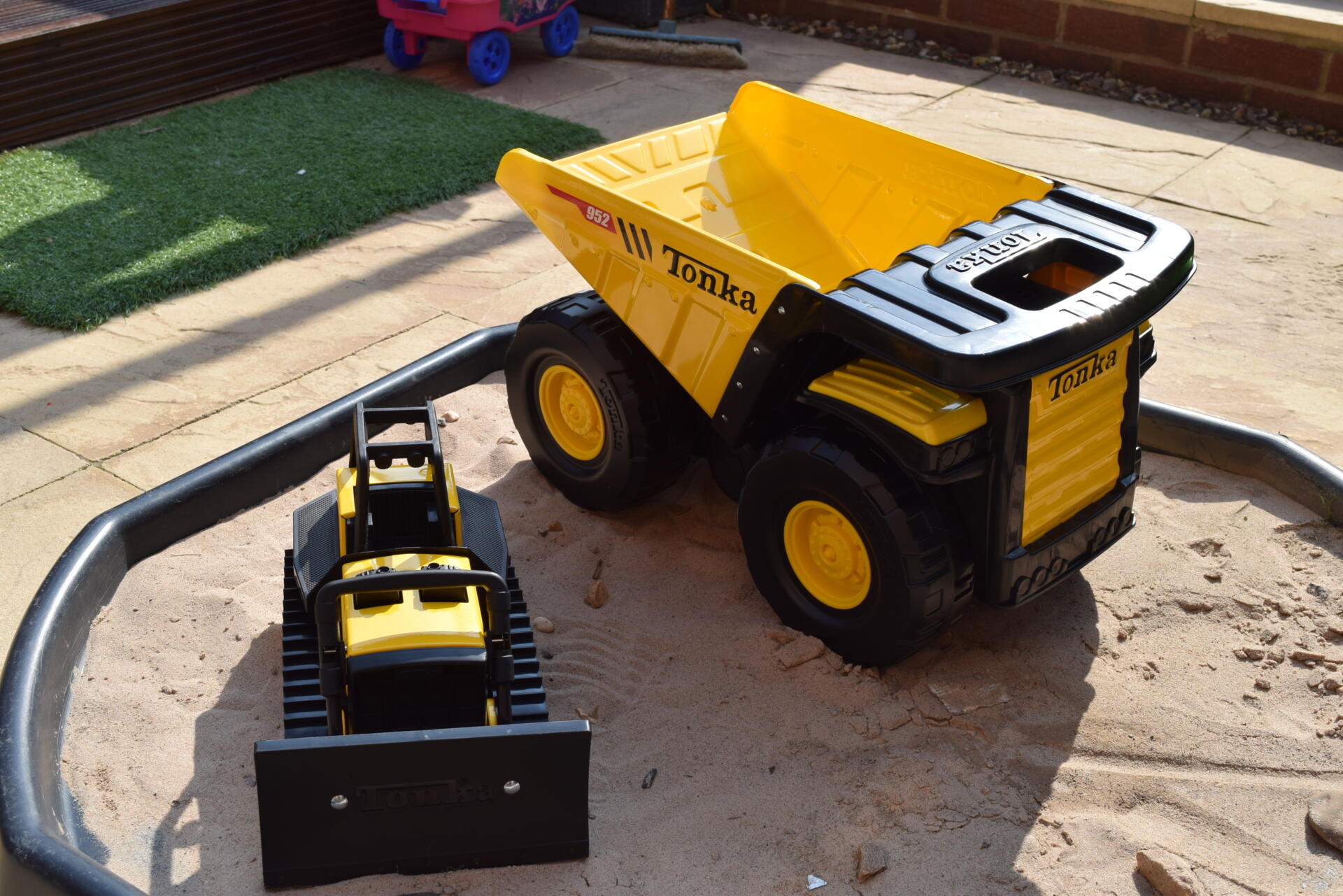 I remember having Tonka toys when I was little. In fact, some of them are still being played with now, by my own children, so I know they really are built to last.
For almost 70 years, TONKA trucks have been the undisputed kings of the sandpit. Built on the notion that "a toy shouldn't break just because a child plays with it," they're strong, sturdy and long lasting. Back in the '70s, TONKA even had an elephant stand on one, just to prove their point!
The Tonka Steel Classics range is 'back to the roots' of the company – built to last, and withstand real rough and tumble play.
We were sent the Tonka Steel Classics Toughest Mighty Dump Truck and the Tonka Steel Classics Bulldozer, aimed at children aged 3-6 years. This dump truck is the deluxe version of the classic dump truck, with a moveable bed to allow children to move sand or mud around from one area to another. It's really well built, and really sturdy, so it doesn't tip when Eliza leans on it. You can tell it will last for years and years, even when used in the garden. The moving parts work smoothly, and are easy for Eliza to manage herself, and the truck holds a whole lot of sand!
The Tonka Steel Classic Bulldozer is a great accompaniment to the dump truck, or ideal for those with a smaller area to play in. Again, it feels really well made, and as though it would last, even with rough play. This one might be better suited to the younger age bracket, as it would be easier for small hands to manoeuvre. It has 'cage' style bars over the front and the cab area, which are perfect for holding onto when pushing it along, and it scoops a lot of sand in one push due to the wide blade. Eliza has loved using the bulldozer to scoop the sand into one area, and then loading it into the dump truck.
For more info, check out the Tonka Tough Event, where are chances to win Tonka prizes, more product info, fun activities and more! The Tonka Steel Classics range is available from all good independent Toy Shops, JLP, Shop Direct, Amazon, Mud Rescue and The Entertainer.