When my kids come home from school, they are always 'bored' and looking for something fun to do. Tonight they are painting salt dough shapes and my kitchen looks like a paintball arena already, but they are happy and having fun, which allows me to get on with cooking tea and preparing packed lunches for tomorrow! I love salt dough, and nearly always have a batch of it in the fridge, ready for the kids to roll, cut, dry and paint – they make all sorts with it!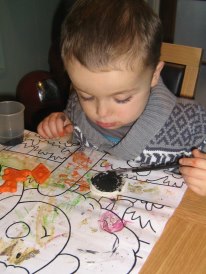 Salt dough is so easy – just half a cup of salt, half a cup of water and 1 cup of flour. Add the water to the dry ingredients slowly, as you may not need it all. I have also found, that instead of baking in the oven for hours, a quick 3 minute zap in the microwave dries the salt dough shapes out instantly, ready to cool and paint – great for impatient little children!
What do your kids get up to after school?