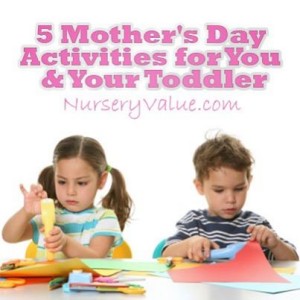 Mother's Day is a great time to spend some time with your little one, and what better way to spend a spring day then with some mummy and toddler activities? Here are a few ideas for some fun things to do, whatever the weather.
1.
FLOWER PRESSING. This is a great activity, loved by mums and children alike. Get outside in the garden, the park or the local countryside and find some gorgeous spring flowers. There are lots to choose from just now – snowdrops, daffodils, primroses and many more. Collect anything that catches your eye, take them home and press them. You don't need a fancy flower press – simply lay some newspaper and a sheet of tissue paper on top of a piece of card and place your flowers on top. Add another layer of tissue paper, newspaper and card and weigh it down with a heavy book or a brick.
2.
HOME BAKING. Always a family favourite, if the weather is bad then get in the kitchen and cook! There are so many simple, toddler friendly recipes you can choose from – cakes, biscuits, cookies, scones, bread and pies to name but a few! One of our all time favourites are these apple scones – perfect for a mothers day afternoon tea!
4 tablespoons caster sugar
2 teaspoons baking powder
1/2 teaspoon bicarbonate of soda
1 apple – peeled, cored and grated
2 tablespoons caster sugar
1/2 teaspoon ground cinnamon
Prep: 15 mins | Cook: 15 mins
1. Preheat oven to 220 degrees C.
2. Measure flour, sugar, baking powder, bicarb and salt into a large bowl. Rub in butter until crumbly. Add grated apple and milk. Stir to form a soft dough.
3. Turn dough out onto a lightly floured surface. Knead gently 8 to 10 times. Pat into two 15cm (6-inch) circles. Place on greased baking tray. Brush tops with milk, and sprinkle with sugar and cinnamon. Score each into 6 wedges or stamp out into round scones.
4. Bake for 15 minutes, or until browned and risen. Serve warm with butter.
3.
HAND PRINT PAINTING. Another really popular one, again great for wet weather days. These also make great gifts for family and friends. Let your children use coloured paints and make 2 handprints next to each other, joining at the base of the thumbs. This makes a lovely butterfly shape which your child can then decorate – draw in a butterfly body, get crafty with stickers, glue, glitter and pens and you have a lovely keepsake or present for someone special!
4.
NATURE TRAIL/TREASURE HUNT. If the weather is favourable, there is nothing children like better than a treasure hunt! Either set one up with some clues for your child to follow, with a small prize at the end, or just get out in the fresh air and see what you can find! There are so many interesting things to find at this time of year – flowers, leaves, pine cones, footprints, and even some mini beasts! You could even take some of your home made apple scones from earlier with you and round things off with a picnic!
<

5.

TISSUE PAPER FLOWERS. Another really simple and effective activity, and one my daughter really enjoys. Cut a few pieces (about 4-6) of tissue paper about 8 x 10 inches (the exact size doesn't matter). Tie the centre of the folded paper with a pipe cleaner, or just twist tightly. Gently pull each piece of paper towards the top centre of the flower, separating each sheet of paper from the others (forming the petals of the flower). You can make 1 or 2, or a whole bunch! My daughter likes making them for her nanny, or pops them in a vase in her bedroom.
I hope you enjoy trying some of these activities, and a Happy Mother's Day to all the mummy's out there!