Mamascarf is an award winning breastfeeding scarf. It has 2 main functions:
To provide privacy and discretion when breastfeeding
To provide support for baby without the need for a cushion or pillow.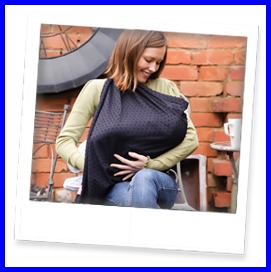 I know lots of new mums can feel self conscious when breastfeeding in public, and so this breastfeeding scarf is a must have for any new breastfeeding mummies. It is so easy to use – you simply tie the ends around your neck, pop your arm through and away you go! It's very easy to swap sides during feeding (you just swap which arm you have through the hole!) and an added bonus – it hides your tummy too!
I have used this scarf in many places over the last 4 weeks:
On a bench in the park
In Morrisons cafe
In the garden at a family BBQ
In the car, parked in a car park, while waiting for someone
At a kids birthday party
In the school playground
As you can see, it is very versatile! It is so small and lightweight you really can take it anywhere – I usually keep it in my changing bag, but you could just as easily fold it up and pop it in your pocket.
The beauty of this breastfeeding scarf is that you can feed in privacy, but you can still see your baby and maintain eye contact, and talk to them. It is such a soft material that you know it won't irritate your skin, or your baby's skin. It even has a little concealed pocket for keeping breast pads in!
I have washed the scarf several times, and I can safely say that it washes well, and stays just as soft and supple.
This would make a great gift for any pregnant mum who is planning to breastfeed, and for slightly nervous mums it offers the opportunity to breastfeed in confidence. Definetley an item to put on your must have list!
You can find out more about Mamascarf on their website or follow them on Facebook
* I was sent this product free of charge for review purposes but all thoughts and opinions are my own *