Bundlebean was born when a lovely lady called Emily set about creating a versatile product that could be used in all sorts of different ways – so cutting down on the amount of 'stuff' parents need to carry around with their little ones! This resulted in the Bundlebean Go! which can be used for all sorts from a footmuff to a changing mat.
New this summer is the Bundlebean Solar, which we have been reviewing for the last few weeks.
The Bundlebean Solar can be adapted for a variety of uses:
Quick drying hooded beach towel
UPF 50+ pushchair shade
UPF 50+ car seat cover
UPF 50+ bike seat cover
UPF 50+ sling/baby carrier cover
We have done our very best to have a go with all these uses (and more!)
First up – using the hooded towel. This is super duper soft, and very quick drying, so would be perfect for at the beach or pool. Max is a bit small to use it in this way just yet, but it has made a perfect bath towel, and laid flat it makes a soft and cosy changing mat too!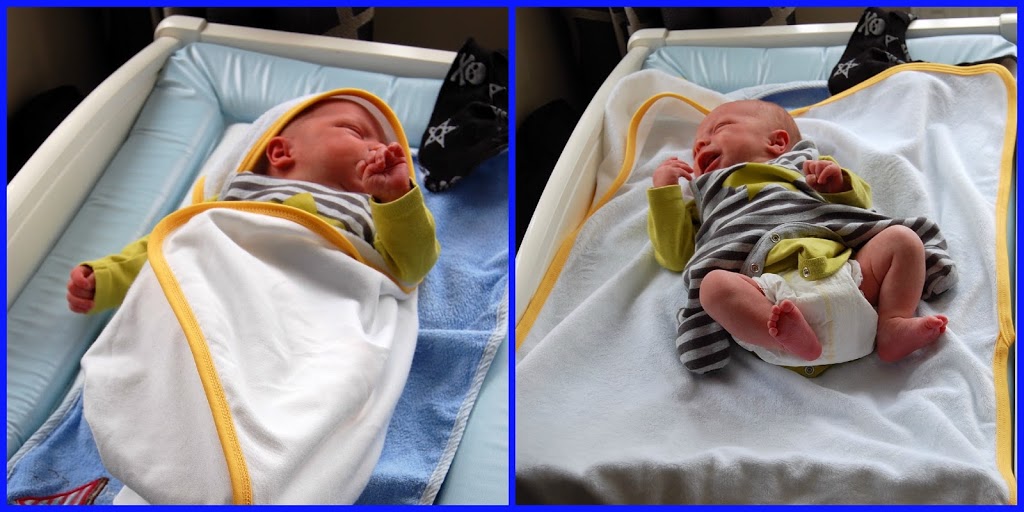 Next, as soon as we got a sunny day. we tried the Bundlebean Solar out as a pushchair sunshade. It fits over the carrycot section of our fairly large iCandy Peach Jogger very easily, with room to spare – so it should fit nearly all makes and models. It attaches quickly using the velcro straps, and stayed in place for the whole walk into town and back with no movement or slipping.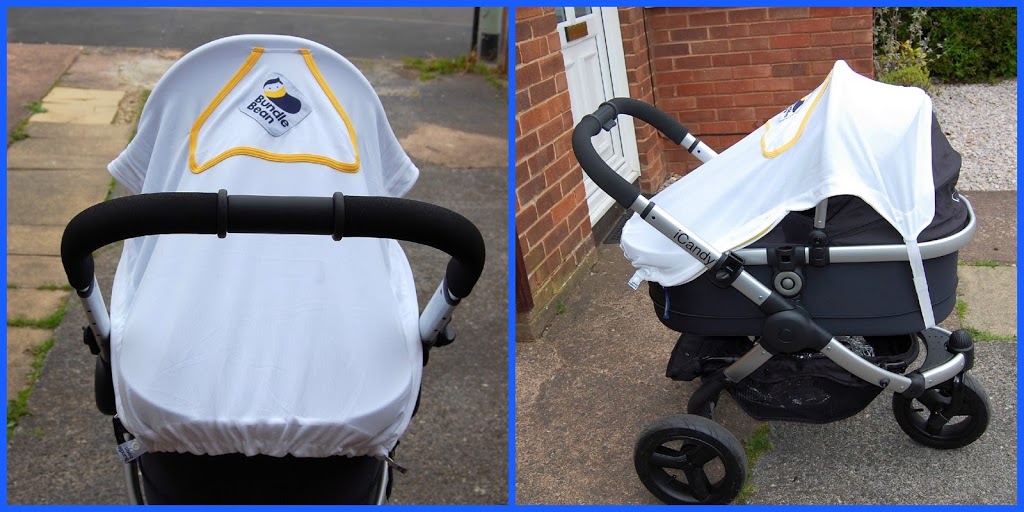 Next up was using the Bundlebean Solar as a car seat sunshade. Again, it is easy peasy to fit to the car seat – simply place over the top, and secure in place using the velcro straps. There are 2 zips at the bottom of the Solar – if you pull them they tighten at the base like a drawstring, so the base of the Bundlebean will fit snugly around the car seat base. (This would also work if you were to use as a footmuff/leg cover on a pushchair and would hold it in place snugly around the child's legs).
As you can see, we have used it both as a full sunshade, and a partial cover just over Max's legs: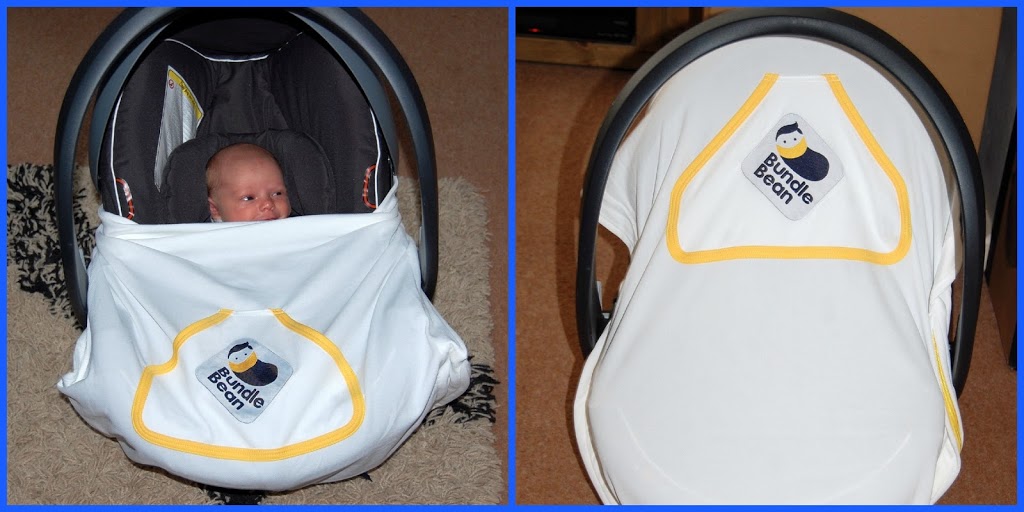 Our final test was to use the Bundlebean Solar as a sling sunshade. We love using our sling, but do worry sometimes about baby being protected from the elements, so I love the fact that this has a sun protection factor of UPF 50+. It means I can go out and enjoy the sunshine with Max without having to worry about him when he is in the sling. Yet again – easy to attach, even when you are on your own – just wrap the Bundlebean around you and baby and secure with the velcro straps – I used one strap around the back of my neck and one around my waist. You can also pull the zips tight again to pull the Bundlebean up under baby's feet. I also like the little pocket on the front, so when I am walking along I can pop my hands inside if it's a bit chilly!
We have also been using the Bundlebean Solar as a lightweight blanket as it has been fairly warm, but there is still enough chill in the air for a newborn to need something a bit snuggly. The beauty of the Solar is that you can use it as it is – or you can popper the towel layer inside it to make it thicker and cosier if the temperature drops!
As you can see, this is an extremely versatile product, and as such it means you need to carry less when you are out and about. Pop this in your changing bag and you dont have to carry changing mats, towels, parasols, sunshades or blankets – the Bundlebean Solar can be all of them. And it doesn't take up much room in your changing bag either!
In conclusion – the Bundlebean Solar does the job of many different products – but it all comes in one dinky package! Busy parents no longer have to carry everything but the kitchen sink – you can just pop one of these in your bag, knowing that whatever you get up to, this will probably have it covered! And of course, you can relax and enjoy the summer knowing that the UPF 50+ protection is keeping your little one safe in the sun.
We love the Bundlebean Solar, and can safely say that we will be using it for many months to come.
You can find out more about Bundlebean and their products on their
website
, and find them on
Facebook
and
Twitter
.
* I was sent this product free of charge for review purposes but all thoughts and opinions are my own *