Cornish Daisy is run by Kate (from Cornwall obviously). She started the company when her daughter was born in 2008. She was 6 weeks premature and so Kate wanted something soft and delicate that protected her from the milk and dribble while still being robust. And so, Cornish Daisy bibs were born.
As well as dribble bibs, the range now also includes feeding bibs, blankets and gift sets – all in really lovely and eye catching designs. You can see the full range on the Cornish Daisy website.
We were recently sent a blanket and bib gift set to review, and we chose the blue star design. The first thing I was struck by was just how soft the blanket is. It's hard to explain but it's so soft it almost feels like silk, and because it is made of a fleece material it is also snuggly and warm – Max fell asleep almost as soon as I wrapped him up in it!
Then there's the dribble bib. We already have a selection of Cornish Daisy bibs as I have found them to be one of the best at keeping clothes dry while still being soft enough to use on a newborn. So I knew we would love the dribble bib – and I absolutely adore the blue star design (you might have noticed by now that I have a bit of a thing for stars lol).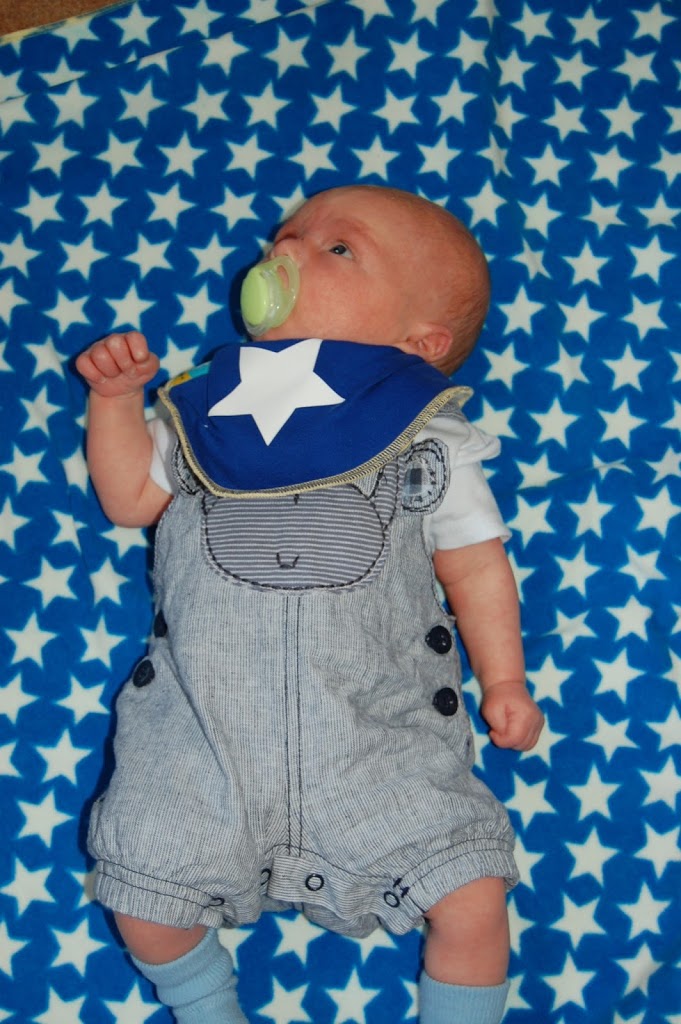 As expected, the bib is lovely and soft against Max's delicate skin and doesn't rub or chafe. There are 2 sets of poppers for fastening the bib, so it grows with your child – as they get bigger simply fasten the bib on the larger setting! The back of the dribble bib is a soft fleece – again lovely against your baby's skin and also very absorbent – no matter how much milky dribble Max throws at Cornish Daisy bibs, his clothes always stay dry!
Cornish Daisy dribble bibs do the job, but they also look great too. So many bibs do a good job but look really boring – these bibs are an enhancement to any outfit rather than something you can't wait to whip off!
You can find out more about Cornish Daisy and the products they offer by heading over to their website. Or why not pop over and visit them on
Facebook
– they have a lovely page full of chat, news and sometimes the odd giveaway too!
* I was sent these items free of charge for review purposes but all thoughts and opinions are my own*