Finding a comfortable and well fitting nursing bra is a must for all breastfeeding mums. So, I was delighted when we were asked to review the Emma-Jane Seamless nursing bra from Boobie Milk.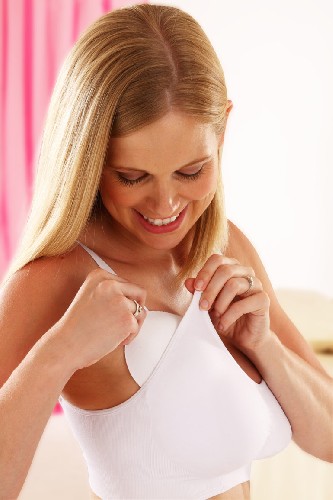 I shall spare you from having to look at a photo of me wearing the bra as that may lose me a few followers lol, but as you can see from the photo above, it comes with removable pads to create a smooth look under tight clothing, and also has the added benefit of hiding the telltale lines of breast pads.
It is very adjustable – 4 rows of hooks to choose from so you can adjust it as your milk production settles down. The straps offer fantastic support – when you flip one side down for feeding, the other side still continues to offer support so you don't feel like you are about to lose your bra!
The knitted underband makes for a really comfortable fit underneath your breasts, and even makes it comfortable enough to sleep in.
Available in black, white and skin colours, this nursing bra should be on every breastfeeding mums wish list – it makes feeding comfortable and easy, and it makes YOU feel confident. Ideal.
* I was sent this product free of charge for review purposes but all thoughts and opinions are my own *