A travel cot is an essential item of baby equipment for many parents, especially if you plan to go on holiday when your little one is small. But very often, they are big, bulky, heavy and impossible to fold unless you have a degree in physics.
So when we were asked to review the Magicbed, I was excited to see how this travel cot would work for us. And I have to say, we were not dissapointed!
The first thing you notice about the Magicbed is how light it is – just 3.4kg!! It comes packed in its very own travel bag, so it is compact and easy to store: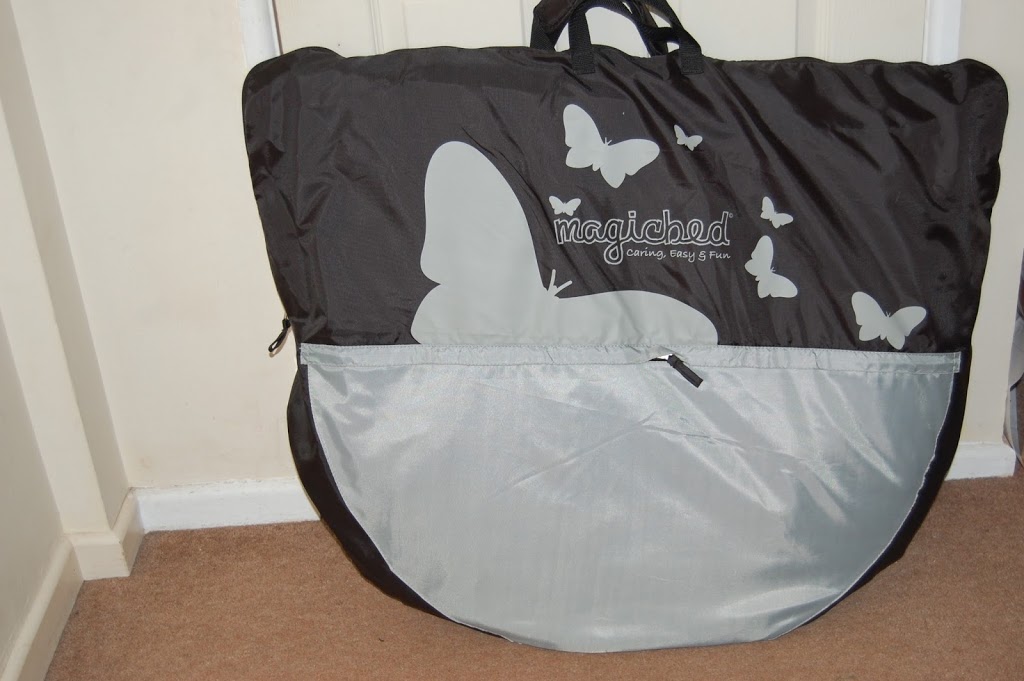 Compact and easy to store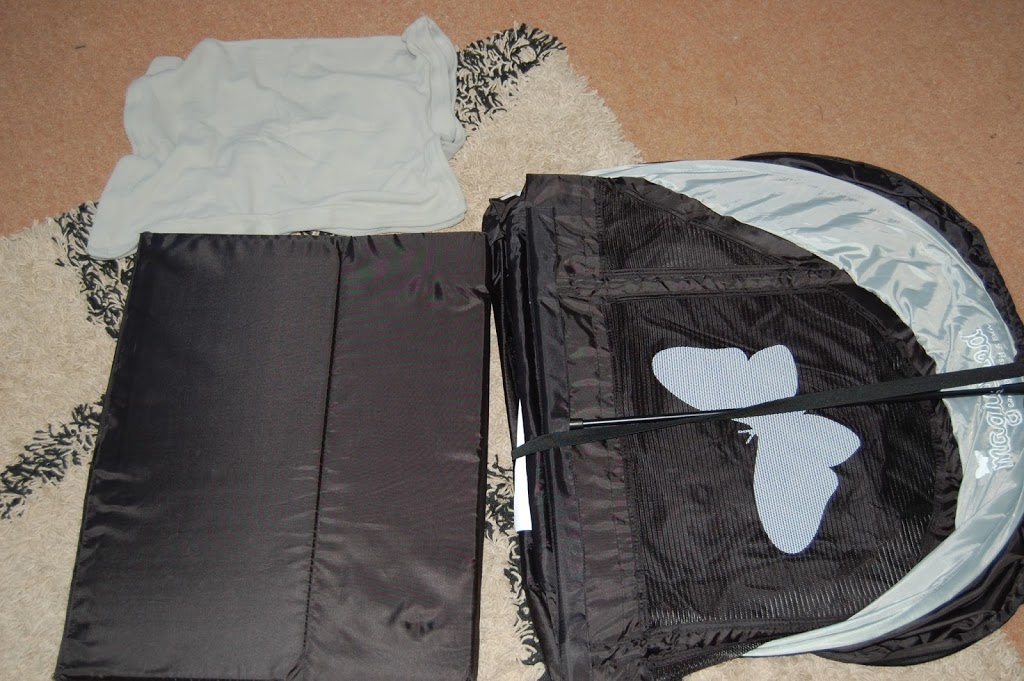 Everything you need in one small parcel!
Inside the bag, there is the travel cot itself, a padded mattress and a soft, fleecy fitted sheet.
So first – opening and assembling the cot. Well, it really couldn't be any easier – you just take off the elasticated strap, and…..well, that's it! The cot pops up itself, and is ready to use straight away! All you need to do is put in the mattress (this slides into a special pocket on the base of the bed) and then stick in the sheet – this just attaches with velcro strips to the base of the cot, so no worries about sheets sliding around or getting tangled up!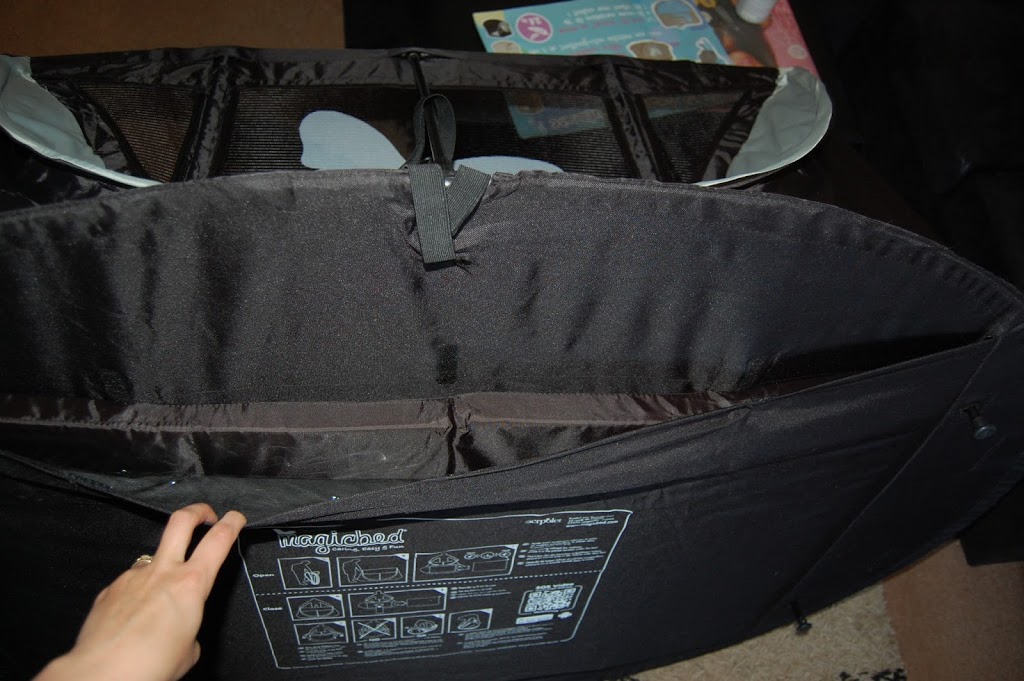 The mattress just slides into a pocket on the base
Now for the real tester – Max! I popped him in, and waited to see what he would think….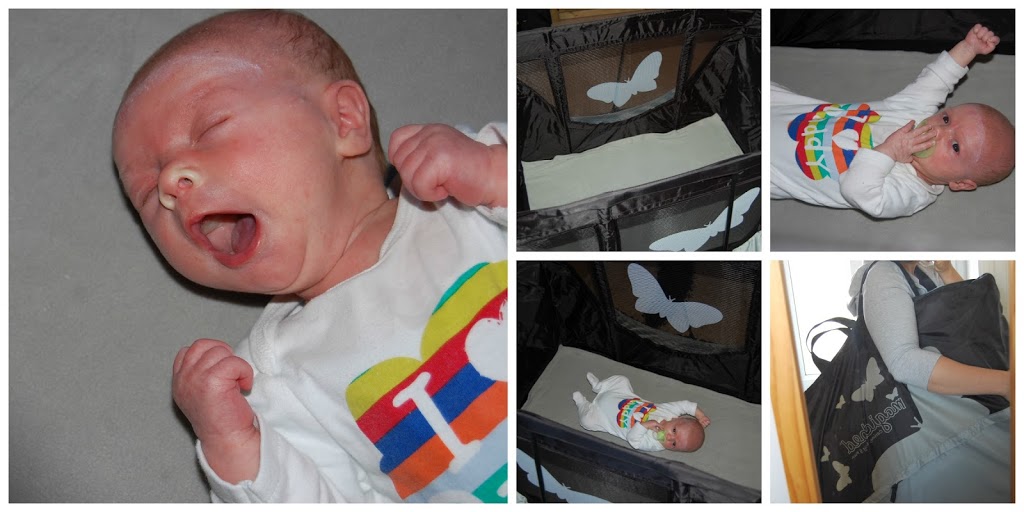 And as you can see, he loved it! He was relaxed in the Magicbed straight away, and was soon yawning – before falling asleep and staying there for 3 hours! I think that certainly proves it is comfortable, even for newborns! You can see how spacious the cot is – it will easily last Max until he no longer needs a travel cot, and would also be useful as a playpen as he grows.
And how about packing away? Well this is where most travel cots become a huge headache for parents, as you try to push bar A, while pulling button B and sitting on button C – while the cot steadfastly refuses to do what it is told. With the Magicbed, there are no complicated instructions or diagrams – you simply tip the bed on it's side (easy as its so lightweight!) and push one end diagonally towards the floor. It collapses in on itself in seconds. Then you just pop the elastic strap back around to hold it together, put it back in the bag with the mattress and sheet, and sling it over your shoulder – job done!
If you like the look of the Magicbed, and fancy one for yourself, keep an eye on the blog this week, as there may just be a little competition coming right up!
** I was sent this product free of charge for review purposes, but all thoughts and opinions expressed are my own **