I was recently sent some Kelo-Cote products for review: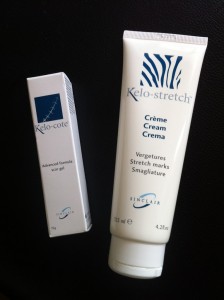 First up: the advanced formula scar gel.
Many of you will know that I had a Caesarean Section 8 weeks ago, and as this was my 3rd section, the scar is quite red and pronounced (I toyed with the idea of posting a photo on here but I don't want to scare any of you away so I decided against it – you will have to use your imaginations!)
Anyway, I have been using the scar gel for a week or so now, and I am quite surprised at the results. The redness is starting to fade, and the scar is turning more silvery in colour. I am going to continue to use the gel to see if it will help with the 'raised' texture of the scar too.
Next up: the stretch mark creme.
After 3 children I have my fair share of stretch marks (again, I will not scare you with photos, you know what stretch marks look like!). I have also been using this cream for about a week now, and while I have not yet noticed any change in the stretchmarks themselves, I have noticed that my skin is much, much softer. If I continue to use the cream, I hope that in time it will continue to soften the skin and reduce the appearance of the stretchmarks. I will get back in a bikini one day. Maybe.
My conclusion? Very high end, luxury products that smooth, soften and pamper. The scar gel certainly seems to have an effect very quickly, and the stretchmark cream may well too in time – and if not, it is an incredibly decadent moisturiser!
* I was sent these products free of charge for review purposes, but all thoughts and opinions are my own *