We were recently asked to review the new Monsters University Soundtrack.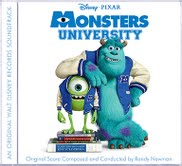 The Info:
Disney•Pixar's "Monsters University" rocks theaters this summer featuring music from award-winning composer Randy Newman and Axwell & Sebastian Ingrosso of Swedish House Mafia. Filmmakers also tapped the Atlanta-based hard rock band Mastodon to serenade one the film's new monsters. Directed by Dan Scanlon and produced by Kori Rae, "Monsters University" hits theatres July 12, 2013, with the short film "The Blue Umbrella," which features music by composer Jon Brion and vocals by Sarah Jaffe.
"We wanted to capture the college feel in 'Monsters University,'" said Scanlon, "and music is a big part of that. The score and the inclusion of other great musicians like Axwell & Sebastian Ingrosso [of Swedish House Mafia] and Mastodon help us convey a fun, freewheeling college atmosphere."
Now for the important bit – what did Gemma and Jacob think? They are big Monsters Inc fans, and enjoy the music that features on the first film, so they were very excited to have a listen to this soundtrack. So what did they have to say? – I will hand over to them to tell you!
Gemma: I like the 'Big Scare' song best because it is really spooky sounding, and the music makes me dance. And I like all the other songs too because they are cool and there are lots of different types of music, and they all make me want to listen to them again.

Jacob: This is cool! I love the Mike and Sully picture. All the music is my favourite because it is really loud and bouncy, and I want to do this (jumps off sofa).

As you can see, the children like this soundtrack. It has been played several times, and there has been a lot of dancing and jumping around. And giggling.
We are looking forward to seeing the film later in the year, and we will be joining in with all the songs!
* We were sent the download version of this soundtrack free of charge for review purposes, but all thoughts and opinions are my own, and those of my children *